How Kelly Rowland Fell in Love With Color
The singer turned style icon talks natural beauty, bold fashion, and learning to embrace her hue in a world that doesn't affirm brown-skinned girls.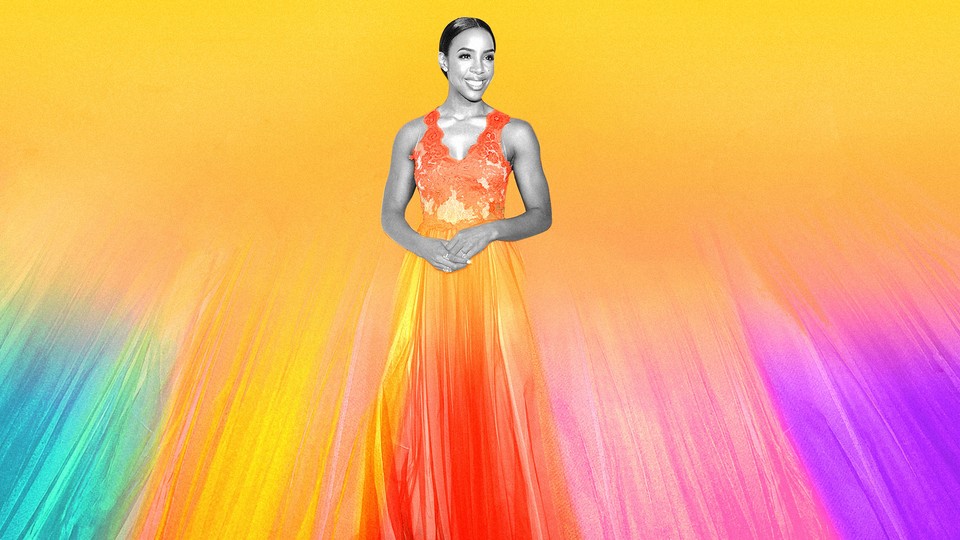 Kelly Rowland makes jewel tones shine. In reds, oranges, and emeralds, she is resplendent. The singer, who has been a dynamic entertainment mainstay for more than two decades, has of late carved out a bold space for herself as a style icon. Embracing a bevy of rich hues, Rowland radiates a striking confidence.
For Rowland, an aesthetic defined by bright, color-blocked tones is an intentional stylistic choice. It's also one that defies entrenched ideas about what kinds of sartorial risks ought to be reserved for women of lighter skin tones, and what dark-skinned women allegedly can't pull off. The fashion industry and other sordid machinations of celebrity have tended to dismiss dark-skinned women, relegate them to the shadows, or outfit a handful of token representatives with shoddy resources only to later blame them for being unfit.
Rowland's recent attention to fashion—and specifically vivid, color-oriented looks—is not wholly separate from the symbolic role she's occupied in her career as a musician. For musicians, especially women in pop or R&B, it's nearly impossible to disentangle their artistry from their public image. When the industry's range of acceptable or sought-after images is so narrow, dark-skinned women like Rowland stand out by default. Even in the streaming era, Rowland's voice is not disembodied. To listen to her music, fans must first see her face.
But the star, née Kelendria Trene Rowland, wasn't always as comfortable in the spotlight. For a young Kelendria, the 1980s were formative years largely because the era introduced the singer to Janet Jackson and Whitney Houston at a time when she needed to see reflections of herself. The two were more than just musical icons to the future Destiny's Child member. They were visions of possibility that Rowland didn't yet realize she needed to see. They were paragons of beauty, reflections of both musical talent and visual assurance.
"When I was a kid, it was a little tough because I went to pretty much an all-white school, so I just saw nothing but white faces around me," the 37-year-old singer said when we spoke over the phone recently. "I remember the first time I saw Janet Jackson. I believe it was '[The] Pleasure Principle,' and I saw Whitney Houston before I saw Janet, and she was brown. And it just all started to add up in my head, like, Oh, this is possible, huh? Yeah, I'm going to sing."
Rowland has been a musical legend in her own right since her teen years. As a member of Destiny's Child, a solo artist, a songwriter, an actress, and a television personality, she's built a career that broadens the scope of what black women can envision for themselves in entertainment. She has released eight studio albums, graced a slew of magazine covers, and illuminated numerous red carpets. She's served as a judge on
The Voice Australia
, written a
book for new moms
, and
offered musical and PR guidance
to younger artists, like the girl group Fifth Harmony (especially the 22-year-old Normani Kordei, one of only a few dark-skinned female artists in pop, who
has loved Rowland for years
). In doing so, Rowland has become for many young black women what Jackson and Houston were to her.
"It makes me really proud," Rowland said of the influence she's had on young women who've become more comfortable in their own skin by watching her assemble both albums and looks over the years. But the entertainer is also quick to note that her journey to self-possession (and into the style spotlight) got a push from someone close to home: the person who designed Destiny's Child's early costuming, and who considers Rowland a third daughter. Ms. Tina Knowles-Lawson, the mother of Beyoncé and Solange, helped a young Rowland embrace her heritage, countering the messages Rowland had grown up internalizing.
"I remember there was one day I didn't want to sit out in the sun," Rowland said. "Tina said, 'Baby, why don't you want to sit out in the sun?' and I said, 'Because I don't want to be any darker.' She said, 'What? Are you kidding me? It's amazing to be black, it's amazing to be chocolate.'"
"It's like she got me in the mirror and really wanted me to understand what beauty I brought to the world," Rowland continued. "At that time, I was still just uncertain of it because it did seem like at that time [if you had] fairer skin or if you were white, that you got a little bit more play."
Of course, such eye-opening moments don't exist in a vacuum. Colorism extends far beyond the domain of interpersonal interactions. Dark-skinned people—especially women—face systemic barriers in multiple realms. From magazine covers to music-industry boardrooms, lighter-skinned women of all races have long been given preferential treatment over their darker-skinned counterparts.
In the context of entertainment, that's meant that women who look like Knowles-Lawson's daughters are far more likely to be offered record deals, acting roles, and other opportunities than women who share Rowland's skin tone. In fashion, widely enforced colorist dogma keeps dark-skinned women largely excluded from runways and catalogs alike. Changes to this pattern within the fashion and entertainment industries have been incremental, and often painfully slow.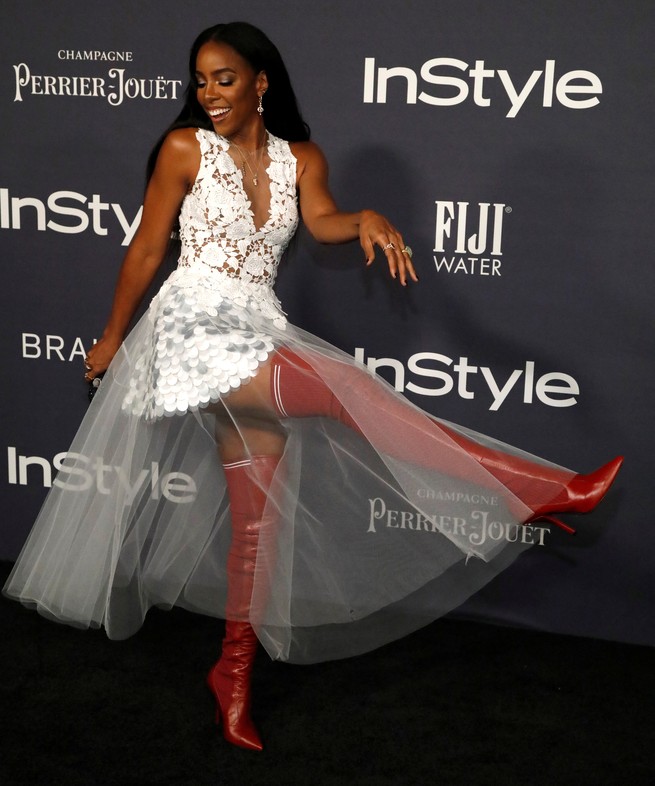 One recent Instagram post stood out to Rowland as an example of how far the entertainment industry has come in recognizing black women's talents. In August, the basketball player LeBron James took a moment to celebrate a slew of magazine spreads featuring black women—among them Beyoncé, Lupita Nyong'o, Zendaya, Tracee Ellis Ross, Rihanna, Tiffany Haddish, Yara Shahidi, Issa Rae, and Aja Naomi King, as well as Mj Rodriguez, Dominique Jackson, and Indya Moore, the stars of FX's landmark series about queer and trans performers, Pose.
James's post thanked the women "for continuing to not settle and setting great examples in life for so many looking up to you for inspiration/guidance and love!!" Earnest and adulatory, he added, "My daughter is watching! #WomenPower💪🏾❤️👑."

But Rowland noticed that the post drew ire from people who did not understand how damaging it's been to young people of color to not see images of beauty that reflect them—or the extent to which fashion and entertainment have failed them systemically:
I think he started to get some of these comments like, Other races are beautiful, too. And I was like, Let's just put a pause on everything right now because I remember the moment that I picked up a Vogue magazine and it was three blonde women on there and it said, 'This is what beauty looks like.' Now, as a kid or even if you're in your teens, even if you're in your early 20s, your late 20s, you're still navigating your way through what your beauty is, and if the world is telling you that beauty looks like this and you don't look like that, what are you going to think?
But now, Rowland's face has been emblazoned across some of the same magazines that once left her dispirited. To this day, along with the all-black outfit she rocked at the 2013 Super Bowl alongside her Destiny's Child sisters Beyoncé and Michelle Williams, one of Rowland's most memorable personal-style moments—"my favorite of my whole career of looks," she told me—is one that was orchestrated for the Australian edition of Vogue. Rowland is notably dressed down in many of the photos from the shoot, pairing sneakers with slacks and a sculptural plume of kinky hair.
Though many of the star's most iconic recent looks have skewed hyperfeminine—long, flowing dresses paired with heels or tightly tailored jumpsuits with delicate makeup—the Vogue Australia aesthetic pulls from a different set of influences. When we spoke, Rowland noted that she's excited to see a resurgence of fashion that mirrors some of what she saw growing up. It's hard not to see the visual linkages. "I love androgyny in looks right now … I feel like it's really cool to have a really dope pair of slacks on with a fly-ass shirt and your cool tennis shoes. I just love the fact that it's back to the '90s," she said. "Because I used to love watching Linda Evangelista and Naomi Campbell, Christy Turlington, like, all of them. I would watch their off-the-runway fashion, and it was so cool to me."
The accompanying July interview addressed Rowland's stint down under, her tenure on The Voice Australia, and the time she's taken to work on her forthcoming album. Speaking about the record in September, the singer was audibly excited. Her voice goes up an octave when she talks about upcoming projects, including a movie, which she can't share much else about. "One of the things that I've learned is, my instincts are so spot on," she said. "It's a really, really special place that I'm in, and I think I'm really enjoying it so much that I have to focus on the end."

Rowland hasn't put out new solo music in five years, a fact that once gave her tremendous anxiety. "For the first two years [after giving birth to her son, Titan, in 2014], I was really just trying to figure out my way as a mom," she said. "I was nervous about releasing music because I felt like I lost the mojo, and now I feel like that mojo is like, Hey, babe. We back."
In her time away from releasing music, Rowland has also focused on passing lessons about self-acceptance on to her son. Instilling confidence in him as a young black boy is a task she takes very seriously. Rowland and her husband, Tim Witherspoon, call Titan "handsome all the time," she said.
"We did this thing recently when we were brushing our teeth and I said, 'Look at my handsome baby boy,' and he was like, 'I'm not a baby, Mom. I'm a big boy now,'" Rowland said. "And so I was like, 'Okay, well what about handsome? Don't you think you're handsome?' And he just kind of turned away from the mirror."

"And I said, 'Oh no, no, no. Not my boy. Not my cute boy,'" she continued, noting that often parents "don't realize we have to really sow into our children ... just as much as we love them and show them affection, we are the first idea of what they start understanding of themselves."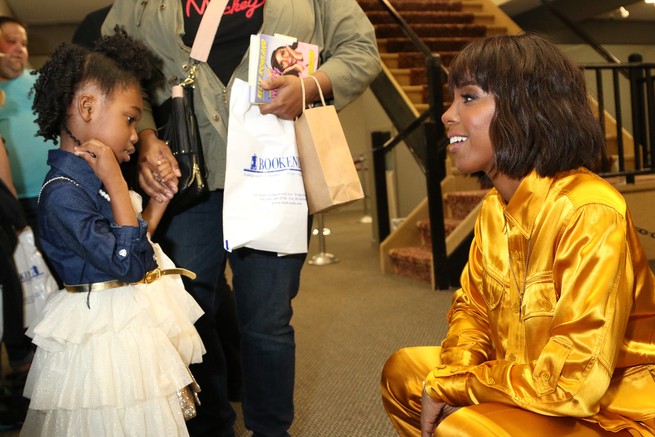 But Titan also changed Rowland's understanding of herself—and her beauty. Hormonal changes Rowland underwent during her pregnancy and after childbirth shifted her approach to skin care. Visits to the facialist Shani Darden, for instance, helped the singer return to her roots and care for her "natural canvas."
Once again, though, it's advice from Ms. Tina that has stuck with her. "I do not go to bed with makeup on. I swear by it," Rowland said. "Tina told me, she's like, 'If you sleep with your makeup, you age yourself 10 years.' I was like, 'That will never happen to me.'" If Ms. Tina's guidance has played a tremendous role in shaping Rowland's sense of style and self, the singer is, in turn, now encouraging Titan to love the skin he's in; via the aesthetic she embraces, she is also paying her gratitude—to Ms. Tina, to Janet Jackson, to Whitney Houston—forward.

Even now, there are few dark-skinned women with platforms as large as Rowland's. Photos of celebrities gracing red carpets or magazine covers with dramatically polychromatic outfits against glimmering brown skin make for exciting viral moments—but all too often, they're drawn from the same small pool. A handful of black celebrities are still fighting for the space to shift the same industries that have shortchanged them. In a truly democratized entertainment landscape, Rowland wouldn't be an anomaly. Or, as the singer said of recent symbolic changes in fashion, "I don't want this, what's happening now, to be a trend."