When Trump Makes Your Largely Forgotten Movie Urgent Again
Doug Liman was already reediting Fair Game—his 2010 political drama about the Scooter Libby leak—before the president's pardon of the former Bush White House official this year.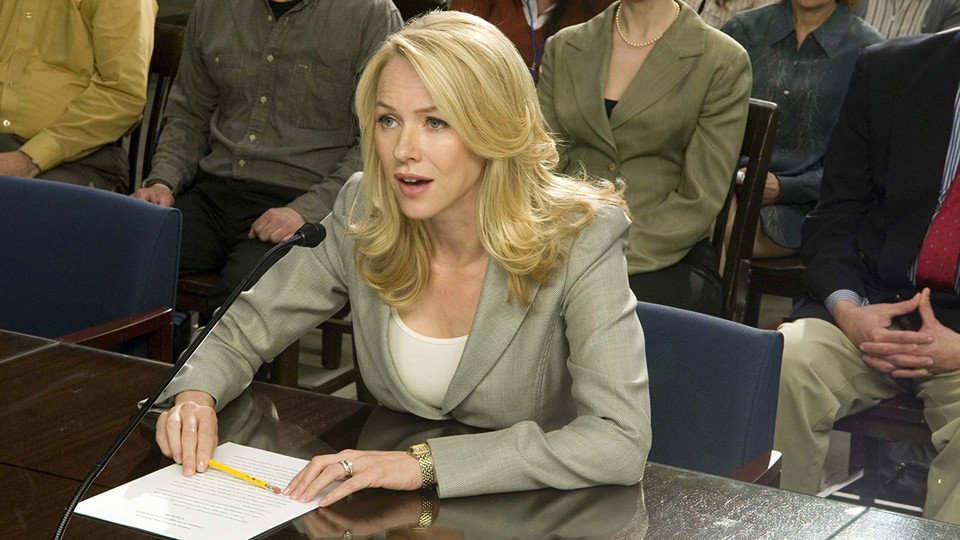 When Fair Game hit theaters in October 2010, it made barely a splash and was quickly forgotten. A dramatization of the Valerie Plame leak scandal by Doug Liman, a director best known for action films such as The Bourne Identity and Mr. & Mrs. Smith, the movie debuted at the Cannes Film Festival to mild plaudits but no awards. Critics noted that Plame (Naomi Watts), a CIA officer whose cover was blown by the White House, was barely a character in the movie. For much of the running time, she has to stoically endure the George W. Bush administration's efforts to discredit her family, while her husband, Joseph Wilson (Sean Penn), angrily defends her in the media, mostly to her chagrin.
That storytelling imbalance was one of the things that continued to stick in Liman's mind, and it led him to take another crack at editing the movie—eight years after its release. He brought the Academy Award–winning editor Stephen Mirrione (Traffic) on board, worked on the film at home, and then showed it to Lionsgate, which owns the distribution rights to the movie. The studio was impressed enough to give Fair Game a digital rerelease, and to put the new version on Netflix, where it'll debut November 1. For Liman, getting the movie closer to his vision was the primary concern, he told me in an interview. "It came from a creative place," he said. "And then Trump pardoned Scooter Libby."
In April, President Donald Trump granted a full pardon to I. Lewis "Scooter" Libby Jr., the former chief of staff to Vice President Dick Cheney, as Liman was working on his reedit of Fair Game. Libby was convicted of four counts, including obstruction of justice and perjury, in 2007; he had lied to a grand jury about leaking Plame's name to reporters and exposing her as a covert CIA officer. The alleged goal was to punish her husband, the former ambassador Joseph C. Wilson, for writing an op-ed that cast doubt on the Bush administration's case for invading Iraq.
"I don't know Mr. Libby," Trump said in a statement on the pardon earlier this year, "but for years I have heard that he has been treated unfairly." The move dragged this Bush-era scandal back into the public eye. Suddenly, Liman felt his work on Fair Game had a new urgency. Trump was "trying to slip it under the rug without anyone really noticing. And I thought people should know who was just pardoned, and why it matters," Liman said. "The themes that [drew] me to Fair Game in the first place are way more relevant today than when we released the film: talking truth to power, an all-powerful White House, and what happens to people that challenge that."
The reedit of the film foregrounds Plame and Wilson's marriage more, and provides extra backstory on Plame's work for the CIA that Liman felt was initially lacking. "I felt like I had lost my footing because of the political atmosphere in which I was making the film," the director said. "I thought that I could greatly enhance the relationship between Joe and Valerie. I had better material in the can than what I had put on screen … I really just wanted to edit more from the gut."
The changes are not drastic, and characters like Libby and Karl Rove (played by David Andrews and Adam LeFevre, respectively) remain fairly minor antagonists, working mostly offscreen to try and undermine Wilson and Plame. But as a portrayal of disintegrating public trust in American institutions, Fair Game is fascinating to revisit. "When you watch the film and you see Sean Penn's outrage and indignation that the White House would lie to the American people, it does feel old-fashioned. That you could get that indignant," Liman said with a chuckle.
Plame herself worked as a consultant on the film and also spoke to The Atlantic. "Today we have been desensitized because the behavior of this president is so outside the norm that we kind of just shrug it off. And that's not a good thing for a healthy democracy," she said. To Plame, Trump's pardon of Libby was intended only to normalize some of the president's own misdeeds. "In my eyes, it all had to do with Trump sending a message to a small circle of cronies, that if you have my back, I'll have yours." she said. Liman agreed, adding, "Valerie may be right that it's not a coincidence that Trump is pardoning somebody convicted of those specific charges [of obstruction of justice and perjury]."
That wider speculation about Trump's interest in Libby only began to percolate for Liman and Mirrione, the editor, as they worked on their new version of Fair Game. The contemporary parallels are intriguing, but the film is also an interesting relic of political scandals past, with its focus on the country's rush to enter the Iraq War. Some parts feel trenchant—the war's reverberations still echo through the country today—and others feel quaint, like the national outrage over a White House leak and the disruption of Washington norms. To Liman, the real-life pardoning of Libby was a poetic grand finale. "Joe Wilson predicts that [pardon] in the movie, and it finally happened. So I went back one last time to change the card at the end of the film," he said. "Now it's done."