Why Chef José Andrés Set Up a Kitchen in Puerto Rico After Hurricane Maria
The chef's massive effort to cook food for the island's residents and relief workers was driven by an urgent sense of empathy.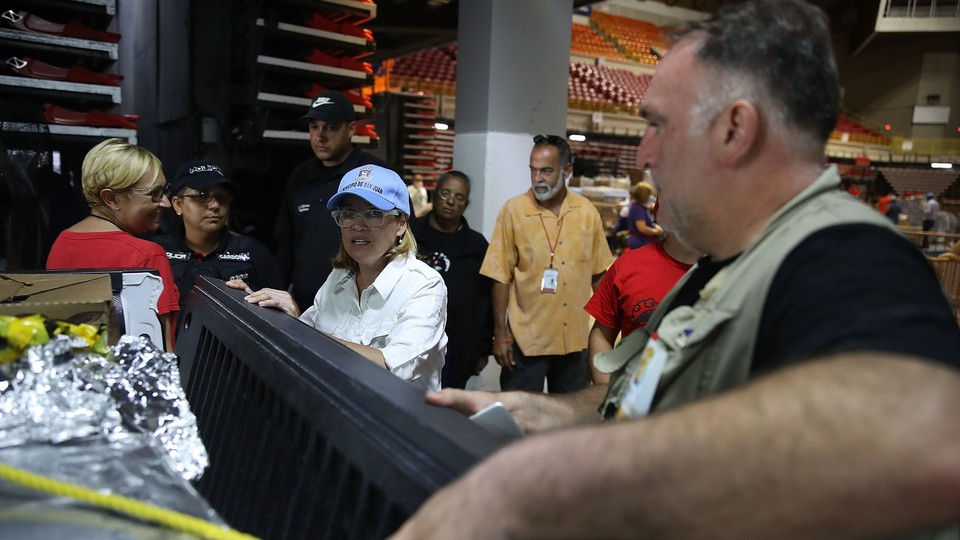 In his scholarship and in his personal philosophy, the professor Cornel West has arrived at a simple conclusion. "Justice is what love looks like in public," he said during a 2011 speech at Howard University. "Just like tenderness is what love looks like in private."
Often decontextualized and shared as a stand-alone sentiment, the first half of the quote has taken on a life of its own. It's pithy and soothing, the kind of snappy feel-good slogan that lends itself perfectly to Pinterest quote cards and Tumblr re-blogs. West's speech preceded some of the more issue-driven rhetorical marriages of love and justice that have come to animate public discourse; it was pre-#LoveWins, ante-#SideWithLove.
But for all the rallying cries touting the transformative power of love, still far too few public examples exist of the principle taken to its pragmatic conclusion. And so it was particularly heartening to hear the core of West's sentiment echoed most recently by the Spanish American celebrity chef, activist, and author José Andrés. In a Wednesday conversation with the NPR Morning Edition and Up First host Rachel Martin at The Atlantic Festival, Andrés spoke with urgency about leading hunger-relief efforts in Puerto Rico following the initial impact of Hurricane Maria last September.
Beginning first with hospital employees, Andrés and his team fed resource-deprived Puerto Ricans at a time when the Federal Emergency Management Agency's lackluster response to the island's tremendous need left many vulnerable residents hungry. Andrés expanded from a small operation based in San Juan to a massive enterprise operating out of an arena and serving more than 150,000 meals a day.
For Andrés, pragmatic compassion was the driving force behind his ambitious efforts to both cook food for the island's residents and to create an infrastructure for distributing it across the island. "Leadership—51 percent is empathy," he said. "If you don't show empathy, you cannot be a leader." In the wake of the hurricane, Andrés argued, the most meaningful application of love—the most valuable display of duty—was service.
Andrés has attracted attention for his full-throated critique of Donald Trump's response to the disaster in Puerto Rico, and his Wednesday remarks deviated only slightly from prior rebukes. "I don't want any red tape if the red tape makes American people go hungry and thirsty for long periods of time," he said, after suggesting that he agreed with Trump about the stymieing nature of bureaucracy. "So now is the perfect moment to say to FEMA, What do we have to do to reinvent a FEMA where the word emergency means something? In terms of food and water, if you are not able to deliver immediately when there is need, you are failing the American people."
The response to Hurricane Maria, from federal agencies and from the president himself, lacked both tangible assistance and an essential respect for the people of the island. A week after the Category 4 storm first hit the island, Trump had only authorized a minimal response from FEMA. Even as widespread devastation was reported across Puerto Rico, the president insisted that his administration's recovery efforts were not just adequate but constituted "a great job." Three weeks after Maria first made landfall, my colleague Vann Newkirk reported from the island's capital, San Juan:
Interior towns like Utuado and Barranquitas face total isolation, landslides, and dwindling supplies. FEMA estimates that over a third of the islanders are in need of water, a fact underscored by alarming reports that some people have tried to obtain drinking water from contaminated EPA Superfund sites. In all, millions of people are struggling to find basic necessities, and the presence of federal aid has been tenuous or lacking in rural areas. People are dying, and people will likely continue to die from worsening illnesses.
But even as federal agencies began pulling back aid and turning away from the population they had been charged with serving, Andrés and his cohort were driven by an urgent empathy. Along with World Central Kitchen and Chefs for Puerto Rico, the groups he founded, Andrés addressed a need that neither FEMA nor Trump himself had adequately handled.
"I saw that there was no plan. And that's why we began cooking. We went from one kitchen to almost 26," the chef said Wednesday. "From 1,000 meals the first day to almost 150,000 meals a day. We went from 20 friends that gathered together to feed the few to more than 25,000 men and women of Puerto Rico that made it happen."
"We didn't plan. We didn't meet. We do what chefs know. We gather. We find a kitchen, we find the food, and we began feeding anybody that is hungry," Andrés continued. "Sometimes in emergencies, you have to stop planning. You have to start doing. Because the emergency of now, when people are hungry and thirsty, cannot wait."
Hunger is an intimate violence. It is not theoretical. It ravages. Cursory acknowledgements of humanity do not constitute sustenance, and empathy does not end with a mere gesture toward help. Love, in its most tangible form, is expressed in acts that account for the needs of those they're directed toward. The federal government cannot love. It is, after all, a bureaucratic entity tasked with providing resources and regulation to the people who reside in its jurisdiction. But exhibiting a measure of humanity—and prioritizing the urgent concerns of one's constituents—is a crucial element of justice. Neglect constitutes neither love nor effective governance.
"Last month, we found there was a million gallons of water sitting in the airport somewhere in Puerto Rico," Andrés said, referring to recent reports. A year after Maria first hit, even as official death tolls and quantifiable references to damage remain somewhat elusive, it's difficult to argue that FEMA showed Puerto Rico any modicum of love, or that the administration responded with even an approximation of it. Love in the Westian sense, after all, requires more than lip service. It demands action.
As Andrés noted, "If you don't have a good distribution system that is organized and systematic, you can claim, 'Hey, we sent them the food!' But if the food is sitting someplace that nobody has access to, [then] you are not helping."