Can You Ever Forgive Me? Is a Perfect Showcase for Melissa McCarthy
This muted film adaptation of the literary forger Lee Israel's memoir finds something to love in its hard-drinking, sharp-tongued protagonist.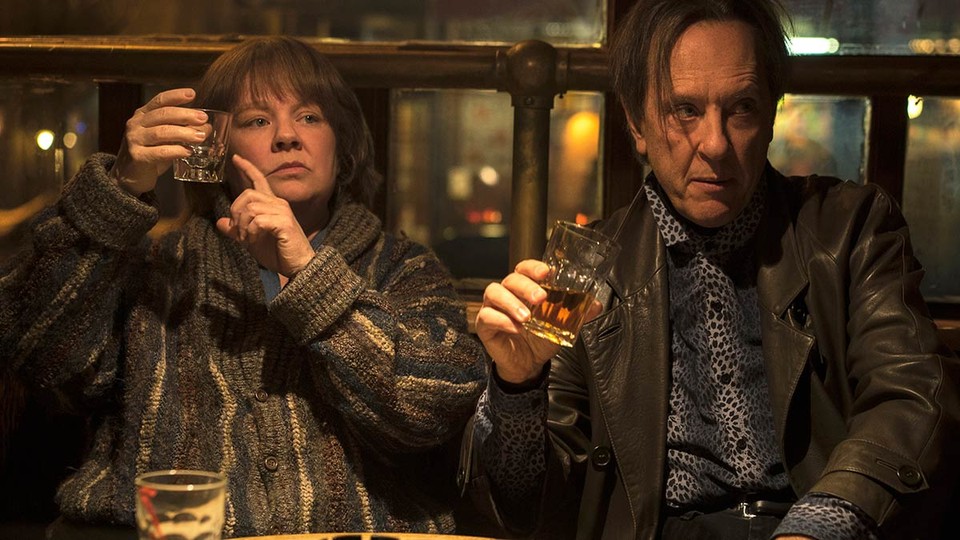 The early-1990s Manhattan of Can You Ever Forgive Me? is a far cry from the stressful, bustling tourist trap that it is today. The director Marielle Heller has an eye for period details, which helped the chaotic vibe of mid-'70s San Francisco pop in her debut film, The Diary of a Teenage Girl. But the bygone New York spirit that Heller has captured so well in this follow-up is the sense of loneliness. It's almost entrancing to see the city so empty. To the protagonist Lee Israel (Melissa McCarthy), each chilly intersection and sparsely populated bar reflects her increasing isolation from a literary world that was once precious to her.
Israel was a mildly celebrated author in the '70s and '80s, writing biographies of cultural figures like Tallulah Bankhead and Estée Lauder as well as many magazine profiles. But by the early '90s, she's close to washed up. Her choice of profile subject—complicated famous women of yesteryear—is out of fashion, and her habitual drinking and caustic attitude have cost her the support of everyone, even her agent Marjorie (Jane Curtin). Were she not a middle-aged woman, Israel might be revered for her alcoholism and perpetually sharp tongue, but as it is, she's practically an outcast. Can You Ever Forgive Me? finds something to love and admire in her anyway, even as she turns to a very particular life of crime.
The film is inspired by Israel's 2008 memoir (she died in 2014) and details her late-in-life turn to literary forgery. Hard up for cash and months behind on rent, she started selling notes and mementos from famous authors to rare-book stores and private collectors. Suddenly her apartment was overflowing with antique papers bearing acidic, clever, typewritten missives from famed wits such as Dorothy Parker and Noël Coward. But Israel was, in fact, writing them all herself, using old typewriters and her voluminous knowledge of each author's unique voice.
In her memoir, Israel called those forgeries her "best work," and Heller's film is partly about the creative pride Israel gets from the scam she runs. Though she's motivated by financial need, forgery becomes another literary project—finding the perfect fake anecdote, or the most stinging kiss-off line, for these invented private letters. When Israel is shuffling around the streets of Manhattan, or lingering at her favorite watering hole, things feel cool and gray. Yet the used-book stores where she plies her trade glow with nostalgic orange light, a reminder of happier days.
McCarthy is fantastic in a role that strips away her more bombastic star qualities. Even when Israel is being mean, she's quietly so, though her repartee always hits uncomfortably close to home for whomever she's talking to. It's a lead performance that stands out for its sensitivity, though McCarthy is playing such an embittered person—the actress lets moments of genuine hurt shine through so that the audience remembers Israel isn't entirely lost to the world.
That tenderness is helped along by the film's portrayal of Israel's relationship with a semi-homeless ex-con named Jack Hock (Richard E. Grant), a similarly tart castoff from the literary scene who's just as often three sheets to the wind. Israel and Hock eventually become partners in crime as the bookstores grow wise to her schemes, and he becomes the mellifluous public fence for her forgeries. The script (written by Nicole Holofcener and Jeff Whitty) is a very, very low-key crime thriller, but given the seclusion of Israel's life (her closest friend is her aging cat), it never seems like there's too much at stake. The joy of the work, and of Israel and Hock's bond, is more than enough to power the story along as things turn south for the pair.
Can You Ever Forgive Me? feels like solid confirmation of Heller's status as a voice to watch in Hollywood. Whereas her debut film was freewheeling and vibrant, reflecting its shaggy '70s setting, this is an admirably restrained drama that builds to a surprisingly touching conclusion without abandoning its lead character's sour outlook. McCarthy is a luminous comedian, but she has long demonstrated a gift with material that has a little more bite, and Israel is an ideal fit for the actress at this point in her career. Can You Ever Forgive Me? may be a muted story, but it is a profoundly memorable one.