Bodyguard Is Tense, Twisty, and Totally Absurd
The new Netflix drama has been a sensation in Britain, but does it translate?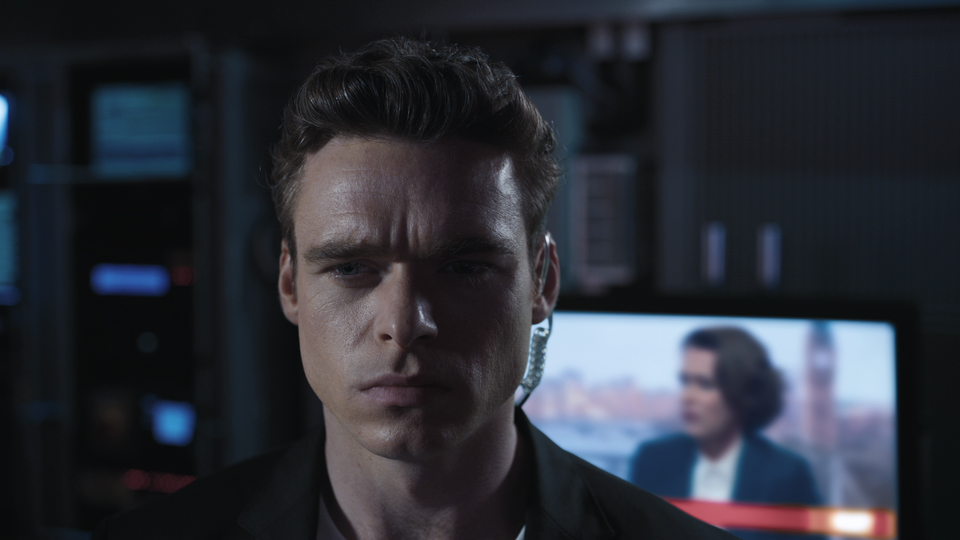 David Budd's brow furrows in the opening seconds of Bodyguard, and that's it—it will never unfurrow again. For the rest of the Netflix series's six episodes, David (Richard Madden) will be a walking, grunting, hyperalert bundle of stress and physical rigidity, his jaw in a permanent clench, a ripple of valleys where the space between his eyebrows used to be. That isn't Kevlar turning his torso into a square box of starchy polyester: It's duty.
To be fair, he goes through a lot. David is the Carrie Mathison of British television, a London-based police officer and an army veteran who continually happens to find himself in the middle of an improbably numerous onslaught of terrorist plots and personal vendettas and gunfights and explosions and Chekhov's Range Rovers. Bodyguard is the brainchild of Jed Mercurio, a former doctor and air-force officer best known for the police drama Line of Duty, a similarly twisty and propulsive thriller. But like Homeland, Bodyguard expands its horizons to cast a big, knotty, conspiracy-theorist net over the police forces, the intelligence community, and the upper echelons of the British government. Unfortunately, another similarity it has with Homeland is a propensity to lean on stereotype, adding to the woefully limited characterization of Muslims on mainstream television shows.
It's tricky to identify what, exactly, made Bodyguard such a sensation in the U.K. (it's the most-watched dramatic series there since records began in 2002, with 17.1 million people tuning in for the finale). But the sheer number of set pieces Mercurio inserts into each episode is perhaps a clue. That you may not always be able to keep track of who's plotting against whom is compensated for by the fact that in every episode, something is honor-bound to go extremely boom. The series was released serially by the BBC, making it the kind of appointment television that hardly exists anymore. In the U.S., Netflix is releasing Bodyguard all in one go, which enables an interesting thought experiment: Is this show actually good? Or did it simply tease an entire nation with delayed gratification, stupidly complex subterfuges, and simple explosions?
It's honestly hard to say. The title comes not in homage to the hokey 1992 thriller starring Whitney Houston and Kevin Costner, but in reference to the fact that after thwarting a major terrorist incident in the first episode, David is promoted to the role of protective officer for the British Home Secretary, Julia Montague (Keeley Hawes at her most glacial and commanding). Complicating matters is that Julia supported the same wars David served in, and that she's intent on strengthening a Patriot Act–style law that increases the government's powers of surveillance. David, professional to a fault, seems to rankle at Julia's policies and her transparent ambition to become prime minister. But there's also an obvious sexual tension between the two that seems mandated by the format of TV drama.
Crucial to the series is the fact that absolutely no one is trustworthy (with the possible exception of David's saintly estranged wife, played by Sophie Rundle). Not even David. He's plagued by PTSD, which leaves him committing violent acts in his sleep, and he has an uneven moral code, which means he personally maligns Julia but bristles whenever anyone else does. Madden, best known for his role as Robb Stark in Game of Thrones, is a coiled spring as David, grimacing and gritting his teeth and imbuing the word ma'am with a remarkable amount of affirmative hostility. David never smiles, so much so that selfies of Madden and Hawes in costume from the Bodyguard set, laughing and joking around, make for some profound cognitive dissonance.
Hawes is elegantly unknowable as Julia, in a consummate-politician kind of way that works with her light characterization. She gives just enough nuance in her performance to make you question whether she has a heart or is extremely deft at emotional manipulation. The supporting characters do less well. Mercurio hasn't written real people, for the most part—he's written walking, talking plot developments. Gina McKee, an estimable actress, struggles to bring any humanity to her role as Anne Sampson, head of the Metropolitan Police's anti-terrorism command. As Roger Penhaligon, the chief conservative whip and Julia's ex-husband, Nicholas Gleaves is barely more than a sneer in a nicely tailored suit.
But this isn't the point. To watch Bodyguard's six episodes is to suspend disbelief and submit to its surprises. It helps not to expect too much more than that, particularly when it comes to the show's lavish employment of archetypes, which inevitably leads to its more questionable elements. Mercurio is a master of tension, and Madden's success at conveying David's superb instincts, his cool head under fire, and his complex psyche have already led to the requisite conjecture that he's going to be the next James Bond. If nothing else, at least the martinis might loosen him up.