The Strange Pathos of Ariana Grande's Breakup
The end of the singer's relationship with Pete Davidson, coming after the death of her ex Mac Miller, complicates her message of overcoming.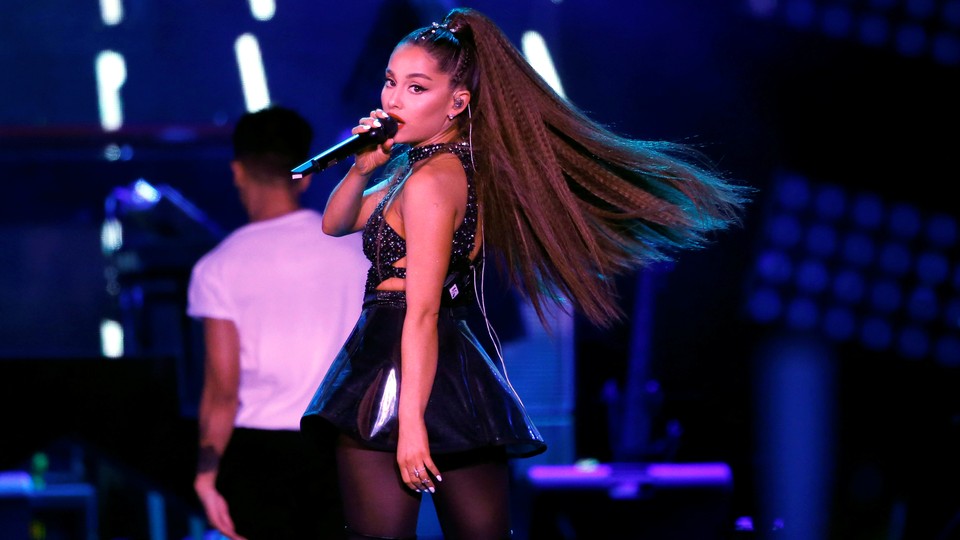 The title of Ariana Grande's latest album, Sweetener, reclaims the often-used knock on radio-ready sing-alongs as "saccharine." Perky music doesn't just make life yummier, in Grande's view. It makes life bearable. Her first album after the 2017 terrorist attack on one of her concerts, Sweetener arrived with lyrics about responding to bitterness with sugar, dark with light, suffocation with breathing. There were no tears left to cry, and she'd been crying with good reason.
As is almost always the case in pop, though, music could be heard as a rough synonym for love. The sweet/light/air in Grande's lyrics were presented as stemming from a you, and listeners could envision that you as someone specific: Pete Davidson, the Saturday Night Live comedian Grande began dating in May and got engaged to in June. Calling their relationship "public" would be an understatement. They Instagrammed about their matching tattoos. He joked at length on SNL about being with her. She named a Sweetener song "Pete Davidson."
This was personal life as performance and product, showing optimism that even the participants acknowledged was extreme. "If we break up, and we won't—we will—but we won't. No, I'm kidding. But, like, in 10 years if, God forbid, that ever happened, there will be a song called 'Pete Davidson,' like, playing in speakers at Kmart, and I'll be working there," Davidson cracked on SNL in September. Grande described her frankness about her whirlwind romance as a reaction to her past traumas, tweeting, "the truth is i been the fuck thru it and life's too short to be cryptic n shit about something as beautiful as this love I'm in."
But they've now broken up, TMZ reports. And while celebrity couplings and decouplings always receive outsize attention in relation to their importance in the wider world, this narrative is especially fraught. Knee-jerk cries of "Told you so" and "Love is dead"—talk that positions the relationship in the meta terms of "celebrity breakup"—ring as weirdly inapt, given how self-consciously intense and improbable the relationship was. It now seems like less of a tabloid morsel than a subplot in a larger tragedy—or, at least, a larger story about how people respond to tragedy.
Mac Miller, the rapper Grande had dated publicly from 2016 to this past May, died of an overdose on September 7. Some fans of his were quick to blame Grande—she'd moved on from Miller to Davidson quickly—even though she had spoken previously about trying to help Miller curb his drug use. The insensitive backlash surely compounded what was already a wrenching personal tragedy. "i adored you from the day i met you when i was nineteen and i always will," Grande wrote on Instagram under a photo of Miller. "i'm so sorry i couldn't fix or take your pain away. i really wanted to."
She put on a show of overcoming at first: "everything will be okay," she tweeted on September 22, and elsewhere in her social-media feeds, she introduced the world to the pet pig she'd adopted with Davidson. But her mood soon appeared to turn darker. One tweet: "can i pls have one okay day. just one. pls." Another message she posted referred to the earlier "everything will be okay" with the addendum "j fucking k" (as in "just fucking kidding"). She canceled an appearance on SNL's Season 44 premiere, and then this week she dropped out of a benefit show so as to take more emotional recovery time. TMZ says that Miller's death indeed led to her breakup with Davidson by making her realize she was moving too fast.
Pop stars, a group normally known for escapism, have been openly struggling with some very mortal issues lately: Grande's friend Demi Lovato went to rehab after an overdose; Selena Gomez has been going through physical- and mental-health crises. It's tempting to make generational diagnoses—blame the iPhones!—but young celebrities, of course, have always battled personal demons. What's new is the way that battle unfolds publicly, in real time, and with assistance by the stars themselves, who purport to tell all in documentaries, tweets, and lyrics. Such openness may well help fight stigmas; it definitely helps keep wobbling public figures from losing control of their narratives.
But Grande's case is especially poignant. The 25-year-old former Nickelodeon star has a noted ability to avoid causing scandal herself, and yet has been inadvertently linked to stories concerning the most urgent problems of the era—terrorism, drug use, mental health, and even #MeToo when the bishop at Aretha Franklin's funeral apologized for getting touchy with her. This might seem at odds with the career of an effervescent entertainer, but even as Grande mourns Miller, cancels gigs, and returns her engagement ring, she's making plans for future performances. "Wouldn't miss it for the whole universe," she tweeted about an upcoming Wicked tribute on Monday—just after the Davidson news broke.
All of which fits with the surprisingly complicated image she's projected for a while now. Sweetener, for all its lightness, was created with the awareness that positivity and romance made no armor of invulnerability. "Right now I'm in a state of mind I wanna be in, like, all the time," she sang in one hit chorus, implicitly acknowledging that all bliss fades. In light of recent events, it seems almost prescient: a reminder that highs can't stop a crash, and life doesn't always follow the tune you want.