Will Juan Martín del Potro Usher In a New, Younger Generation of Tennis Greats?
In 2009, the Argentine player was primed to lead a youth movement in men's tennis and shift the demographics of the game. It didn't happen, but he may have a second chance this year.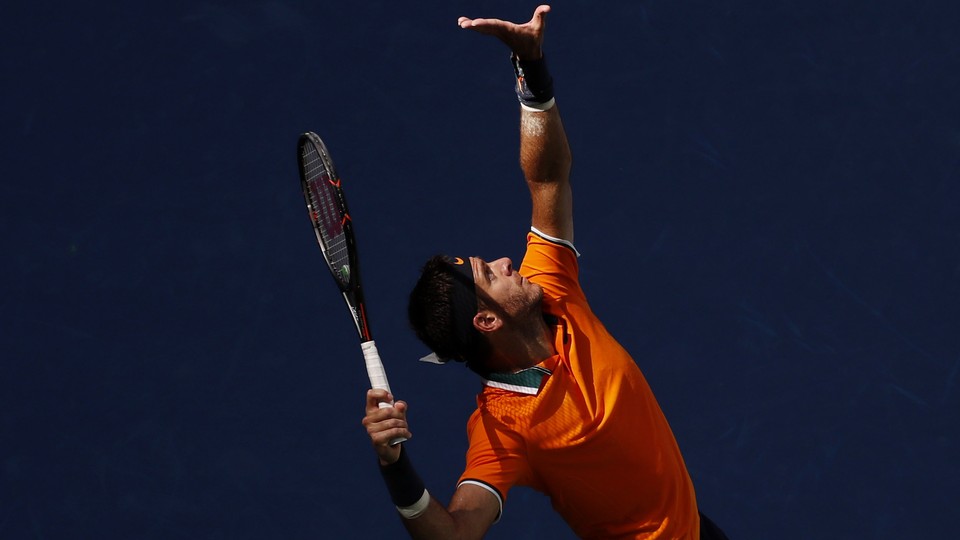 Nine years ago, the 20-year-old Juan Martín del Potro vanquished Roger Federer, then 28, in the U.S. Open men's singles final for his first and only major title. Their five-set thriller, a seesaw affair that spanned more than four hours, still holds up as a U.S. Open epic and one of the great Grand Slam stunners. More significant even than his loss to Rafael Nadal in the Australian Open earlier that year—a result that brought Federer to tears—the 2009 U.S. Open defeat by del Potro caught the G.O.A.T. in the middle of a 41-match winning streak. What's more: Federer was one victory away from becoming the first man since Bill Tilden in 1925 to conquer Flushing Meadows six years in a row.
On the other side of the net was del Potro, an Argentine who had announced himself as a major contender following wins that year against the reigning tennis kings Nadal and Andy Murray. This, despite his gangly 6-foot-6-inch build, which would seem better suited to running around screens on the basketball court than scooping up drop shots on a tennis court. But over the course of the fortnight, del Potro proved to be a quick and pliable enough mover with a sweeping forehand that boomed like a battleship gun. That flat, fatal stroke didn't simply vault the sixth seed past the top-ranked Federer, it also helped del Potro topple Nadal in the semis to become the first man to beat them both at the same Grand Slam. It was a shocking turn of events that seemed to herald the dawn of a new era in men's tennis, one that might soon see a fresh crop of young adults usurping the prevailing order.
So what happened? Well: Federer and Nadal played on (and on), Murray and Novak Djokovic established themselves as world dominators, and tennis's two-man monopoly reorganized as the "Big 4." Del Potro injured his wrists, and whatever spaces that remained in the top 25 were largely peopled with workhouse journeymen such as Spain's David Ferrer, Russia's Nikolay Davydenko, and Germany's Tommy Haas. Slowly and seemingly without warning, the elite ranks of men's tennis evolved from a playground for men-children such as Michael Chang (who won the 1989 French Open at age 17) and Pete Sampras (who won the 1990 U.S. Open at age 19) to something resembling an active-senior living community.
And then, just as surreptitiously, the game got younger. In August, the analytics blog Heavy Topspin conducted a historical census of the Association of Tennis Professionals' top 50 players. At the end of 2017, the mean age for that cohort was 29.0 years. Entering this year's U.S. Open, it was 27.75 years, a 35-year low. And that was with eight 30-somethings bringing up the average: among them, Nadal (32), Federer (37), and Djokovic (31), who together have won 50 of the past 60 Grand Slams.
During the first week of the U.S. Open, the youth movement advanced another couple of steps forward. Of the 16 men who advanced to round four, 10 of them were 29 or younger, and three of them were 25 or younger. It was much the same story through 2018's three previous Grand Slams, starting at the Australian Open—which also saw 10 under-30-somethings crash the fourth round.
There's reason for this. Djokovic slumped. Murray got hurt. Haas and Davydenko retired. Ferrer, who forfeited his first-round match against Nadal due to an injury, is close to calling it a career. All the while, young players were getting bigger, faster, stronger, and using match films and advanced statistics to guide their training. It was only a matter of time before the Big 4 couldn't hold them down anymore.
Rising up to challenge those mainstays are giant-slayers such as Austria's Dominic Thiem (25), the ninth-seeded clay-court specialist who narrowly lost his five-set quarterfinal against Nadal; Nikoloz Basilashvili (26), the unseeded Georgian who gave Nadal a fright in the fourth round; Japan's Kei Nishikori (28), a revitalized former U.S. Open finalist who made his third career U.S. Open quarterfinals; John Millman (29), the unseeded Aussie who outhit and outlasted Federer to score one of the tournament's all-time shockers; and Marin Čilić of Croatia (29), a 2016 U.S. Open champion who's actually broken through on a big stage. The other one, of course, is del Potro.
The big Argentine appears to be on the brink of winning another major in Flushing Meadows. He wouldn't drop a set through his first three matches and cruised through a sweltering fourth-round night match against the 21-year-old Borna Ćorić of Croatia.
Now here he is, less than three weeks away from his 30th birthday, still technically young despite his wrist problems. After dispatching with the United States' John Isner, whose serve is virtually unreturnable, del Potro's only major looming threats are Nadal and perhaps Djokovic on the other side of the draw.
In other words, it's nothing del Potro hasn't handled before. Not only can he draw from his winning experiences against those heavy hitters and depend on his new and improved backhand slice, but del Potro also has time on his side. He could revive the youth movement that he started so many years ago.