The Emmys Don't Get Modern TV
The Television Academy still define shows as comedies or dramas. Creators and networks don't.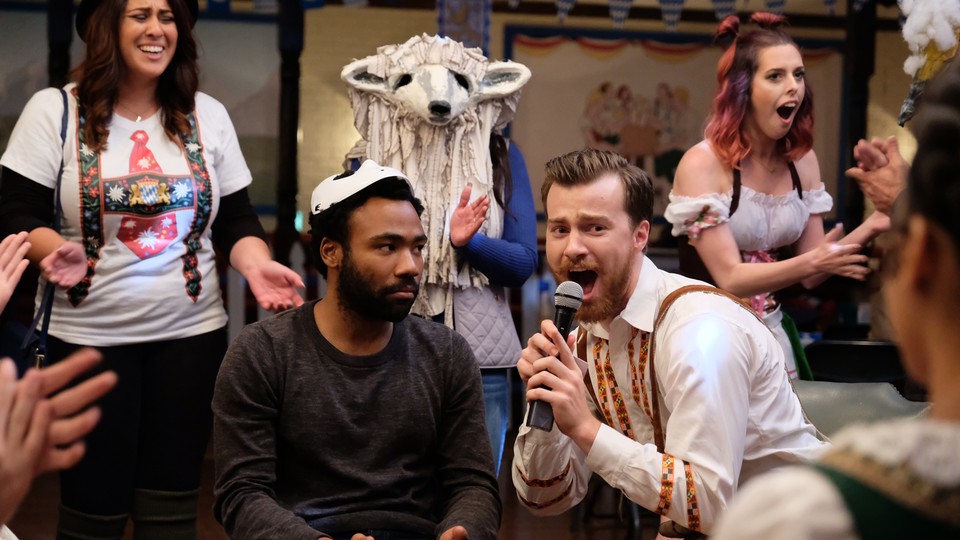 In July, the comedian and Saturday Night Live "Weekend Update" anchor Michael Che took to Instagram Stories with some opinions. First of all, Che explained, he hadn't watched Nanette, Hannah Gadsby's searing Netflix special about (among other things) the limitations of comedy as a vehicle for exploring trauma. Second, despite having not seen Nanette, Che firmly believed that it and similar shows should not, in fact, be classified as comedy. This was all of a piece with Che's Instagram complaint the same day about "anti-comedy comedy," or a kind of art he creatively labeled "standup tragedy." "I dont [sic] wanna have to 'survive' a comedy special," Che wrote. "I wanna laugh. lets not make this what its [sic] not."
All of which urges a question: Has Che watched television recently? Putting aside live performance for a moment, does he consider Random Acts of Flyness to be comedy? Atlanta? Insecure? The End of the F***ing World? Succession? Or Barry, starring his former Saturday Night Live co-star, the comedian Bill Hader? Looking ahead to the 2018 Emmy Awards this Monday—which are presented by Che and his "Update" co-host Colin Jost—the one quality that seems to define the best new shows on TV is an encroaching genrelessness. It's an approach to television that prioritizes creative vision and voice over formulaic convention. If the "sadcom" trend that flourished with Transparent and Louie and Girls saw half-hour shows fuse comedy and drama, hour-long shows are increasingly doing the same thing. The bleak satire of Succession and the tonal zaniness of Killing Eve, two recent longer shows that often feel impossible to categorize, prove how rich the results can be.
Reviewing Succession in June, I characterized it as a pitch-dark workplace satire stretched out into a prestige-drama format. By the end of the show's 10 episodes, it felt more like a tragedy, grander in scope and emotional weight, despite the quippy and ingenious humor of its creator, Jesse Armstrong. In an interview with The Hollywood Reporter, Armstrong declined to define it. And Succession's executive producer Frank Rich told me that when it comes to categorization, the people working on the series simply don't care. "I think a lot of this discussion [about genre], largely among critics and people who determine awards categories, is happening in another world from where shows are created," he said. "We never talked about whether it was a comedy or a drama. We just wanted good writing."
In prestige television, Rich says, networks are drawn most of all to the creative vision of writers and showrunners. And the most original and distinctive ideas tend to be ones that don't fit neatly into the old network-television boxes. "Look at Barry, look at Insecure, look at Atlanta and Girls," he says. "They all come from the distinct voice of a particular writer." He also cites The Sopranos, Breaking Bad, and Mad Men as earlier examples of shows that frequently incorporated elements of comedy and inherently comic conceits. But those series also functioned neatly as dramas, conceptually and structurally. With contemporary series like Orange Is the New Black, The End of the F***ing World, and Better Things, the question of what label to put on a show is a more perplexing—and perhaps more arbitrary—one.
Awards ceremonies, though, still insist on putting TV shows in simplistic boxes. In 2015, the Television Academy, which bestows the Emmy Awards each year, changed its rules to mandate that half-hour shows automatically qualify as comedies and hour-long shows as dramas. Networks can appeal if they want to be considered in a different category, but they aren't always successful (that same year, Netflix's Orange Is the New Black petitioned to be included in the comedy category but had its request rejected).
The rules change was received at the time with some bafflement. "So many shows on TV right now are a mixture of comedy and drama, but because we do not yet have the word to describe this genre-mixing, genre-poaching TV … it is easier for the Emmys to pretend it does not exist," wrote Slate's Willa Paskin.
Three years later, the Academy's insistence that shows fit into one of two categories only seems more archaic, given the wealth of acclaimed new series that defy generic labels. Asked for comment, a spokesperson for the Emmy Awards agreed to set up an interview with an Academy voter only on background, then stopped replying to multiple email requests altogether. But in an interview with The Hollywood Reporter this week, an anonymous Emmys voter expressed his frustration with in-between shows, stating of Atlanta, "Maybe it's kind of an old-school idea, but to me a comedy should make you laugh."
The Television Academy's failure to adapt to modern modes of storytelling is noteworthy because in the early days of the Emmy Awards, categories changed all the time. It was only in 1952 at the fourth annual ceremony that the Emmys started separating comedies and dramas. During the '50s and '60s, the Academy experimented with a variety of different definitions for TV shows to best suit the ways in which the form was changing. In 1955, "Mystery or Intrigue" was separated from "Western or Adventure" as a category. In 1965, the Emmys stopped distinguishing between comedy and drama altogether, offering an award only for "Outstanding Program Achievements in Entertainment."
What's ironic about the Emmys ignoring television's increasing genrelessness is that the space between comedy and drama is where the most original and resonant works are currently being made. One of the signature elements of Atlanta, Wesley Morris wrote in The New York Times earlier this year, is "the adjustment of heft and levity for bizarrely emotional effect." What makes Gadsby's Nanette so powerful is the way it makes viewers comfortable amid the familiar trappings of a comedy show and then upends things entirely. Terence Nance's Random Acts of Flyness is a sketch-comedy series that experiments with notes of horror, pathos, and surreality to communicate the emotional complexity of being black in America.
And that's ultimately why the most distinctive new TV writers no longer feel the need to hew to rigid boundaries. Life isn't exclusively funny or tragic or scary—why should art be? As Gadsby argues in Nanette, if comedy has long functioned by making jokes out of trauma, shouldn't it also allow comedians the space to interrogate what those jokes represent? The breadth of the television market in this moment also makes it easier for creators to sell projects that are distinctive rather than familiar. In 2018, television is all about writers, not products, as Netflix's monumental deals with creators including Shonda Rhimes, Kenya Barris, and Ryan Murphy attest. And "people with original voices," Rich says, "always break the rules."