I'm Still Confused About 'Miss America 2.0'
Sunday night's revamped version of the nearly 100-year-old competition was a dizzying and at times spellbinding collision of determined progress and regressive tradition.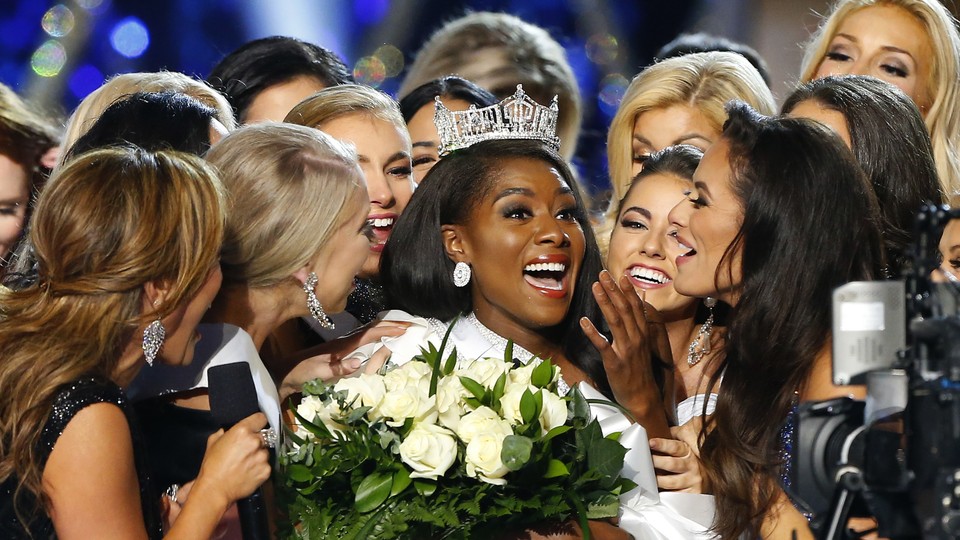 It wasn't until about halfway through the competition that I realized how different things really were this time around. I can pinpoint the moment precisely because it was the one when a young woman, clad in a deep-blue evening gown with a high, jewel-necked collar and saucily cut-out sides, started to talk about garbage. Callie Walker, Miss Alabama, had been taking her turn on the Miss America stage's "red carpet"—the new event the producers of the revamped telecast added to replace the show's erstwhile swimsuit competition. Walker came to the end of the short carpet; she gave a practiced pivot; she strode to Ross Mathews, a co-host of the evening's show. Mathews proceeded to ask her the same question he'd ask each of the 10 finalists who had made it to that portion in the competition: "What message do you have tonight?"
Miss Alabama did not miss a beat. "It's estimated by 2050 that our oceans will be filled with just as much plastic as marine life," she informed the host. She grinned. "We have got to do something." She smiled even more brightly, selling it. "Let's talk trash."
Welcome to "Miss America 2.0," the ostensibly less controversial version of the controversial pageant slash "scholarship competition" that aired, for the first time in its new incarnation, on Sunday evening. The two-hour-long telecast, true to its revamp, featured a lot (no, but really: a loooooot) of talk about grit and dreams and feminine perseverance. It featured exactly one (1) ballet dance set to "Hoedown," two (2) separate performances of Liszt, and approximately 79 pairs of platform heels, 215 roses, 1,248 references to "empowerment," 5,679 references to "strength," and 700,698,432 sequins. (There were, by my count, exactly zero (0) references to feminism.) The whole thing was, in all its aggressively sparkly juxtapositions of the forward gaze and the regressive one, a tidy metaphor for progress itself: The show suggested all the strangeness that can result when the world you want is awkwardly grafted onto the world you have. It was, in all, supremely weird and often compelling and occasionally inspiring. I cried at the end.
But: It was also confusing! Though I am a writer whose job is, in part, to sum up events succinctly for the sake of busy people, I am thoroughly unable to convey, in a few brief sentences, the sheer absurdity of the whole thing. All I can do is tell you about Miss Alabama's sea garbage, and then offer, my eyes still a bit blinded from the sequins and my heart still full from these grinning performances of "empowered womanhood," a detailed rundown of what went down. So: Here is what happened during the inaugural iteration of Miss America 2.0—new and, if not fully improved, very definitely different from Miss America telecasts past.
---
Part 1: The Initial Introduction of the Contestants Candidates
They announce the start of the show! The camera pans to the stage, where a group of five women, most of them clad in jeans, is huddled together. "We are," they say in unison, "smart, confident, strong"—at this, a piano plays plaintive chords. The camera quickly pans to another quintet. "Talented, accomplished, principled," those women (jeans, jumpsuit, track pants) chime in. Another group: "Commanding and impactful." Another: "Passionate and compassionate." Another: "Diverse and inclusive." (The piano swells some more.) "Sisters, daughters, friends." "Beautiful, inside and out." (Even more rousing piano swell.) "Future leaders, teachers, mothers." (Piano status: currently at full crescendo.) They say the conclusion together: "We … are empowered. And we … are just getting started!"
With that, the show officially begins. Its pre-produced intro features the 51 contestants—women Miss America, as an organization, now refers to as "candidates"—in various power poses, reality-show style, as words like PASSIONATE and CONFIDENT and INSPIRATIONAL and TALENTED flash, in gold all-caps, on the screen.
Part 2: The Parade of States
Then comes, in short order, the Parade of States, which features the women, now clad in cocktail dresses, introducing themselves, by way of their … academic achievements. One woman is "a graduate of Harvard with a degree in neurobiology and a minor in African American studies, preparing for a neurobiology Ph.D." Another: "a graduate of Brown University with a degree in neuroscience and an incoming master's student pursuing a medical degree." Another: "a degree at the University of South Carolina in political science with minors in Russian and public oration." Another: "a double minor in women's studies and domestic-violence prevention and services." As they introduce themselves, in alphabetical order, by state, songs like Beyoncé's "Run the World (Girls)," Katy Perry's "Roar," Alessia Cara's "Scars to Your Beautiful," and David Guetta and Sia's "Titanium" play in the background. (Empowered. And just getting started.)
One of the introductions also makes good on Miss America's own long-standing messaging: that the organization itself is about giving young women a "platform" to publicize the issues they care about. Emily Sioma uses her introduction not to share her academic credentials, but rather to remind viewers of the injustice that is taking place in the state she represents: "From the state with 84 percent of the United States' fresh water but none for its residents to drink, I am Miss Michigan, Emily Sioma!"
After this, the pageant, as pageants are so skilled at doing, goes back to its pageantry. (Sioma will not make it past the preliminaries; neither will Madeline Collins, Miss West Virginia, who was asked in an interview in the lead-up to Sunday's show what the most serious issue facing the nation is and replied, "Donald Trump is the biggest issue our country faces. Unfortunately, he has caused a lot of division in our country.") Onstage on Sunday, after Miss Michigan's intro, things continue apace; the women do a synchronized step dance to shift positions on the stage; everyone hits their cues and marks. Miss Texas introduces herself, then Miss Virginia, then Miss Wyoming. The parade concludes.
Part 3: It Is Important to Know That the New Miss America Is Not a Pageant So Much as It Is an Elaborate 'Job Interview'
As the women go backstage for what will be one of approximately 65 costume changes, Dancing With the Stars' Carrie Ann Inaba—the primary host of the evening's event—takes a moment to fill viewers in on what Miss America 2.0 is all about. "Over the next two hours," Inaba says, "you are going to meet and hear from the 51 women who are applying for the job of Miss America and the scholarship that comes with it." She adds, driving the new messaging home: "Make no mistake: Miss America is a full-time, 365-days-a-year job. And it is a dream job—one that gives the winner a chance to advance her talent, create a social-impact initiative, and the chance to make a real difference."
They play the segment out to Aretha Franklin's "Respect."
The commercial break, this time around, includes an ad for Queen America, Facebook Watch's upcoming Catherine Zeta-Jones show that seems to be mocking … pageants.
Part 4: More Substantial Introductions of the Job Interviewees
This particular pageant returns after the break to offer more detailed contestant candidate introductions. Miss Minnesota founded a skincare company, Ballerina Botanicals, whose products she sells on Etsy. Miss Florida was told as a young piano student that women can't have careers as pianists, which "instilled a passion in me to ignore stereotypes." Miss Colorado wants to be a professor at a university, where she can have a lab that works to help people with neurological disorders. Miss Connecticut works in a lab that is working "to reverse osteoarthritis." Miss Oklahoma wants to be a human-rights attorney to help the victims of human trafficking. Miss Indiana's mom came out when she was 12, "in a very small, conservative town," and that single act of bravery "always encouraged me to be myself." The contestants candidates are, on the whole, deeply impressive in their pursuits and accomplishments. The show plays out their interviews to Shania Twain's "Man! I Feel Like a Woman."
Part 5: "Peer Interviews"
Now it's time for one of the 2.0'ed question-and-answer sections: this one a series of "job interviews" in which contestants candidates answer questions written by their fellow contestants candidates. The judges for this new round—who will judge the remaining portions of the show—are introduced: Soledad O'Brien, Jessie James Decker, Laila Ali, Bobby Bones, Carnie Wilson (Do you think Inaba made a joke about "holding on"? You are extremely correct.), Alli Webb, and Randy Jackson. Each judge is introduced with a detailed job description. Most of the descriptions involve the term television personality.
The "peer interviews" happen quickly. Miss Washington asks Miss Idaho, on the nose–ily, to "explain why Miss America is still relevant." (Miss Idaho's answer focuses on the fact that Miss America is a scholarship organization.) Other pairings talk about the negative effects of social media. And about how to make sure that Miss America, the institution as well as its human embodiment, remains "relatable." (Miss Florida: "What's most important in being relatable is listening to others and their stories.") Each woman is extremely skilled at grinning-while-talking. Inaba announces another commercial break, then breaks the news: "These 15 strong and confident candidates will soon be 10 strong and confident candidates."
Part 6: The Red Carpet
When the show returns, it's played in by Christina Aguilera's "Fighter."
Soon enough, the 15 strong and confident candidates are indeed narrowed down to 10 strong and confident candidates. Mathews then introduces the "red carpet" section of the competition—the event that effectively replaces the erstwhile swimsuit competition. "Tonight we've asked our top 10 to wear whatever they want," Mathews says, "in order to express their individual sense of style, glamour, and fashion." He adds: "And beeteedubs, the red carpet counts for 20 percent of the overall competition."
The red-carpet walks come with yet more opportunities for the women to, indeed, express themselves: It's the allotted moment for them to share their official pageant platforms, the specific causes they'd champion as Miss America. (This is the section in which Miss Alabama, in what might well be a first for the Miss America competition in its nearly 100 years of history, dons a blue evening gown and talks about sea trash.)
There are, in this section, some additionally striking juxtapositions of Miss America 1.0 and its follow-up. Miss Florida's voice-over interview, as she walks the red carpet, reveals, "I spent a couple of weeks thinking this dress was gold, and then a couple of friends of mine said, 'No, it's silver.' So the jury's out on whether this dress is gold or silver." She pauses. "It's metallic, and it's rhinestone from top to bottom, and that's what matters."
She gets to the edge of the carpet. She pivots. "Okay, gold sequin," Mathews says to her. "What message do you have tonight?"
"It's my mission," Miss Florida replies, grinning, "to equip girls with the tools they need to rise up, lean in, and know their value. Because when women lead, we all succeed!"
This proves to be a common sentiment. Miss Connecticut, Bridget Oei: "Women are powerful sources of creativity. As Miss America, I will ignite curiosity, encouraging expressive exploration of the world." Miss District of Columbia, Allison Farris: "If I don't empower young women in tech, who will? Join me." Miss Colorado, Ellery Jones, offers the most compelling message of the segment: "Nearly 90 percent of survivors of on-campus sexual violence know their assailant personally," she says. "Together, through honest communication, we can reduce the statistic and make college a true home away from home."
Part 7: The Talent Competition
The 10 remaining women quickly costume change. One by one, they take the stage to showcase their pageant-mandated "talents," as biographical fun facts about them—their lives, the amounts of their Miss America scholarship winnings from previous competitions—flash on-screen. There's a ballet performance (to the aforementioned "Hoedown"). And those two piano performances of Liszt. And two spoken-word performances. And several songs, one of them—from Miss New York, Nia Franklin—a gorgeously performed aria from La Bohème. Miss Connecticut does a rousing performance of Irish step dancing: As she dances, ankle bending and toe tapping and whirling and leaping, one of her fun facts reads: "DEVELOPED A TRACHEAL IMPLANT POWERED BY RENEWABLE ENERGY TO POWER PACEMAKERS." Miss America 2.0 has its own message to share tonight.
Part 8: The Final Countdown
After a commercial break (outro music: "I Like It"; intro music: "Born This Way"), the top 10 contestants candidates are narrowed to the top 5: Franklin (New York), Oei (Connecticut), Holli Conway (Louisiana), Gabriela Taveras (Massachusetts), and Taylor Tyson (Florida). The five go through yet another round of interviews—self-expression is a key element of Miss America 2.0—this time with a 20-second allotment to answer questions asked by the judges themselves. The questions are about ambition and fame and social responsibility. The women ace them.
Part 9: A Little More Final Countdown-ing
And then: the finale! Inaba introduces Cara Mund, Miss America 2018, who will crown the winner. Mund has gotten the new-marketing memo: "The night I got this important job," the outgoing Miss America says, "I knew I could accomplish anything. It opened up the door to countless opportunities. As soon as I walk off the Miss America stage tonight, I'm going to law school, and work towards my goal to become the first female governor of North Dakota."
And then the runners-up are named. ("This is so exciting!" Inaba tells Mathews. "We're making history, Ross! We're part of history!")
Gabriela Taveras is fourth runner-up.
Taylor Tyson is third.
Holli Conway is second.
Oei and Franklin, left onstage—one the runner-up, the other the winner—grasp hands and then hug. "I love seeing this," Inaba says, to Mathews and the crowd. "Look at the camaraderie, look at the sisterhood these women are displaying tonight. It's beautiful. Empowered women, loving on each other. It's wonderful."
Inaba continues: "And the new Miss America receives $50,000 in scholarship, begins a year-long job, and her life will be changed forever."
The producers delay the announcement of the winner, their cameras zooming in on Franklin and Oei as they hold hands and begin to look like they're wondering whether something's gone wrong.
Part 10: Here She Comes …
And then it's announced: Oei is the runner-up! Franklin is the new Miss America! The two embrace, and Franklin is given an enormous bouquet of roses, and her mom comes onstage to give her a hug, and at this point I may or may not be tearing up, because it's been such a long journey and Franklin looks so happy and the women look so happy for her and sisterhood is so wonderful.
As for Miss America 2.0: Was it, too, a winner? On the one hand: It's still a pageant. It's still, in ways subtle and direct, a parade. It's still judged on looks, it's still full of sequins; it's now simply more full of words like empowerment and strength and accomplished. But: It's trying. And it's a start. There's something wonderful, despite all the other stuff, of an evening that's dedicated to women striding onstage, celebrating their accomplishments, and getting rewarded for them. There's something both nicely complicated and intensely pure about an Irish step dance perfectly performed by a woman who DEVELOPED A TRACHEAL IMPLANT POWERED BY RENEWABLE ENERGY TO POWER PACEMAKERS. Before Callie Walker, Miss Alabama, used the Miss America stage to talk about trash, she used it to talk about swimsuits—and, specifically, their symbolic and also extremely practical absence from the evening's events. "I do think sometimes change is hard," Walker said. "But," she was quick to add, "change is good."