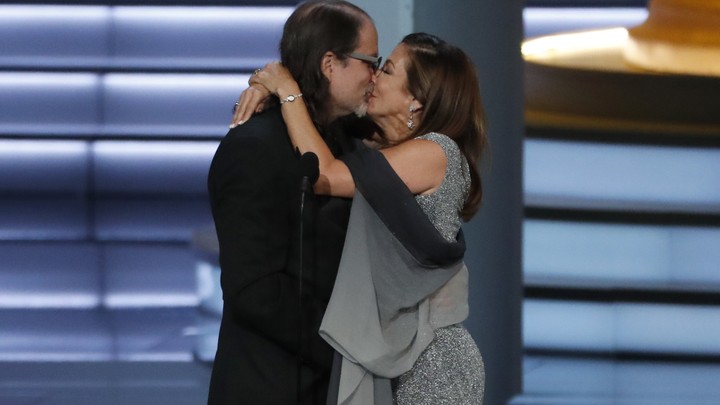 Glenn Weiss was the director in the control booth during one of the most famous moments of live-televised chaos in history: when La La Land was mistakenly announced as Best Picture at the 2017 Academy Awards instead of the rightful winner, Moonlight. He's since cracked that the mix-up had its upsides in making the show memorable. "Yeah, I've been joking about the fact that I've spent a whole career staging breathtaking, beautiful moments on television, and the shot that I'll be remembered for is a guy holding a card," he told the Los Angeles Times, referring to the La La Land producer who famously held up the slip reading "Moonlight."
At Monday's Emmys, Weiss paid the unpredictability forward by turning his acceptance speech for Outstanding Directing for a Variety Special into a tear-jerking, confusion-making marriage proposal.
It started on a sad note. The 57-year-old industry vet Weiss said that the person who'd have been most proud of him would have been his mother, but she had died just two weeks earlier. "Mom always believed in finding the sunshine in things, and that's why she adored my girlfriend, Jan," he said. "Jan, you are the sunshine in my life. And Mom was right: Don't ever let go of my sunshine. You wonder why I don't like to call you my girlfriend? Because I want to call you my wife."
Jan—Jan Svendsen—was in the audience; the camera cut to her just as she realized what was going on, bringing her hands to her face, opening her mouth in a joyful Oh my god. But just as moving was the reaction elsewhere in the auditorium. Leslie Jones shot to her feet and pointed at the bride to be. Javier Bardem looked like he'd heard the best joke of his life. Tears glistened amid the jewels and gowns. As the fervor spread and Svedsen started nodding, Weiss protested, "I didn't ask yet!" Once she reached the stage, he dropped to his knee and presented her with the ring his father had given his mother more than six decades ago. Svedsen said yes.
The Emmys had been a stilted affair till that point, all forced winks about diversity and slacker anti-comedy from the hosts, Colin Jost and Michael Che. The proposal, as personal and puzzling as it was, injected some real emotion into the evening—not to mention unpredictability. "There's so many guys who didn't win with engagement rings in their pockets right now," Jost joked later in the telecast. Said John Oliver, "On behalf of everyone in this room, I'd like to thank Glenn Weiss's fiancée for saying yes. This could have been a very different evening. You really came through."
Another delicious twist: In winning the award, Weiss bested the director of the night's proceedings, Hamish Hamilton, who'd been nominated for the same award for heading up this year's Super Bowl halftime show. And in using his acceptance speech to surprise his girlfriend, Weiss created the sort of seemingly unscripted moment that live shows like the Emmys and Oscars both fear and thrive on. He had to realize the curveball he'd thrown not only his girlfriend, but also to the production crew. "Hamish," Weiss said at one point, "I'm going to need a moment."
We want to hear what you think about this article. Submit a letter to the editor or write to letters@theatlantic.com.
Spencer Kornhaber
is a staff writer at
The Atlantic,
where he covers pop culture and music.