The Trenchant Powers of If Beale Street Could Talk and Widows
This year's Toronto International Film Festival features follow-ups from two of Hollywood's most exciting directors, Barry Jenkins and Steve McQueen—and they both have thrilling viewpoints on life in America.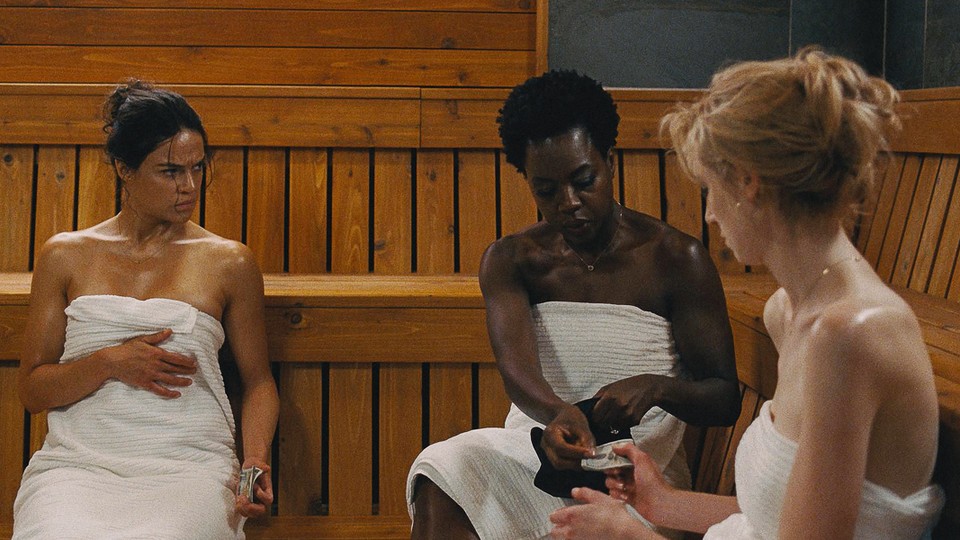 Speaking at the Toronto International Film Festival after the world premiere of his new film, If Beale Street Could Talk, the writer and director Barry Jenkins recalled a moment of stark racism he experienced during the awards campaign for his last film, 2016's Best Picture Academy Award–winner, Moonlight. At the Academy's Governors Awards, Jenkins was told by a valet that his driver had referred to Jenkins using the N word.
"And this is when I'm wearing a $5,000 suit," Jenkins told the audience. "I've just come from the [Governors] Awards. So if it could happen to me with someone who's driving me, a person in power, what the hell do you think happens to some dude working a shift at the factory? Or some dude walking to the bar? … If it can happen to me, it can happen to anyone, and we've got to tell these damn stories."
If Beale Street Could Talk, based on James Baldwin's seminal novel, is set in Harlem in the early 1970s. Its story is specific, charting the romance between Fonny (Stephan James) and Tish (KiKi Layne), two young friends who become lovers before Fonny is jailed due to a rape accusation (despite compelling evidence that he couldn't have been near the scene of the crime). But the film also has the feeling of a parable; it's a lyrical depiction of the intense bond shared between its lead characters, though it's just as focused on the strictures of the racist world they have to occupy, and their continual struggle to find any space for themselves.
Jenkins, who said he had been working on an adaptation of Beale Street since before he even had the rights to the book, was clear at the premiere's Q&A session about how resonant he still finds the novel, decades after its publication. "I felt very deeply that this film, even though it was set in 1973 to '74, that it was relevant to today," he said, referencing a particular scene where Fonny's friend Daniel (Brian Tyree Henry), recently released from jail, describes the circumstances of his arrest and the metaphysical horror of imprisonment.
While Jenkins's debut film, Medicine for Melancholy, was set over the course of a day, and Moonlight was told in three distinct time periods, If Beale Street Could Talk has a much less formal approach to plotting, unfolding as a series of memories, drifting between Fonny's present (in jail awaiting trial) and his past, creating a sense of the community he and Tish live in, their families, and the institutional barriers that will eventually derail their lives. "We wanted to translate what it feels to be a black person," Jenkins said of the film. "It's a mixture of love, and in the very next moment, of pain, of strife."
This year's TIFF also hosted a world premiere from Steve McQueen, whose last film, 12 Years A Slave, won the 2014 Academy Award for Best Picture. His latest, Widows, is an edgy, accomplished thriller set in Chicago. McQueen comes from the world of experimental video art and has always been a precise filmmaker; every shot in his features Hunger, Shame, and 12 Years a Slave feels carefully selected and presented, never careless. In Widows, he's moved into blockbuster territory, adapting a 1983 U.K. TV series and turning it into a pulpy, all-star actioner.
Widows, though, is the furthest thing from a disposable popcorn flick, something McQueen made very clear when introducing his work at its premiere and issuing a call to arms for people to make films about "what's happening in the world right now." Though it has his same surgical visual style, Widows feels massive and sprawling in the issues it tackles (gentrification, political corruption, spousal abuse); this is a story told on a municipal scale.
The film's focus is on one heist that Veronica Rawlins (Viola Davis) resolves to pull off after her master-criminal husband (Liam Neeson) is killed by the police. Struggling to repay the debts her husband owes, Veronica unites the widows of his co-conspirators to help her finish the job. Widows, which McQueen wrote with Gillian Flynn (Gone Girl), digs into the sometimes frayed connection that each of the women (played by Michelle Rodriguez, Elizabeth Debicki, and Carrie Coon) had to her husband, but it also interrogates the limitations of each relationship, and how each woman's life is hampered by her (deeply flawed) partner, even after his death. There's a metaphysical sort of robbery that happens in so many marriages, McQueen posits, and this is the chance for these women to take back what they lost.
Beyond that, it's a story of Chicago's ongoing transformation and the neighborhoods that are being forgotten, or dismissed, as a result. The heist Veronica plans revolves around a local politician's son, Tom Mulligan (Colin Farrell), running for the office his father has just vacated, and a neighborhood crime boss (Brian Tyree Henry) who has resolved to battle Mulligan's assumed incumbency. Mulligan is the kind of smooth operator who knows just enough of the right words to say at the local rally, or the community church, to get by. But it's the kind of surface slickness that belies deep-rooted apathy about the way the world is, and how impossible it is to change it.
That McQueen manages to weave all these knotty ideas through a truly tense, electrifying genre movie is a testament to his unique gifts as an artist. It's also proof—for those who need it—that a movie about social issues or racism needn't feel didactic: Widows is loaded with moments designed to make the audience gasp or burst into applause. McQueen has made a movie about the country as it is right now, just as he promised, and he's made it with verve, style, and pulpy panache.