The Slow Death of the Red-Carpet Show
The pre-show before the 2018 Emmy Awards seemed to be confused about its own point.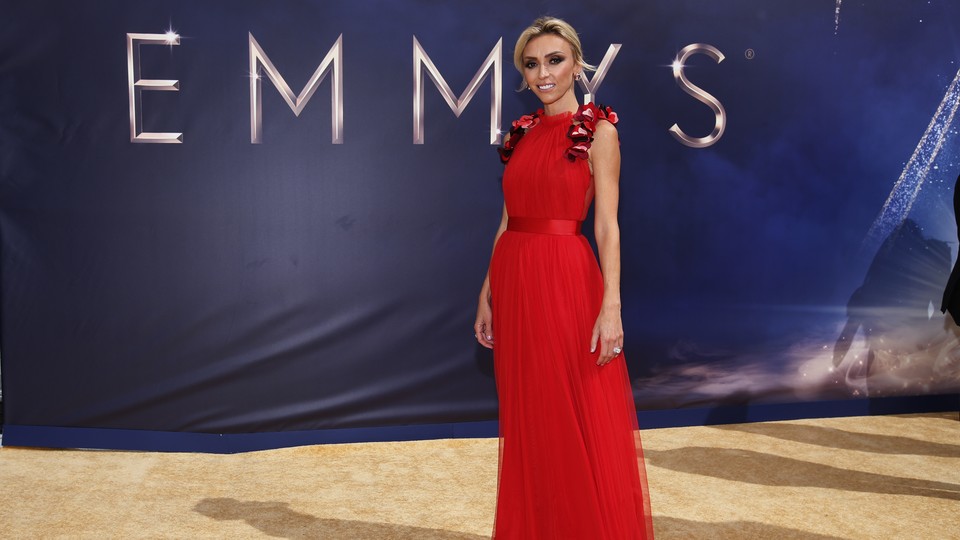 Early on in the E! Live From the Red Carpet show preceding this year's Emmy Awards, the program's longtime host, Giuliana Rancic, gamely engaged in an experiment intended to make the show more interesting. As she talked with celebrities on the red carpet—Milo Ventimiglia, Sterling K. Brown, and Ryan Michelle Bathe—Rancic motioned to a jar filled with pieces of paper. The strips contained questions, she explained, from E! viewers who had, throughout the week before, provided them to be asked of celebrities. "We really want to engage the fans in this red carpet more than ever," Rancic explained.
Ventimiglia was among the first group of stars to be part of E!'s engagement experiment. He drew a card from the jar and chuckled. "If your life had a motto, what would it be?" he recited from the paper. Ventimiglia pondered for a moment and said, "Um … Live with love."
Then came Brown and Bathe. Their card: "What celebrity would you like to have dinner with?" Bathe picked Rihanna. Brown picked Eddie Murphy because he was a part of Brown's childhood, and "I just feel like he would have a lot of information to share."
The cards and their choose-your-own-adventure aesthetic introduced moments of unpredictability into an exercise—the arrival of celebrities to the awards-show red carpet—that is typically lacking in surprises. The carpet's events may not be scripted (indeed, the promise of the interactions it offers, between celebrities and interviewers, is that truly Anything Might Happen); they are, however, traditionally staid. But E!'s audience-driven question cards proved to be, perhaps, too experimental. As the red carpet went on, the card thing … stopped. The fan-engagement attempt ended. Things went back to the standard format: hosts asking celebrities questions—"How are you doing?" "Who are you wearing?"—and celebrities dutifully answering them.
There was another question lurking among the others, though: What is the point of all this? Awards-show red carpets have long presented an awkward proposition: On the one hand, they're about images (the clothes! THE CLOTHES). And yet they try to be about so much more. How do you make a red carpet with a two-dimensional appeal come alive in three dimensions?
The Emmys red-carpet proceedings this time around were notably dull—in part because E! seemed unsure of how to set the tone of the show. First, there were the audience questions; that gave way, soon enough, to Rancic asking celebrities open-ended, probing questions. ("Who inspires you?" to Mandy Moore, who answered, "Reese Witherspoon.") Evan Rachel Wood brought as her guest the activist Amanda Nguyen, the author of the sexual-assault survivors' bill of rights; and the duo wanted to talk activism. "Obviously one of the best parts of this job is to have this incredible platform, to reach so many people," Wood told Rancic. She added: "I think we're at a crucial time in history right now. Especially for women, especially for civil rights." But the red carpet is not especially well equipped for conversations about civil rights; Rancic followed up those insights with broader questions about Wood's acting. ("Where do you get that drive from, that passion for what you do?")
Earlier red carpets have been explicitly political (the Golden Globes carpet of early 2018, for example, with all its talk of #TimesUp); and many red carpets before that have been explicitly apolitical (lighthearted banter as the order of the day). It is perhaps an apt metaphor for this moment—in awards shows, in entertainment, in American culture—that red carpets don't seem to be sure what they are anymore, or what they should be. A platform for serious conversation? An opportunity to talk about social issues? A place of communion between celebrities and audiences? A lighthearted presentation of clothes? It might be all of the above—or it might be none.