The Simple Request of the McDonald's Anti–Sexual Harassment Protests
The strike, like most #MeToo-era advocacy, reveals that those who've dealt with workplace misbehavior don't desire vengeance so much as an acknowledgment of the harm that's been wrought.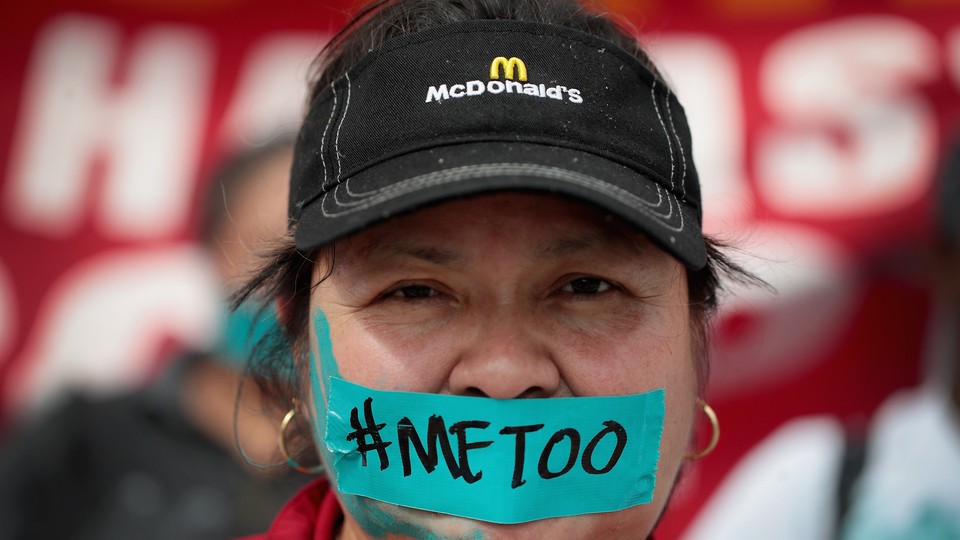 Tuesday afternoon in Chicago, a McDonald's worker and single mother named Adriana Alvarez led a group of protesters who stood with blue duct tape covering their mouths, with "#MeToo" scrawled on it in black marker. "I represent thousands of fast-food workers who are striking across the country against sexual harassment," Alvarez said after removing the tape from her face. "Today, fast-food workers just like me are breaking the silence. We're taking this historic step, and we're going on strike to tell McDonald's 'No more sexual harassment.'"
"We've seen in the news that sexual harassment is happening to others within more major corporations like CBS, and how Hollywood actresses have filed lawsuits against their CEOs and media moguls," Alvarez continued. "Now, more than ever, it is imperative that fast-food workers take action and use our voices in the same way—to hold McDonald's and other fast-food chains accountable."
But McDonald's employees—and workers across the food-service industry—have been speaking up about workplace harassment for years. In May, 10 women working at McDonald's locations in nine different cities filed complaints against the company with the federal Equal Employment Opportunity Commission for what they described as a culture of rampant sexual harassment. In 2016, a union-backed group filed similar EEOC complaints on behalf of 15 employees. Like many women, including the more well-resourced women in media and entertainment whose stories Alvarez referenced, McDonald's workers have thus far lacked support, not conviction.
When women, especially those without the benefit of a large platform  or connections to powerful industries, share allegations of misconduct, they do so knowing that many people will not heed their first and most basic request: Bear witness to my pain. The McDonald's strike is born of workplace concerns in a notoriously low-paying industry, an example of economic activism that draws from a long tradition of labor-oriented organizing. But the need for a nationwide display, for workers to literally leave their jobs in order to be heard, is also a reminder of the ways in which women's very simple entreaty—acknowledge my humanity—is still so often ignored.
As my colleague Megan Garber writes,"'Believe women' fails when Americans prove themselves—still, despite it all—reluctant to do the extremely basic work the ethic asks of them, as it asks for women's experiences to be taken seriously: to acknowledge those experiences in the first place. To pay women that smallest and yet rarest of dignities: listening to them. And actually hearing them."
But for many employers and individuals, any possible impulse to listen to women's concerns is overshadowed by either fear of consequences or unwillingness to be responsible for a solution. For companies like McDonald's, treating workers' concerns with a measure of gravity requires bureaucratic shifts to the company's corporate infrastructure. The nationwide strike, which organizers planned across 10 cities for National Cheeseburger Day, came with a clear set of demands. On the accompanying website, workers outlined their requests for the corporation:
McDonald's strengthen and enforce its zero-tolerance policy against sexual harassment;

McDonald's hold mandatory trainings for managers and employees and create a safe and effective system for receiving and responding to complaints;

The formation of a committee that includes McDonald's workers; McDonald's corporate and franchisee representatives; representatives of leading national women's rights groups like the Time's Up Legal Defense Fund, the National Women's Law Center and Equal Rights Advocates; to address sexual harassment issues at the company. This committee would chart a path forward to make sure nobody who works for McDonald's faces sexual harassment as part of the job.
That the corporation appears to only now be responding to its employees' concerns is frustrating not just because of the scale of the workers' Tuesday-afternoon display, but also because of the feasibility of the requests themselves. "Today, in addition to our existing initiatives, we are engaging third-party experts known for their expertise in the areas of prevention and response, including RAINN and Seyfarth Shaw at Work, to evolve our policies, procedures, and training," a company spokesperson said in a statement emailed to press Tuesday. "We will continue—as we always have—to look at ways to do even more to ensure that McDonald's values are reflected in every restaurant, every day." Even in its attempts to address workers' demands, the company congratulated itself on its prior actions. In doing so, it continues to shirk moral—or economic—responsibility.
McDonald's employees' concerns are specific and contextual, but the need to be heard extends to alleged victims of many different backgrounds. The strike aptly mirrors much of the #MeToo-era advocacy with which it is aligned: In response to sexual misconduct, many women don't desire vengeance so much as they want an acknowledgment of the harm that's been wrought. While some people pontificate about the dangers of letting #MeToo go "too far," this ask, shared by any number of people who have experienced sexual assault or harassment, remains maddeningly simple.
In one far more high-profile example, Christine Blasey Ford, the California professor who (first anonymously) accused the Supreme Court nominee Brett Kavanaugh of attempted rape, has said through lawyers that she will cooperate with the Senate Judiciary Committee. But Ford has asked for a full investigation—an opportunity for the veracity of her claim to at least be assessed—before she undertakes the strenuous task of sharing her story on a national stage. Given the severity of Kavanaugh's alleged crime, and the astronomical importance of the post for which he is nominated, Ford's request is hardly outrageous.
Still, partly because genuinely listening to Ford would require a bureaucratic process—in this case, an investigation—her voice has, thus far, gone largely unheard by government officials. Others outside governing and judicial entities have attempted to silence Ford, the implicit through line of their actions being the inconvenience that her voice represents: She has been doxxed and hacked, received death threats, and has been forced to flee her home and hire a security detail. She has been reminded, again and again, that the very act of listening to her is a burden many refuse to bear.
But women's accounts of assault or harassment are far more important than the nuisance they represent to the entities charged with preventing future occurrences or assessing restitution for past harm. It's telling that, as of now, it feels difficult to imagine a world in which McDonald's were to listen to its employees before they felt the need to strike, one in which women like Christine Blasey Ford could speak without fear of being attacked or maligned by the highest offices in the country. It's tragic that women must walk through a world in which the default expectation is that their stories will be metabolized as distractions (from profit, from the pursuit of power) rather than the accounts of fully realized human beings worthy of attention.
For McDonald's employees and other fast-food workers, the overall lack of empathy from the public stems from the same source of marginalization that enables cultures of workplace harassment. Many low-wage food-service employees are uniquely vulnerable to harassment on the job because of the precariousness of their economic conditions. The specter of poverty complicates—and often precludes—decisions like the one to risk one's income to protest harassment. Reports of misconduct in more visible, highly paid industries have thus far eclipsed the national concern over the hostile working conditions that many food-service employees contend with. So when McDonald's employees ask that their voices be heard, their entreaties are directed just as much to media and to consumers as they are to the company's executives.
"We're not going to tolerate or continue to stay silent anymore," Alvarez said before introducing Teresa Cervantes, a colleague who shared, in Spanish, a story of being harassed while on the job by a female manager who asked, when Cervantes went to the back office, if she had come for pito, a word used for male genitalia. Cervantes, a 20-year veteran of the franchise, had gone into the office to ask for her hours to be shifted because she knew her male supervisor had a reputation for having sex with employees. "I was only trying to be the responsible, hard worker that I've always been," she said.
It's her employer's alleged harassment that derailed Cervantes's work, after all, not her own performance on the job. For McDonald's to acknowledge that the supervisor's behavior was inappropriate would be a minor, straightforward step, but it's one that Cervantes, and the others who walked out alongside her and around the country Tuesday, say they have yet to see materialize. For the many women who have shared accounts of harm at the hands of men in power, restitution can seem impossible when even admission of harm—or less, an inquiry into possible harm—is so rare.