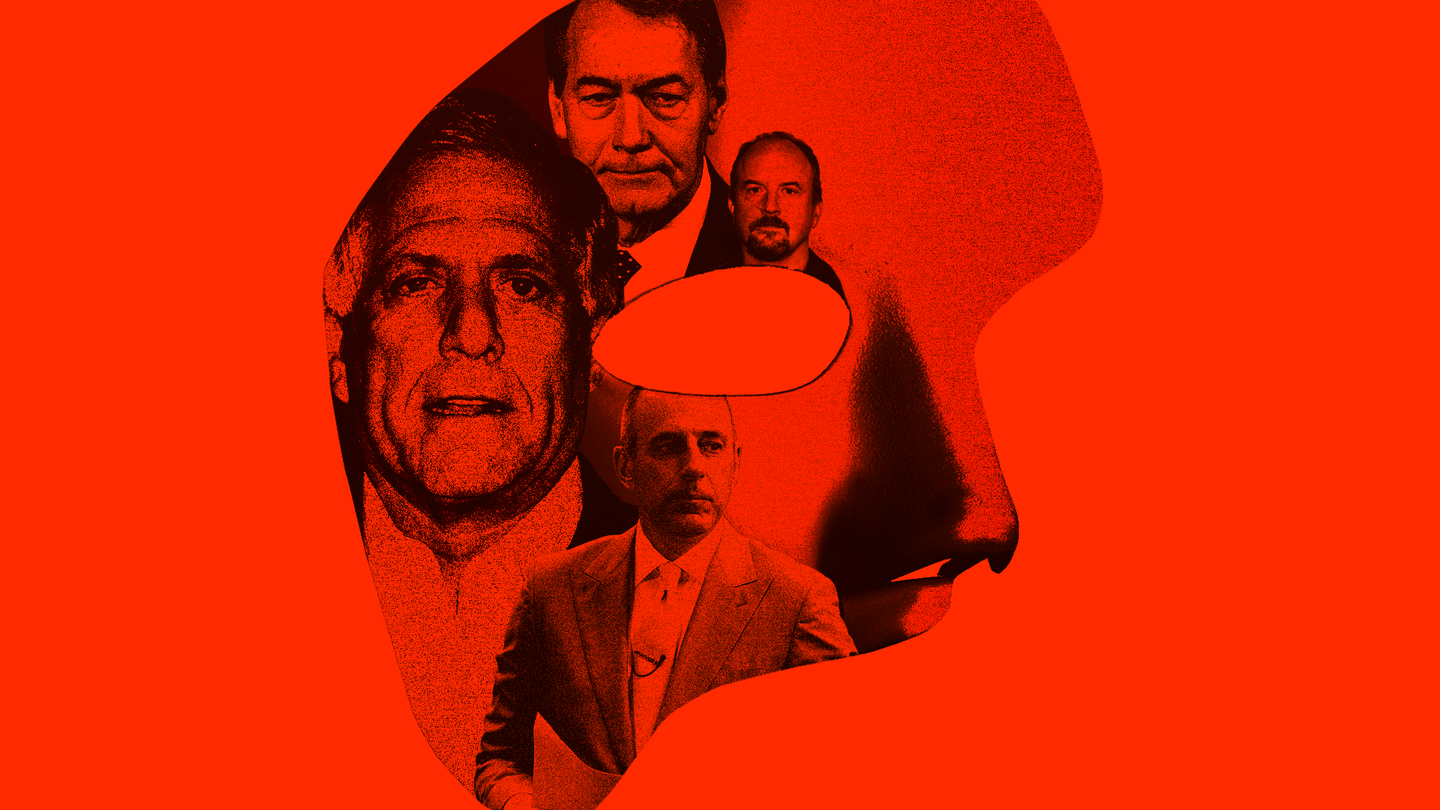 The Phantom Reckoning
From Les Moonves to Louis C.K. to so many others implicated in #MeToo, there have been many performances of accountability theater. But those in power have repeatedly proven themselves unwilling to make amends.
This week, CBS made an announcement: Les Moonves, the chairman under whose watch the network had transformed into a commercial juggernaut, was resigning. It was news that was, as so much news will be these days, simultaneously shocking and deeply predictable—the latter because the departure came after Ronan Farrow, in July, had reported in The New Yorker on allegations of sexual harassment and emotional abuse that had been made against the TV executive; the former because CBS, despite assurances that it "takes each report of misconduct very seriously," had previously declined to act decisively in response to the revelations. On Sunday, however, The New Yorker published a second report on Moonves—this one containing allegations of forced oral sex and physical violence, some of them made by women who had spoken out because they had felt betrayed by CBS's laconic response to Farrow's initial story. It was this additional round of reporting that appears to have propelled the network to its newfound moral clarity. "Moonves is gone," Stephen Colbert summed things up on The Late Show this week. He paused. "For at least nine months, until he does his set at the Comedy Cellar."
The joke was prophetic: There are indeed shades of Louis C.K.'s warp-speed return in the recent saga of Les Moonves. The executive, it was quickly reported, isn't fully leaving CBS; instead, he will remain at the network to "perform transition advisory services." (The flawed logic of "too big to fail" appends itself just as readily, it seems, to those who have delivered unto the world the jingle that begins with "men, men, men, men, manly-men, men, men" and concludes with a climactic "meeeeeeeeeeeen.") A CBS board member, in discussing Moonves's demi-departure, lauded the executive's "24 years of service" as if he were simply a happy retiree on the cusp of being presented with his golden watch. Which was, for all its dissonance, fitting. There remains a chance, after all, that Moonves will depart CBS not with a golden timepiece so much as a golden parachute: Pending the results of an investigation being conducted by law firms that are kept on retainer by CBS, he still stands to exit his role with as much as $100 million in severance. And even if he earns nothing more, he will leave the network with a net worth estimated to be $700 million.
Guilt, gilt: shocking, predictable. What happened at CBS this week mingles real culpability with a shadow form of it. It combines direct consequences for alleged misbehavior with something more suggestive of accountability theater—a slow-moving performance that shares its lines and lights and cues with many other #MeToo-related cycles: the revelation of abuses enacted by the powerful; the carefully constructed gestures of contrition (CBS accompanied the Moonves news with the announcement that it is giving $20 million to as-yet-unspecified women's-advocacy organizations); the scant evidence, beyond that, of the kind of deep self-examination, on the part of individuals or the organizations that enabled them, that can lead to real and systemic change. There have been, over the past months, very many rote recitations of the letter of the law, and very few articulations of the spirit. So many empty performances of remorse. So many shadows obscuring the mirror American culture was meant to hold up to itself as people summoned their courage and shared their stories. The new world promised in the most hopeful moments of #MeToo has thus far not materialized, and little wonder: Its occupants live, despite it all, in the land of the phantom reckoning.
In early October of last year, The New York Times published its initial report on the monstrosities of Harvey Weinstein. The New Yorker followed soon after with its own story about Weinstein's alleged abuses. And then: Floodgates opened. #MeToo expanded. The revelations inspired more revelations, and more, and more, line-by-line additions to a story that was both intensely personal and widely shared.
#MeToo, accordingly, soon became discussed among the media not only as a movement, but also as a more direct project of moral accountability. "The media industry 'reckoned,'" The New York Times put it in mid-October, two weeks after it published the first round of Weinstein allegations, "with why it took so long for 'the worst-kept secret' in Hollywood and New York to be published." Before the month was out, Chris Hayes would be noting on MSNBC that "it seems like there's this sort of day of reckoning that has come for a lot of people"; The Washington Post would be declaring "a moment of reckoning for men—and the behavior we can no longer ignore"; The Atlantic would be assessing the behavior of the magazine journalist Leon Wieseltier, and of people who had moved in his orbit, as "a reckoning"; CNN would be pointing to the Weinstein reports as "the beginning of a long-overdue reckoning about sexual assault and harassment."
Even in the heavyhearted analysis that accompanied the #MeToo revelations, there was a heady optimism. Reckoning: The term evokes at once the precision of the ledger and the broad scope of human fallibility; it assumes the existence, and the promise, of a universe governed by structured moralities. (The Oxford English Dictionary offers as its first definition of the term: "the action or an act of accounting to God after death for (one's) conduct in life; an account so given; the occasion of giving such an account, the Last Judgement.") The painful revelations of #MeToo, the logic of the reckoning seemed to whisper, would not be made in vain. All the buried traumas, dredged and surfaced; all the newly shared stories; all the determined bravery: They would be worth something, in the end. They would have a purpose. They would make a change. That is the point of a reckoning.
Nearly a year later, however, the world is awash with news of Les Moonves and his shadow ouster, of Louis C.K. and his blithely self-centric comeback, of the radio host John Hockenberry and the paean to self-pity he published this week in Harper's, of the broadcaster Jian Ghomeshi and his very similar work of essayistic solipsism—mournful in tone and illustrated with Edvard Munch's Evening, Melancholy I—published on Friday in The New York Review of Books. Scholars clamored to defend the star NYU professor Avital Ronell when she was accused by a former Ph.D. advisee of sexual harassment and assault, retaliation, and stalking. (Her fellow academics' defense cited, in part, Ronell's "brilliant scholarship" and "international standing and reputation" as evidence that her accuser must be lying.) Bill Clinton gets angry, still, when asked extremely basic questions about his relationship with Monica Lewinsky. Bill Shine, the executive dismissed from Fox News for his complicity in the culture of sexual harassment long allowed to flourish at the network, was recently promoted to the White House. The president of the United States, himself accused of sexual misconduct, thus far fruitlessly, by more than 20 women, was the one who elevated him.
There are so many failed reckonings lurking within the broader one: Bill O'Reilly's. R. Kelly's. Mel Gibson's. Floyd Mayweather's. Ken Friedman's. Garrison Keillor's. Mark Halperin's. Asia Argento's. The TV anchor Matt Lauer, having made precious little public statement on his firing or its circumstances (the alleged assaults, the bullying, the remote-locked door), has reportedly been telling fans in New York City, "Don't worry, I'll be back on TV." The talk-show host Charlie Rose, summoning the strain of misogyny that insists on women's propensity to be at once histrionic and confused, now says that some who accused him of misconduct were simply confusing "banter" (friendly! collegial! complimentary!) with abuse. The chef Mario Batali, having been accused by several women of inappropriate touching in a pattern spanning two decades, stepped back, took a long, hard look at himself, and offered up a recipe for cinnamon rolls.
Batali has apologized. He has since engaged in charity work. He has gone through the motions, it seems, of reconciliation. But he has offered, beyond the theater, little proof of deeper reckoning. Nor has Lauer. Nor has Rose. Nor have so many others who have faced allegations of misbehavior in #MeToo, directly or through passive acts of complicity. The Michigan State University doctor Larry Nassar, convicted of sexually assaulting 265—265—of the women and girls who had trusted him with their medical care, has been sentenced to at least 40 years in prison; many of the people accused of enabling him, however, continue to work at the university. The Catholic Church has been recently roiled with yet more horrific revelations of its sexual abuse of children—this time because of a finding, released by the Supreme Court of Pennsylvania, that more than 300 priests across the state had abused at least 1,000 (known) victims. The numbers are staggering. They have been countered, thus far, with a staggering narrowness on the part of the Church as it has reacted to the revelations.
Power corrupts; systemic power corrupts systemically. The patterns are entrenched; this is why they don't come forward. Here is Ghomeshi, discussing what it feels like to be implicated in #MeToo—and offering a moment of stark honesty within an essay that otherwise serves up a slyly revisionist treatment of Ghomeshi's own recent history: "Even if your lips are speaking words of contrition, your mind is a ferment of petty, selfish fury."
A few weeks ago, Louis C.K.—accused not only of masturbating in front of several of his female colleagues, but also of suggesting that their stories about his behavior had been self-interested lies, thus compromising their reputations and their careers—made his return to the stand-up stage. The comeback was a surprise, both for the people in the audience at New York's Comedy Cellar as well as for the public at large; in the room, it was greeted, The New York Times reports, with an enthusiastic ovation. Not everyone was so excited, however. The return was made entirely on C.K.'s terms; and it was remarkable, my colleague Hannah Giorgis wrote, how little of C.K.'s self-authored "redemption" story involved the stuff of real redemption. The comic, in his "comeback," reportedly made jokes about rape whistles but made no mention of the women he had mistreated; indeed, he seemed to have seen no need to.
Nor have, at least on the public face of it, the people who have helped to elevate C.K. to his current and apparently too-big-to-fail stature. The New York Times, shortly after C.K.'s comeback to the comedy stage, ran an interview with Netflix's heads of comedy and consequently "the most powerful gatekeepers in stand-up": Lisa Nishimura, the streaming services's vice president of original documentary and comedy programming, and Robbie Praw, its director of original stand-up comedy. Here is one of the paragraphs included in the story that resulted from that interview, from the reporter Jason Zinoman:
Then there's the inevitable question of Louis C.K. Netflix canceled a deal with him after he admitted to sexual misconduct. But would the service have him back? After I posed the question—weeks before he returned to do a club set—Ms. Nishimura and Mr. Praw paused to reflect. This extended into a minute before a publicist interrupted, saying they wouldn't be able to answer.
There's so much being said in that silence. The flip side of C.K.'s nine-month-long absence from the public eye, after all, is that the many people who travel in the orbit of his star had nine full months to consider precisely how to answer the "inevitable question" of his return. This is also to say that the people who, creatively and commercially, are invested in the career of Louis C.K. had nine full months to engage in their own kind of reckoning: What kind of platform does C.K. deserve, and what kind of platform will he now be given? (Those matters are not, the world being what it is, fully redundant.) How do forgiveness and reconciliation and the tenets of restorative justice manifest as business propositions? How does Netflix think about—systematically, morally—that classic conundrum: the tangled relationship between the art and the artist who creates it?
Social progress tends to hew to familiar cycles: forward motion, met with resistance. Advancement; backlash. The women's movement; the rise of raunch culture. The civil-rights movement; the rise of Donald Trump. On the one hand, in the widespread resistance to the simple premise that the victims of #MeToo deserve as much consideration as the perpetrators, there is a backlash that feels no need to disguise itself: indignant dismissals of Twitter feminists; breezily straw-manned op-eds arguing against the functionally nonexistent rallying cry of "Believe all women"; mockery of Nanette by comedians who refuse to pay Hannah Gadsby's transformative stand-up the basic dignity of actually watching it before going on to explain its flaws.
In the workings of the phantom reckoning, however, there lurks a more insidious backlash. The shadow version, instead of articulating direct rebukes to #MeToo, loudly claims its concern about the victims of misconduct while, at the same time, maintaining complacency. This is the brand of backlash that finds executives at Netflix, a company that proudly touts its data-driven ethos, presented with a data set about one of its moneymakers—and then failing, in public, to take the new information into account. (This extended into a minute before a publicist interrupted, saying they wouldn't be able to answer.) It is such pliant backlash, as well, that leads to the following exchange, between the Slate interviewer Isaac Chotiner and Ian Buruma, the editor who commissioned Ghomeshi's essay for publication in The New York Review of Books:
Chotiner: These allegations were from more than 20 women. We don't know what happened, I agree. But that is an astonishing number, no?

Buruma: I am not going to defend his behavior, and I don't know if what all these women are saying is true. Perhaps it is. Perhaps it isn't. My interest in running this piece, as I said, is the point of view of somebody who has been pilloried in public opinion and what somebody like that feels about it.
Ghomeshi, in the essay Buruma published, describes himself as the reluctant recipient of a "crash course in empathy." It is Buruma's comments, though, that are infinitely more instructive about the workings of empathy in a world of moral myopia. How does the famous man, the sad victim of #MeToo's chaos and wrath, feel about it all? What is his point of view, one really must ask? The women in all this question-asking are, meanwhile—shocking, predictable—distanced and blurred until, finally, they are simply written out of the story altogether. This week, after CBS announced the official departure of Les Moonves, The New York Times published a ticktock detailing how the network's board of directors decided, finally, that he would leave. The paper's report quotes Arnold Kopelson, one of those board members, speaking during a meeting conducted this summer: "I don't care if 30 more women come forward and allege this kind of stuff," he said, defiantly. "Les is our leader and it wouldn't change my opinion of him."
One of the nice things about reading in print is the margins: the blank spaces, part of the story but beyond it, available for word jotting and asterisk etching and, note by note, a quiet conversation conducted between the reader of the thing and the writer of it. When I read the former radio host John Hockenberry's essay about his implication in #MeToo, published this week in Harper's—"If you know anything about me, John Hockenberry," the piece begins—the first margin note I made, in the Bic ballpoint I reserve for such occasions, was "bragging." Then "self-pity." Then "victim (him!)." Then I stopped jotting words, needing only downward arrows, clear as it quickly became that, paragraph after paragraph, the piece would be offering more of the same: bragging (a list of Hockenberry's journalistic achievements: Emmys, Peabodys, the adulation of colleagues); self-pity (a list of the misfortunes that had befallen him after the many allegations against him—of unwanted kissing, unwanted touching, sexualized comments, and the undermining of the women of color who worked as his colleagues—were made public); assorted assertions of victimhood (his!).
Hockenberry's essay is titled, simply, "Exile"; it is published in the pages of a national magazine. It contains rueful references to Hockenberry's post-#MeToo "life sentence" and "solitary confinement"; these are coupled with references to Hockenberry's fear that the people he meets when out in public—on the streets of New York, at a piano recital he gave to demonstrate the results of the lessons he has been taking for the sake of self-improvement—are silently judging him. It does not seem to have occurred to the essay's author, or indeed to its editors, that in these juxtapositions lurks a profound and revealing irony.
Self-awareness is a term that can be somewhat misleading: To be self-aware, in the way most people think of the quality, isn't to be conscious of the self so much as it is to be conscious of the other. It is to understand oneself as an agent of action in the world, a fleshy flapper of butterfly wings whose activities will, as a simple matter of physics, affect things for everyone else. Hockenberry's essay is notable because it is at once supremely self-centered—If you know anything about me, John Hockenberry—and, at the same time, profoundly lacking in self-awareness. It is a classic document of phantom reckoning: It might have offered a detailed and honest accounting both of and by someone who has been accused of misconduct—an act of contrition, made not for purposes of easy exoneration but because the hard work of accountability can double as a small gesture of respect to those who have been harmed by misbehavior. But: It did not.
Instead, there is in the essay, as there has been in so many other places, a wide gulf between what might have been and what was finally given. Reading "Exile"—a work that, soon after it brags and vents, goes on to breeze over the stories the women told about Hockenberry's behavior as apparently irrelevant to the core of the story, which is the author's own suffering—all I could do was feel tremendously sad: primarily for the women who spoke out only to have their voices muffled once again, but also for the reckoning that "Exile" might have offered, had it been better able to expand its empathies. Hockenberry has been confined to a wheelchair since the age of 19; he discusses in the essay how complicated sex has been for him because of that confinement; he shares that as an eighth grader, he was molested by a strange man in a theater, during a matinee of Psycho.
Hockenberry takes for granted that this allegation of his own status as a victim of assault will be believed by his readers; that assumption, of course, is a reflection of his privilege. It does not extend, of course, to the women who accused him. "My mission here in part," Hockenberry writes, despite his previous acknowledgments of his misconduct, "is to let you know a lot more of the truth about me and to deny what you may have heard that is false but gets repeated over and over without challenge." He broadly contradicts the assertions of the women who accused him; Harper's addresses the discrepancy by including the women's perspectives as … footnotes in Hockenberry's story. ("2. Both women dispute the characterization of these events in this account and claim they have been downplayed.")
And so the women, once again, are relegated to the margins. Hockenberry writes that because of his ordeal, he newly understands Lolita and newly appreciates Andrea Dworkin and newly finds himself qualified to lead a crucial conversation about America's changing sexual mores; "in the din of anger and rejection of me and my ideas that I expect will come," he writes—in this, at least, Hockenberry has correctly appraised the situation—"even the whisper of agreement that a new modern concept of romance might be worth pursuing could turn out to be more important than anything I accomplished in my career in journalism."
As for the women on the receiving end of all these butterfly flappings: They are treated, yet again, as complications—to Hockenberry himself, but also to the ease of his own redemption. Mere bumps on the road that our hero must travel as he seeks the future that is his birthright.
America is a land of phantoms. Shapeless monsters; shaded truths; lies that are polished until they take the shine of myth; betrayals that insinuate themselves into the systems of things; bright possibilities foreclosed—to be American is to be haunted at once by the roads traveled and the routes ignored. What might the world look like, now, had things gone just a little differently? What might it have been had those who shaped it done better? For #MeToo, for its part, the wraiths are emboldened each time abusers are welcomed back under the false pretenses of "redemption"; each time their enablers decline to hold them to full account; each time survivors are erased from the story; each time systems of power fall victim, once again, to the workings of selective amnesia. Shadows, shame, small acts of willful ignorance: This is how the status quo maintains its status. This is why the world, briefly shaken, so often settles back into its familiar grooves.
There have been forward movements this year, yes: meaningful ones, lasting ones, ones that have vast implications for the broader culture. Harvey Weinstein is awaiting trial in New York City for rape. Bill Cosby was convicted of aggravated indecent assault, and is currently awaiting sentencing. Louis C.K. lost distribution for I Love You, Daddy. Eric Schneiderman resigned as New York's attorney general. Roy Moore failed (narrowly) in his bid to join the U.S. Senate. CBS, shortly after it announced the departure of Les Moonves, followed up with the removal of Jeff Fager, another executive who has been accused of harassment by multiple women. There have been so many such job losses, indeed, that many people—with the precise brand of indignant overreaction that has traditionally been dismissed as a symptom of "hysterical" womanhood—have accused #MeToo of overstepping, of life sentencing, and, indeed, of life taking. (He doesn't deserve to be wiped off the face of the Earth, these advocates of measured reason cry, perhaps of Louis C.K., perhaps while watching one of the several C.K. specials currently available on Netflix.)
But while the lost jobs are, indeed, measures of accountability, they are not its full form. They don't fully address the structures of things. They don't help to make #MeToo or its effects more inclusive, more systemic, more lasting, more real. They, too, are shadowy: the outlines of restitution, not fully filled in. Phantoms that hover in the places where a true reckoning might have settled in. Broken promises, in the ether.
On Wednesday, the legendary TV creator Linda Bloodworth-Thomason—she of Designing Women, among many other shows—published a searing essay in The Hollywood Reporter detailing her own experiences with Les Moonves: the bullying. The abuses of power. The way he had quietly and ruthlessly worked to stifle her career, she wrote, not because she had rejected his advances but because she had committed the softer sin of being outspoken while being a woman. "The truth is," she concludes, "Les Moonves may never be punished in the way that he deserves. He will almost certainly never go to jail. And he has already made hundreds of millions of dollars during his highly successful and truly immoral, bullying, misogynist reign." Bloodworth-Thomason's look back at the events of this week—and, with them, the events of the past decades, at CBS and beyond—is often insightful and even more often deliciously funny; in the final accounting, however, it is simply sad. She was there. She saw. She knows what was. And she knows what's there, still, in her own story and in the stories of so many others, tugging just at the edges. The ghosts of all that might have been.