A Heartbreaking Reality for Mets Fans
Despite a fantastic start to the season that suggested the historically disappointing New York team was on the upswing, it appears greatness is still out of reach.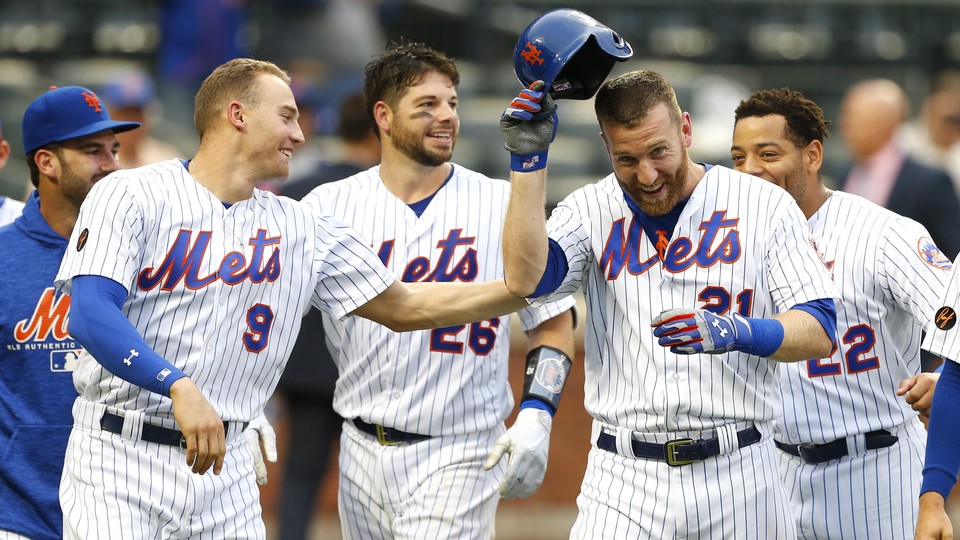 In a mostly meaningless game in late July, the New York Mets went down 19–0 against the Washington Nationals in the fifth inning. The game devolved into a circus. Mets broadcasters gave up announcing and instead started reminiscing about the team's 1969 World Series victory and reading aloud from the media guide. Then, in the ninth inning, with the bull pen low on fresh arms, the veteran infielder Jose Reyes stepped up to fulfill his dream of pitching in the major leagues. He proceeded to hit a batter with a 54-mph pitch, allow six additional runs, and draw laughter from both teams.
The game was emblematic of a tragicomic season that's frequently seen the Mets shorthanded and beaten down en route to their early exit from the playoff race this week. Since opening day, players have missed time for a litany of health problems long and varied enough to make up a macabre children's song. A is for Yoenis Cespedes's Achilles calcification, B is for Kevin Plawecki's broken hand, C is for Juan Lagares's complete plantar-plate tear, D is for Michael Conforto's dislocated shoulder, E is for Jacob deGrom's elbow hyperextension, F is for Phillip Evans's fractured tibia, and so on, and on, and on. Derailed by constant injury, the season long ago turned into something of a farce.
In that sense, this year has made for an all-too-familiar new chapter for the Mets franchise, which has earned a reputation for hapless floundering since joining the MLB in 1962. But the disappointment of such a return to form is made more acute by the sense that this team could be something special if only they could play: Three years ago, they made the World Series and appeared poised for long-term contention.
The intervening seasons have been a study in frustrated potential, as struggles with health and disciplinary action have often overshadowed periods of promising play. Now, as the team enters the off-season early again, questions linger: Are the Mets cursed? Can all their troubles be boiled down to bad luck? Or is there something more fundamental, and more insidious, keeping the team down?
Just five months ago, the Mets' prospects looked very different. The team opened the season with an 11–1 record, prompting the media and skeptical fans to wonder if they could really be as good as they seemed after falling 15 games short of the playoffs in 2017. Some wondered if the team was returning to the heights of its miraculous 2015 season—or if it had gotten even better.
In 2015, the stars appeared to be aligning for the franchise to achieve lasting success. The Mets had four promising young starters on their pitching staff and a fifth recovering from Tommy John surgery. It appeared they would soon be able to field a starting rotation with a median age of 25, two All-Star appearances and a National League Rookie of the Year award already under their collective belt, and the ability to regularly throw 95-plus-mph pitches every day of the week. John Smoltz, a member of the legendary 1990s Atlanta Braves pitching staff that led the team to five World Series in 10 years, said in July 2015 that the Mets rotation was "way better. They've got more talent than we could ever have." Behind those promising starting pitchers, some hot hitters, a skilled closer, and the newly acquired All-Star Cespedes, the Mets ended their playoff drought with flair and made a run all the way to the World Series.
But even that season was shadowed by bad fortune. Mere weeks after opening day, the team captain and seven-time All-Star, David Wright, was diagnosed with spinal stenosis. The spring and summer saw a slew of other injuries beset the team, and in the second round of the playoffs, the second baseman Ruben Tejada's leg was broken in a controversial play that engendered a league-wide rule change.
In the bright light of victory, those setbacks were easier to swallow, but they became increasingly debilitating as the team failed to live up to its potential in ensuing seasons. A relief pitcher was suspended for life after testing positive for performance-enhancing drugs for the third time in a year. Young players didn't develop into hoped-for stars. The team's closer was suspended in connection with domestic-violence allegations; not long after coming back, he was diagnosed with an arterial clot requiring immediate shoulder surgery. Countless players missed time with injuries. In 2016, the team netted a wild-card spot, but lost in its one-game face-off. In 2017, it never came close to the playoffs.
Now, despite a brilliant beginning, this season is closing on a similar note. Memorable moments have more often been laughable than triumphant: that blowout loss in July; the starting pitcher Noah Syndergaard's battle with hand, foot, and mouth disease (an infection most common in young children); and a May accident at the team's home stadium that generated headlines such as "Fire at Citi Field—But It's Mets' Season That's Going Up in Flames." No one's asking now if the team can possibly be this good.
Stretches like the ones that ended the season in 2015 and that began in 2018 stoke the belief that a similar cast of players could meet with much greater success if the franchise were to finally catch a break. But every team has its human foibles and frailties. Baseball seasons are long. The sheer number of games, players, and at bats limits the damage of any single injury or suspension, but it also provides more time for life to intervene, which it almost always does somehow.
For a franchise that seemed on the verge, at last, of victory, the abrupt return to struggle and loss is heartbreaking. Some fans might find it appealing to hold on to hope a little longer, to believe that underneath everything, a bright future remains intact and waiting. The familiar explanation of the baseball curse has its own allure. But since 2015, Mets players have often struggled to live up to their apparent promise even when healthy. They've aged. They've been traded or left in free agency. Their injuries have been mishandled. The team has, in other words, not only suffered on the level of cosmic misfortune, but also on the more mundane level of typical baseball development.
So another possibility remains, one perhaps harder for beleaguered fans to contemplate: that beyond the injuries, suspensions, financial woes, and off-field drama, the Mets might still not be quite good enough to win. In the end, they might be something closer to what they've been from the beginning—full of heart, but far from greatness.