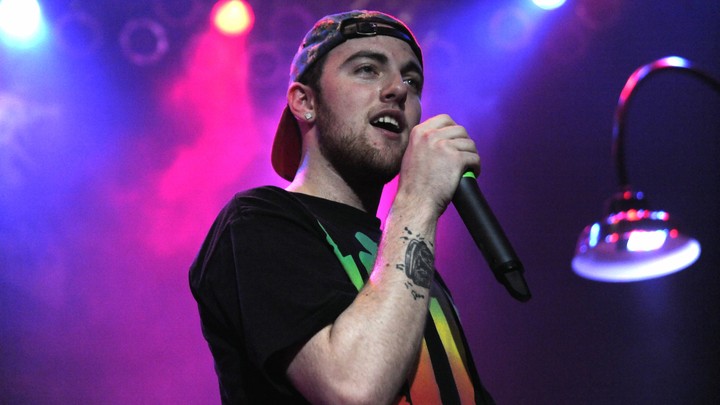 Mac Miller mumbled. His words trailed off, blended, and arrived in a parched-throat croak. The cover of 2015's GO:OD AM showed him mid-yawn, which seemed like his usual state. "Feel like I do this in my sleep / Literally, I do this in my sleep," Miller bragged over boom-bap and piano on 2013's "Avian." "Yeah, yeah, whoawhoawhoa," he murmured, as if to an alarm clock, in this year's "Hurt Feelings."
Mumbling is a contested thing in rap nowadays, seen alternately as a sign of pretension-busting futurism or dull-minded meaninglessness. But Miller, who died last Friday of a suspected overdose at age 26, might have brokered peace between the two sides. His words were usually intelligible and studiously crafted, but he thrived less on content than on form and deep feeling. In any case, the genre's firefights didn't seem to interest him; he was too committed to finding his own path, strange and soulful. Terms like stoner poet come to mind to describe him, but his profundity wasn't like a dorm-room epiphany. Rather, he casually captured the highs and gutting lows of a life observantly, if often drowsily, lived.
Count Miller among the first in the lengthening lineage of stars who would first find fame as teenagers on the internet. His mixtapes date back to 2007, when he was 15, and his breakout years of 2010 and 2011 had him standing out in a wave of what the media branded "frat rappers": boys sporting baseball caps and Biggie collections, whose simplistic swagger was bolstered by the market differentiation of them being white. Miller's hits from this era—including "Donald Trump," a straightforward hurray for wealth that drew the smug jeering of its namesake—showcased Miller's classicist influences and slacker charm. But those songs are now more vivid for the videos: Miller acts brashly but with kind eyes, charismatically leading around a group of friends you might just wish you could join.
Miller would not stay in that stereotype-aligned zone for long, even if its appeal helped 2011's Blue Slide Park land as the first independently released debut to hit No. 1 since 1995. Rather, his sound liquefied over the years into stews of funk and psychedelia as he led up live bands and collaborated with studio innovators. Modern jazz masters such as Thundercat were in his crew. The famed Hollywood orchestrator Jon Brion produced much of Miller's final album. Run times varied widely across the rapper's track lists, and he was a fan of beats that seemed to breathe and transform. "His band was unreal," John Mayer, the guitarist and pop singer who recently collaborated with Miller, wrote in an appreciation post this past weekend. "You gotta know that if you weren't familiar with Mac Miller, you were about to [be]."
As Miller went along, a thick strand of melancholy and fatalism came to braid through nearly every song. (Queasily, much of it will be heard as prescient now: "To everyone who sell me drugs / Don't mix it with that bullshit / I'm hoping not to join the 27 club," he rapped in 2015.) In this, he helped build the bridge between Drake's early sound and today's "emo rap." But Miller's version was always determinedly tuneful and idiosyncratic, avoiding self-pity and letting the music itself do much of the talking. Take the wintry indie rock of 2013's "Objects in the Mirror," which features Miller engaging hopefully with depression and suicide. The track hangs its appeal on the way Miller's voice makes a few slight, sharp upward turns out of the haze.
His two most recent albums, 2016's The Divine Feminine and last month's Swimming, were manifestolike achievements: unapologetically emotional, grandly stated, and cohesive. The first arrived amid Miller's highly scrutinized relationship with the pop star Ariana Grande, and it offered heady, lush meditations on love and sex. Listen to the first track, "Congratulations," to hear Miller as an architect who allows room for atmosphere and drama, using his own understated approach for intricate ends. It's a portrait of intimacy with small details: eggs, kale, dirty laundry, dirty talk, and an adorable pronunciation of darlin'. Then turn to the next song, "Dang!" featuring Anderson .Paak, to experience Miller as clever party starter. His verse is all escalation of tightening rhymes and rising pitch, punctuated with an existential riddle: "God, the devil, who is who?"
Swimming came with unfortunate context: Miller had recently been involved in a drunk-driving accident, the fallout from which led Grande, now his ex, to publicly hint that their relationship had ended because of his addictions. Whether the tabloid stories were the reason why, Miller's final music was velvety and sad. Listening now is not only wrenching for how tonally Swimming fits with Miller's tragedy, but also affirming for how completely the songs make use of his gifts. In the video for "Self Care," he's buried alive in a coffin and punches through the words memento mori scrawled on the lid. The song is a woozy stunner, carefully creating a sinking feeling that then flips toward the end, just as Miller escapes the coffin. "Oblivion, yeah yeah," he sang with typical tangled-tongue poignancy. "I got all the time in the world, so for now I'm just chilling."
We want to hear what you think about this article. Submit a letter to the editor or write to letters@theatlantic.com.
Spencer Kornhaber
is a staff writer at
The Atlantic,
where he covers pop culture and music.