The Folk Alchemy of Hiss Golden Messenger
A new compilation of the band's albums showcases one of the most impressive bodies of songwriting of the past 10 years.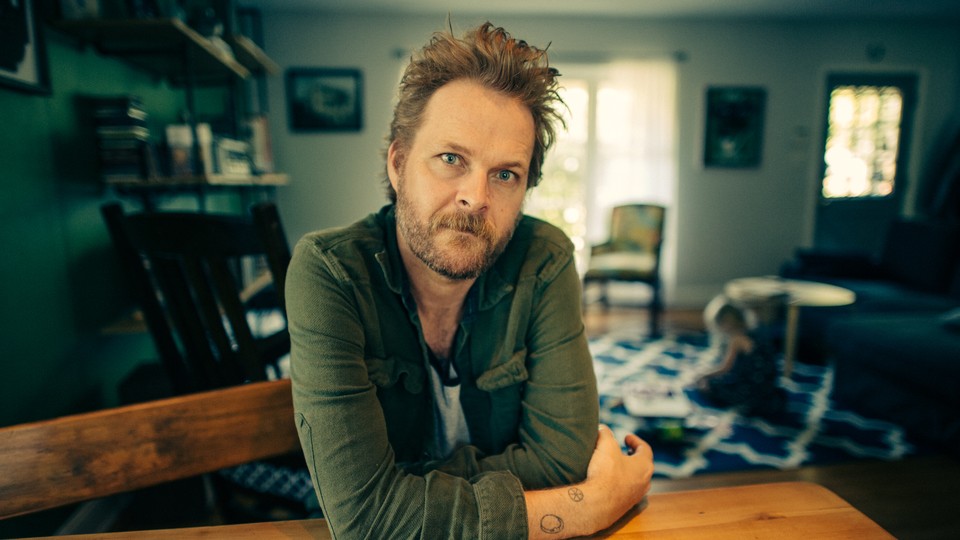 Almost a decade ago, a failed musician sat down at his kitchen table in Pittsboro, North Carolina, and began singing some new songs into a portable cassette player. M. C. Taylor had spent his youth dabbling in bands, skateboarding, and drugs in Southern California, but had given up on music and moved east to study folklore at the University of North Carolina at Chapel Hill. Taylor had to sing softly—his baby son was asleep in the other room—and the audio quality was, in his words, "a joke."
He called the collection Bad Debt, which, given the reeling economy, was timely. The songs were not, abounding with gospel signifiers, road narratives, and impressionistic blues, all accompanied simply on acoustic guitar. The prophetic images bore some resemblance to old, weird Americana, with the grim fatalism and religious fervor of British ballads refracted through Appalachia.
Taylor didn't intend for anyone to hear the tapes. "It was like, I'm making music just for me," he says. "I wasn't even trying to get a gig. I wasn't even playing shows, or playing the songs for anybody."
But when Taylor did cautiously share the music, people loved the songs. In a cosmic irony that Bad Debt's narrators, buffeted by forces beyond their control, would appreciate, the record now kicks off a forthcoming box set by Taylor's band, Hiss Golden Messenger, called Devotion. The collection, which pulls together the band's first three records and adds a fourth disc of unreleased material, shows how Taylor has produced—quietly at first, and then more loudly—one of the most impressive bodies of songwriting of the past 10 years. Capping several years of fevered recording, frequent touring, and growing audiences, the release isn't a capstone so much as a moment of reflection mid-journey.
Taylor collects things: books of poetry, records, tattoos, phrases he mulls for months or years until they find a home in a lyric. At his cozy, eclectically decorated house on a quiet street in Durham, several rows of neatly arranged LPs are slowly conquering the living room. There are new releases, yellowing classics, a Jackson Southernaires record he chased for years, two copies of the same semi-obscure Abdullah Ibrahim LP.
Offstage, Taylor tends to convey a wary warmth, amiable but circumspect. In contrast to his high, reedy singing voice, he retains the laid-back speaking cadence, and the ratty T-shirts, of a SoCal skater. He has a steady gaze and sandy facial hair that varies in length from neat mustache to scruffy walrus. But flipping through his recent musical acquisitions and offering real-time annotations, Taylor is at his most animated. Soon he's bounding downstairs to a basement full of toys for children of all ages—Legos, woodblocks, books, and stuffed toys—to find another LP.
While Taylor was writing Bad Debt, his day job was collecting folklore for the state of North Carolina. He'd find traditional musicians and get them to play him songs and tell him about them, though his expansive definition of tradition sometimes clashed with the hoity-toity academics who'd sent him out. One man played him John Prine's "Paradise," which belongs in the folk canon, but this singer had learned it from the credits of Steven Seagal's 1997 film Fire Down Below.
"It's the 21st century. That's a valid understanding of traditional music," Taylor says. "In fact, learning a song from a VHS copy of a Steven Seagal film is pretty old-fashioned, all things considered."
Taylor's fieldwork retaught him the value of playing music for its own sake. The musicians he collected might play an occasional gig at a local Veterans of Foreign Wars hall, but they were performing for themselves and their family rather than to advance a career. Taylor had been playing in bands since he was in college. There was Ex-Ignota, an arty hardcore-punk band memorialized by his college buddy Jack Johnson (yes) in a short documentary, and later the pleasant, forgettable, Gram Parsons–influenced Court and Spark. Music had become a grind. Burned out, he'd gone to graduate school at UNC to stall for time and figure out his next step, but these musicians inspired him to pick the guitar back up.
Folk music provided a vocabulary and model for Taylor to reinvent his songwriting. He wanted any new songs to feel durable, like "Paradise"—versatile enough for all settings, even action movies, and assured enough to last for the rest of his life. Taylor's prior songs, including a 2008 album released under the Hiss Golden Messenger moniker, weren't bad, just listless. As he composed now, Taylor discovered a confidence he'd never felt in his music.
"I had to figure out how to sing a song that I meant, that I could carry around every night for months or years. I didn't have that when I was in my late teens. I sure as shit didn't have it in my 20s," he says. "When I made Bad Debt it felt like I wrote the book of my life. I had never had that feeling creating music before."
Musically, his new work drew heavily on the Appalachian tradition and showed a knack for the folk alchemy of writing melodies that were catchy and novel, yet familiar. Lyrically, the songs were packed full of old-fashioned imagery, much of it religious. The songs weren't devotional—"I'm not saying I don't believe in God. I'm skeptical," Taylor told The Washington Post in 2014—but the near-universal reference points of biblical stories offered a lyrical shorthand.
The old master, see, rode a beast like me through those city—those city gates.

It was the Sabbath Day and I was picking many stones. It was the Sabbath Day and I felt like going home.

All my friends are gone: Matthew, Mark, Luke, and John. That's okay—yeah, that's all right … But should I stay in Babylon? Or should I go and roll on?
"Those Bible stories, if you're religious or not, they communicate something in shorthand that would take much longer to explain," Taylor says. "That's what has always drawn me to books like the New Testament. Not because I'm a Christian. It's because we know those stories whether we like it or not, and they communicate something that can be profound."
If the songs weren't about religion, what were they about? For most musicians, dreams of music stardom and the youthful angst that is the stuff of rock songs both burn out by the time a songwriter hits her or his fourth decade. Domesticity breeds dull songs. But by restarting his career at a comparatively late age, Taylor has both sidestepped the problem of juvenilia and managed to tap into the different, though no less real, drama of aging.
While we sat at his kitchen table discussing the rock-star lifestyle last month, Taylor had to pause the conversation twice. Once, there was a commotion in the other room, where his children, Elijah, 9, and Ione, 5, were playing with friends. His wife, Abby, a teacher, was at school getting ready for students to return to the classroom. Later, he huddled with a friend to work out child-care arrangements, a task complicated by his impending departure for a short European tour. These quotidian tasks are the minute-to-minute drudgery of fatherhood. Added together, they amount to a vast psychic burden and reward that forms Taylor's musical wellspring.
"The desire to have a longtime partner, the desire to have kids, and a house, the whole thing—I have seen those desires absolutely derail and wreck a lot of people, and I just have the good, crazy fortune of having found that before any of this happened," he says. "So much of my life is about my family. Thinking about them. Being with them. Trying to understand how to be a father. All that stuff bleeds into music."
Taylor puts it a little more poetically on "Lion/Lamb," a song on Virgo Fool, the box's bonus disc: "It's hard to be free—we all search for new shackles."
Last December, Taylor was enjoying an unseasonably warm evening before a show in Saxapahaw, North Carolina. His bandmates were still deep in a two-hour rehearsal, warming up for a two-and-a-half-hour concert later that night. After years of playing in opening acts, granted at most a 15-minute sound check and a 40-minute set, the musicians were enjoying the luxury. "We just like to play," Taylor grinned.
The venue, a repurposed, disused textile-dyeing plant, sits on the bank of the Haw River, the namesake of the 2013 record Haw, which is included in the new box. Its first track mentions another North Carolina river, the Nantahala. Place names from across the South pepper Taylor's lyrics: Rockingham, Biloxi, Shreveport. Hiss's music draws on a range of southern musical genres, from gospel to hillbilly, soul to twang. But Taylor didn't grow up steeped in those traditions. He grew up in Orange County, California, and he hated it.
"I had a wonderful childhood, but the place that I am from is not a place that I recognize spiritually," he says. "The South offered me a doorway into a relationship with my environment that felt [like it was] living and stretched into the past. The past matters here. It's complicated and messy and bloody, and beautiful and confusing, but it's the vernacular."
Taylor doesn't claim to be a southerner, but he bristles at what he sees as lazy assumptions about the region. Speaking a few days after Doug Jones defeated Roy Moore in a U.S. Senate race, Taylor mocked what he felt was a one-dimensional caricature of Alabama voters, with white, rural, conservative Alabamians eclipsing the state's depth.
"'That's what you get, it's Alabama,'" he imitates, dismissively. "I've been through Alabama like 25 times in the past five years, and that's not the Alabama I know. I mean, granted, I'm running in certain circles, but those circles exist, and the boundaries of those circles are porous. All kinds of people pass through those circles."
Folklore collection paid terribly, and Taylor couldn't see himself in academia, so he chose one of the few careers with worse prospects for both pay and career advancement and returned to music. Bad Debt was officially released in 2010, and the following year he produced Poor Moon, which set the rough template for the Hiss Golden Messenger sound. The band combined the haunting mountain sound with a '70s rock thump, horn parts, and electric guitars. On Poor Moon and its successor, Haw, Taylor revisited many of the Bad Debt songs, adapting them for a full band.
David Bowie called Poor Moon "mystical country, like an eerie yellowing photograph." Haw is better still, confronting the tensions posed by Taylor's newfound success. In the liner notes, the music writer Amanda Petrusich sums up the album's central question: "What if all the things I want exist in opposition to each other?" The record begins pleading, over a pounding beat, "Well, let me be the one I want / Well, let me love the one I want," and closes with an accepting, or resigned, refrain: "What shall be shall be enough." Hiss's growing fame was enough for the band to get a contract with Merge Records, the powerhouse indie label, which is releasing the new box set this fall. The rights to the old records were reverting to Taylor, and he wanted to see them in circulation.
Compilations are typically the province of artists on the downswing of their career, but for Hiss the set marks a rise. In 2014, the band released its Merge debut, Lateness of Dancers. It took nearly two years for the next album to see the light of day—Heart Like a Levee, which began as a commission to write songs inspired by the late documentary photographer William Gedney's work in rural Kentucky. Frustrated by the long gestation of Levee, Hiss then quickly recorded its next record, 2017's Hallelujah Anyhow, whose title seems like as good a summation of Taylor's worldview as any.
"Hiss Golden Messenger, from an existential angle, has always been about being sort of emotionally ambiguous or having that feeling of unresolve," Taylor says. "I don't really want a song strictly in A minor, literally or figuratively. I'm looking for something more."
The newer albums (both produced by Brad Cook, the man Pitchfork calls "your favorite indie band's secret weapon") show the band exploring different musical terrain, dabbling in dub, prog, and '70s-rock riffs. "Give me the gospel of the jukebox," Taylor sings in "Domino," and he gives it. The band is also increasingly indebted to gospel music, reflecting the influence of the Hiss guitarist and keyboardist Phil Cook, Brad's brother and Taylor's inseparable right-hand man. At the same time, there's less biblical shorthand in the lyrics. Worried it was becoming a crutch, Taylor has whittled his words to a smaller scope.
"It's the ultimate irony that when you can go as small as you possibly can, that's when it communicates the most, and that's when people can find connections to that idea in the most profound ways," he says.
This fall, Hiss is working on a new record at the upstate–New York studio of Aaron Dessner, of The National. The band has recently toured in support of Bon Iver and Jason Isbell, and performed on Late Night With Seth Meyers last year. Taylor can dictate the shape of his tours, so he tries to schedule gigs in chunks, which better allows him to spend time at home with his family, and in two-night stands, which affords him more downtime in a city's bookstores and record shops. Taylor has his wish list—more money, he notes with a laugh—but given that 10 years ago he'd written off a music career, it's a strangely comfortable position.
"I never made a living playing music in my life until the past couple years," Taylor told me in Saxapahaw. "There's a sweetness to it. My faith in music had to be tested for 20 years. What I carry around with me musically is only the song. A good melody against chords will always sound fresh. It doesn't matter who's making it."
Later that evening, Taylor would take the stage and sing some songs he wrote for no one except himself. But instead of a sleeping baby, an archaic tape recorder, and a lone acoustic guitar, Taylor would be surrounded by a sold-out crowd singing along with the melodies and a nine-piece band playing the chords. It sounded fresh.