The Ecstatic Sound of Midlife Melancholy
Spiritualized's And Nothing Hurt sees the venerated space-rock act inflate weariness into something gorgeous.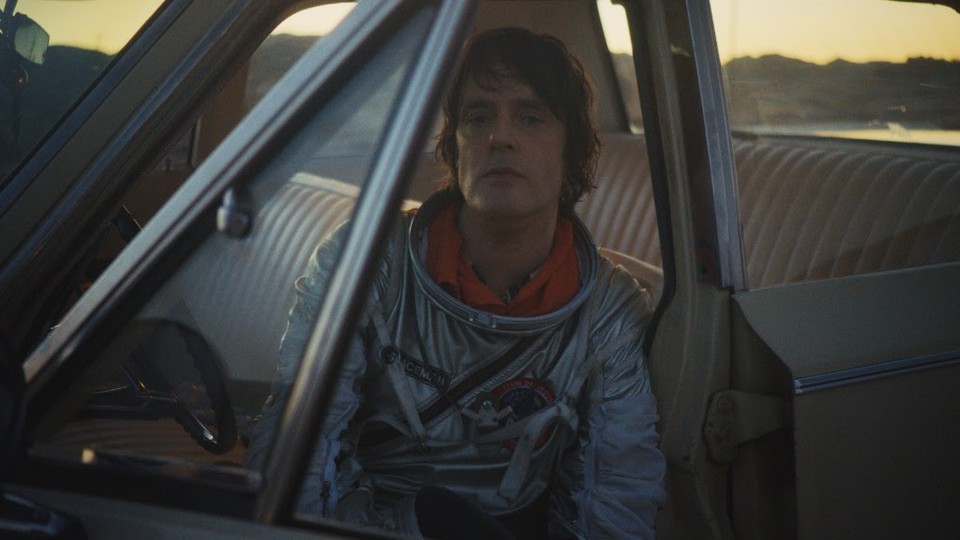 Miracle is a word leached of awe by overuse. It is not a miracle, really, when the harried barista gets one's order correct, even if one might call it such. And so for many listeners, the use of that term on "A Perfect Miracle," the opener to Spiritualized's eighth album, And Nothing Hurt, might signal a sort of love song they've heard before. A cursory listen to the song's crests of twee ukulele, twinkling bells, and gallant timpani might cement that impression. "I'd like to sit around and dream you up a perfect miracle," sings the frontman, Jason Pierce, in an innocent croak. "I'd part the clouds and have the sun proudly shining on you."
But Spiritualized, Pierce's venerated 28-year space-rock project, exists between that which numbs the senses and that which jolts them. If you're lulled, you're not fully getting it. Hence, between each chorus of sweet nothings are verses portraying Pierce getting farther and farther away from the person to whom he's whispering. He hasn't seen her today, and then this week, and then this year. "Please, don't call," go the sighing harmonies as the song reaches its summit in its fifth minute. The miracle he's dreaming of—the joy he wants to give—is impossible, as all miracles are.
Pierce makes grandiose songs about bliss, spiked. This fits, in clear ways, with his general interest in medication—sometimes recreational, as on his 1990 Spacemen 3 album, Taking Drugs to Make Music to Take Drugs To, and sometimes prescription, as seen in the artwork for 2012's Sweet Heart Sweet Light, recorded after his near-fatal bouts with pneumonia and liver disease. But other preoccupations also fit the sound: religion, music, and the aforementioned love. What binds his gushing tunefulness and subtly cutting lyrics is the relationship between the universal quest for transcendence and the near-universal suspicion it'll never be found.
For his first album in six years, Pierce's big muse is the wisdom and weariness of midlife. "I thought, if I'm going to make a record at my age, there has to be a reason that it should be there, that it should exist," the 52-year-old Londoner told The New York Times. "And it shouldn't be me trying to pretend I'm 23." This might explain the scratchy, hazy aesthetic that pervades: The high-def satellite sound of his 1997 masterpiece, Ladies and Gentlemen We Are Floating in Space, has been replaced by a nostalgia for AM radio. But the thick prettiness of the arrangements persists. So does his knack for childish, folky melodies—ones of satisfying circularity, ones that could be group-crooned on a midnight hike, ones that he inflates and inflates until they create the illusion of a worldwide sing-along.
This approach allows Pierce two kinds of songs. In the first category are tracks like "A Perfect Miracle," in which the performance of ecstasy cloaks melancholy. Another goosebumps-inducing tune in this class, "On the Sunshine," evokes a spiraling rock-and-roll rocket. Its cackling guitar figures and shattered-dishes cymbals initially excite, and eventually just bludgeon. "In the evening take it easy / You can always do tomorrow what you cannot do today," Pierce yowls, a well-earned bit of advice that the music itself, careening ever ahead, doesn't take.
Then there are the tracks with a gloomy foreground that get poignantly infiltrated by light. On "Let's Dance," he sings repeatedly of his fatigue, but he still ends up asking the subject of his monologue to dance. A Springsteen-esque piano line, indelible and bright, encourages him along, but it sounds far off. During the psychedelic lullaby of "The Prize," Pierce serenades the preciousness of life, but also confesses to ambivalence about another catechism of pop: the enduring power of love. "Maybe" and "I don't know" are recurring mantras, as in, "I don't know if love's so pure / and I don't know if love's the prize."
Still, it's a disservice to Pierce's art to delineate it in simple terms of light contrasting with dark, or uplift battling cynicism. "I think it's a very optimistic record, or quietly optimistic," he told the Times. "There are never any regrets in there." What's there instead is something more wrenchingly true to life, an alloy of hope with a sense of life's limits. "If I weren't loaded down / I would sail on through for you," he sings over the drunken big-band staggering of the final track. But he is loaded down, and he won't sail on. There's beauty in wishing otherwise, and knowing it's just a wish.