Does Anybody at the Emmys Know What the Word Diversity Means?
In simply joking and pontificating about an absent diversity, the awards show missed yet another opportunity to begin reflecting.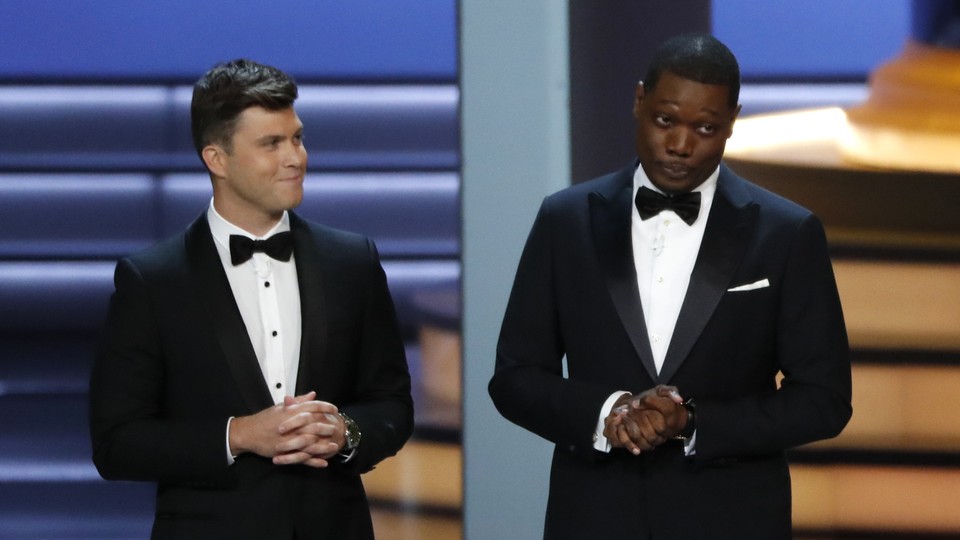 The 70th annual Emmy Awards subjected viewers to an almost unending barrage of secondhand embarrassment. Full of stilted banter, dubious jokes, and painful comedic mismatches, the ceremony dragged on with all the excitement of an extended commercial break.
Still, even within the parade of uncomfortable drudgery, one moment felt particularly unnerving. The comedian James Corden, who hosted the 2016 Tony Awards with an appropriate measure of gravity, gravely misfired when he lent his commentary to the de facto theme of Monday night's Emmys: diversity. "Let's get it trending," he told the crowd and, more importantly, viewers at home. "#EmmysSoWhite."
Likely meant as a reference to the social-media-driven campaign to diversify the Academy Awards, or perhaps more generously as a reference to the honoree Betty White, Corden's half-hearted exhortation was met with nervous laughter. The discomfort was palpable. But Corden's request was just one of several self-referential nods to the awards show's lack of "diversity," that pesky euphemism most often used to refer to people of color without substantively engaging difference or talent.
From the ceremony's opening moments, the hosts, Michael Che and Colin Jost, congratulated themselves, and the ceremony, for a patently nonexistent racial harmony. Rather than take the opportunity to meaningfully address any number of political concerns facing Hollywood at the moment, the duo traded toothless quips about racial differences. "I just wanna say, six awards so far, all white winners, and no one's thanked Jesus yet," Che noted, referencing an earlier joke in which he'd said his mother didn't enjoy "white" awards shows because no one thanked the Lord. The joke was technically adequate, but it did little to address the disconcerting trend already under way.
Within the first hour of this year's Emmys, immediately following Che and Jost's diversity ditties, nine awards in a row went to white people (with two of those going to the same person). While nominees of color went unrecognized, viewers watched Henry Winkler, Bill Hader, Alex Borstein, Amy Sherman-Palladino, Rachel Brosnahan, Merritt Wever, Jeff Daniels, and Ryan Murphy all collect trophies. The winners' performances and commitment to craft were all laudable; the awards were not handed out to unimpressive work. But the stark divide between the ceremony's rhetorical attention to "diversity" and its paltry recognition of "diverse" people's work was reinforced repeatedly. Even as it invited actors of color up to the podium to lend their voices to announcing others' wins, the Emmys failed to engage their art. The Emmys, for all its fixation on the literal word, seemed to deeply misunderstand the goals of diverse programming.
Of the 26 Emmys presented at Monday night's awards, only three went to people of color. Regina King took home the award for Outstanding Lead Actress in a Limited Series, for her role as Latrice Butler, the mother who grieves a son slain by police, in Netflix's (canceled) drama Seven Seconds. Thandie Newton, who plays Westworld's enigmatic Maeve Millay, won Outstanding Supporting Actress in a Drama Series. RuPaul's Drag Race, the long-running juggernaut of LGBTQ television, took Outstanding Reality-Competition Program. (Darren Criss, the half-Filipino actor who won the Outstanding Lead Actor in a Limited Series award for his portrayal of Andrew Cunanan in Ryan Murphy's The Assassination of Gianni Versace, has previously said he does not identify as Asian American.)
In one especially tone-deaf segment, Che introduced a series of aptly titled "Reparation Emmys." In the sketch, Che visited multiple actors from seminal black series to grant them the awards he believed they'd been denied. He explained the conceit to all the actors, among them Family Matters' Jaleel White, Martin's Tichina Arnold, A Different World's Kadeem Hardison, and the multi-work legend John Witherspoon. All of them reacted with enthusiasm and understanding, their performances during the off-kilter sketch somehow more compelling than most of the ceremony. Even so, the skit rang hollow considering the racial makeup of the evening's awardees. Self-awareness without any indication of change is hardly amusing. It's easy for the Emmys to make a comedic production of rectifying past misdeeds; the harder, more important work is committing seriously to equity in its contemporary proceedings.
For some actors of color, the night was a somber reminder that audience appreciation and stellar press alone do not guarantee recognition from Hollywood's gatekeeping entities. Sandra Oh, who led the breakout BBC America hit Killing Eve with almost unimaginable prowess, was nominated but went home trophy-less. "Sandra Oh, I love ya," The Crown's Claire Foy said during her emotional acceptance speech for Outstanding Actress in a Drama Series, the award for which Oh was nominated. The moment may have been heartfelt, but it was still reminiscent of the bittersweet dedication Adele gave Beyoncé after beating the Lemonade singer for the Album of the Year Grammy in 2017.
Shout-outs are sweet, but they do not lend prestige. Awards may be arbitrary, but they have concrete consequences in an industry in which buzz and formal recognition often far outweigh talent in executives' decision-making processes. It can be tempting to dismiss the desire for institutional acceptance, but these accolades come with tangible rewards, especially for actors whom the industry may be otherwise hesitant to embrace. Oh, for example, had been a television heavyweight for years, grounding the cast of Shonda Rhimes's Grey's Anatomy with her portrayal of the strong-willed doctor Cristina Yang, but it took decades for her to land a role as a show lead. Oh was preternaturally gracious throughout the evening, joking during the ceremony opener that it was "an honor … just to be Asian," but actors and creators of color—and viewers at home—have been waiting patiently to be celebrated for much of the awards show's history.

Atlanta, the critically acclaimed FX series helmed by Donald Glover, was nominated for multiple awards. The show, which has resonated with audiences for its thoughtful and wildly entertaining depictions of the southern city and black life writ large, earned its own comedic reference from Jost and Che. The two joked that a fictional reboot of Glover's show, "15 Miles Outside of Atlanta," would be an all-white production that "focuses on white women who call the police on the cast of Atlanta." Again, the humor landed more as top-down mockery than biting satire because it was deployed by representatives of the same institution that denies Glover (and creators like him) his laurels. (Brian Tyree Henry, who plays the rapper Paper Boi on the show, did not appear to appreciate the hosts' remarks.)
Awards ceremonies that pay lip service to actors of color without rewarding their deserving work don't just fail those creators; they fail audiences, too. In joking and pontificating about an absent diversity, the 2018 Emmys missed yet another opportunity to begin reflecting. It's going to take a lot more than a Michael Che sketch to fix that.