The Absurdist Spectacle of the Nike Boycotts
The viral responses to the company's new campaign featuring Colin Kaepernick reinforce the stakes of his protests—and misunderstand what motivated the brand in the first place.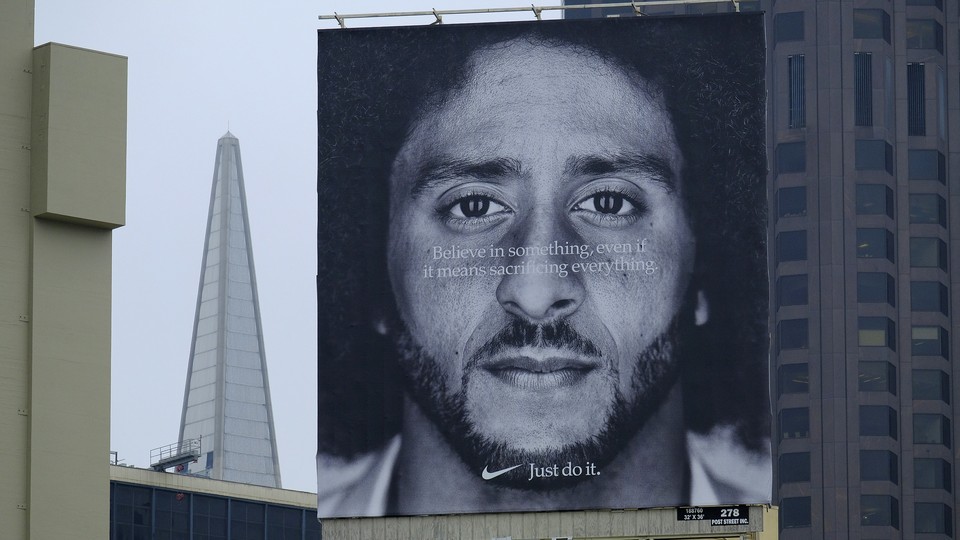 Monday afternoon, the former San Francisco 49ers quarterback Colin Kaepernick tweeted a tightly cropped grayscale photo of his face, emblazoned with a simple message: "Believe in something. Even if it means sacrificing everything." Below Kaepernick's lips, the Nike logo accompanied the company's pithy slogan: "Just do it."

For Kaepernick, the "something" meriting a Sisyphean sacrifice has been addressing systemic racial injustice (most notably, police brutality), a platform he's dedicated himself to advancing since he first began kneeling during the playing of the national anthem in the 2016 season. In the time since, the anthem protests have become a much larger movement, but the athlete behind them remains a much reviled figure even as he pledged—and then donated—more than $1 million to 41 charitable organizations. The free agent was not offered a spot on any NFL team's roster last season, and his collusion grievance against league owners—in which he alleges that NFL executives and owners alike conspired to keep him from playing because of his activism—is ongoing.
For Nike, sacrifice is a market variable. The company has long partnered with athletes to advertise its shoes and apparel; because athletes are personas as much as they are professionals, these deals trade on the value of their celebrity. Cashing in on Kaepernick's activism to bolster the gravitas of "Just Do It" is a clever marketing tactic, a way for Nike to access the social cachet of resistance efforts without altering its own corporate DNA. But in selecting Kaepernick as the face of its "Just Do It" 30th-anniversary campaign, Nike also angered the segment of its customer base that views the activist not as an intrepid spirit but as an uppity pariah. Immediately after Kaepernick tweeted the news, indignant patriots began sharing footage of themselves (and others) destroying Nike gear (the videos even inspired parodies).
In one particularly illustrative anti-Nike display, the country singer John Rich tweeted a photo of shorn Nike socks with an admonition that invoked the armed forces: "Our Soundman just cut the Nike swoosh off his socks. Former marine. Get ready @Nike multiply that by the millions." Naturally, the swarm of outrage came with a convenient hashtag: #BoycottNike.
But while those partaking might feel vindicated watching one another's pyrotechnics go viral, a boycott is more than a collection of images; it is a specific organizing tactic. To be effective, it requires both tangible goals and a unified strategy. Those destroying property they have already purchased are neither meaningfully inconveniencing themselves nor directly affecting the target they most want to affect: Kaepernick. Their flames and fury may have contributed to Nike's stock sliding 2.6 percent, but neither the company nor the athlete is (at least currently) positioned to suffer dramatically as a result of the burning sacrifices. In the Nike boycotts, spectacle supersedes substance. Like the Starbucks brouhaha in which aggrieved Christian customers purchased drinks specifically to ensure that employees would write "Merry Christmas" on the store's plain red holiday cups, the Nike outrage bolsters the profile of the very company it decries.
No matter how many "stick to sports" fans burn their own sneakers or cut the signature swooshes out of their shorts, Nike is still slated to provide apparel for the NFL through 2028; Kaepernick may not have a job in the league, but he now joins Serena Williams, LeBron James, Odell Beckham Jr., and Shaquem Griffin in fronting Nike's signature campaign. As the NFL gears up for the start of its regular season, its most controversial former player once again dominates the field of public conversation.
In considering the inefficacy of the Nike boycott, another recent example is instructive here: the backlash to the news that Steve Bannon, President Donald Trump's former chief strategist, would headline The New Yorker Festival. The magazine disinvited Bannon after a host of high-profile guests announced that they would withdraw from the festival. Within a 30-minute span, the comedian John Mulaney, the director Judd Apatow, the actor Jim Carrey, and the musician Jack Antonoff all tweeted their refusal to share a stage—or a program—with Bannon. A number of the publication's staff writers and contributors voiced their disapproval as well. The editor David Remnick's statement about rescinding his invitation to Bannon named this swell of dissent as a motivating factor for the decision; it also references "An American Tragedy," the essay Remnick wrote following the 2016 election, but curiously avoids the line from that piece that aptly characterizes Bannon's invitation to the festival: "Spokesmen for the unspeakable now have access to huge audiences."
In both the Nike boycotts and the New Yorker backlash, the "unspeakable" finds convenient avatars. But, notably, the New Yorker Festival boycott was effective in achieving its core goal. After all, Bannon was disinvited; the platform eroded beneath him. On the other hand, despite provoking the ire of those who see him as an unruly black athlete, Kaepernick has not, as of yet, been removed from the Nike campaign, and there are no indications that the brand will back away from him. Nike has long embraced controversial athletes as part of its appeal to a youthful customer base; Kaepernick's involvement is no aberration.
It's worth noting in all this that neither Nike nor The New Yorker operates as a neutral social entity. Nike is a corporate giant that has employed sweatshop labor (and skirted calls for accountability) for much of its six-decade run. The brand may have made a risky move in featuring Kaepernick, but the "Just Do It" advertising campaign has also already generated a reported $43 million worth of media exposure for Nike, much of it positive. Meanwhile, The New Yorker's initial invitation of Bannon to a massive stage read to many as a tacit legitimization of his standing as a figure of interest—despite his lack of public office or cohesive ideology beyond the pillars of white nationalism.
Under most circumstances, it is easier to announce a boycott of a spokesperson—to attack the symbol of a larger institution—than it is to address the systems that grant these spokespeople their platforms. It is easier to boycott an event than to fight the ideas driving white supremacy. Still, in altering the course of the festival, aggrieved parties did successfully challenge an idea: the magazine's implicit message that white nationalism is worth cordially engaging with. By contrast, the Nike boycotts misunderstand what drives the company: It ultimately wants to sell more products, not market ideas, and there's no reason to believe that an extension of Kaepernick's contract with the brand has angered enough people to meaningfully affect its bottom line.

To boycott is to sacrifice strategically. When Kaepernick began his protests, before kneeling became a lingua franca of social uprisings, the physicality of his message conveyed that which he did not have the platform to relay with words alone. In putting his body on the line, Kaepernick reiterated the urgency of his message: This affects us—which is to say black people, people of color, Americans—viscerally. That his detractors are taking aim at an entire corporation to spite Kaepernick and his supporters is, in that sense, strangely fitting. It was never just about Kaepernick; it's not just about sneakers; it's not just about sports.