Saturday Night Live Needs to Break Its Stagnant Streak
Alec Baldwin is returning to play President Trump for the show's 44th season, with only one new cast member coming aboard the stalling sketch revue.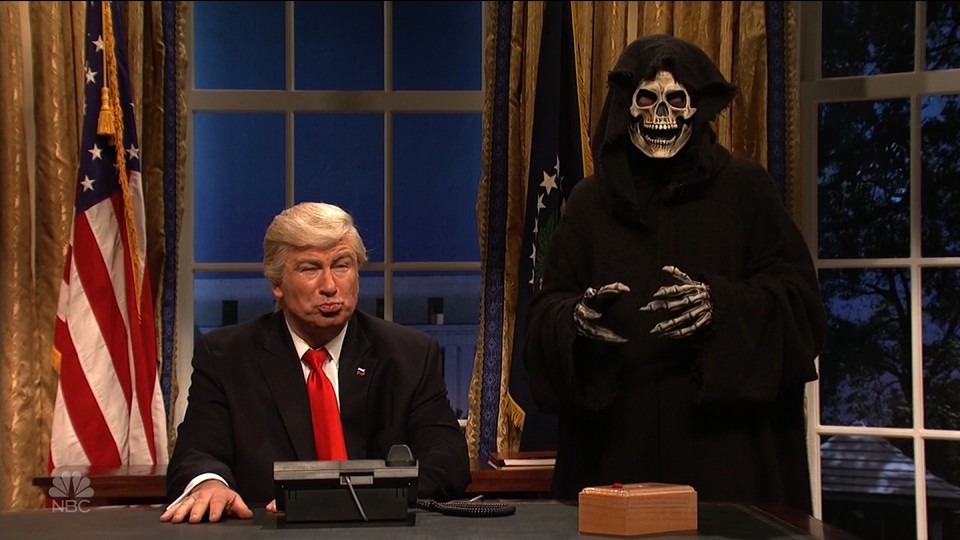 When Alec Baldwin joined Saturday Night Live to play Donald Trump on a recurring basis almost two years ago, it invigorated a show that had started feeling stagnant. Suddenly, there was a political impression that felt like appointment television: Baldwin portrayed Trump as an aggressive ogre rather than as a preening egotist, a performance with an extremely blunt perspective on the candidate. Then Trump became president. Since the election, Baldwin's performance has gone from pointed to perfunctory, and SNL's topical sketches have become increasingly one-note, depicting Trump and his Cabinet as brainless Keystone Cops. The announcement of Baldwin's return this season suggests more of the same lies ahead.
There is one exciting cast addition that could help shake things up a little—Ego Nwodim, the show's only new featured player this season. A regular at the Upright Citizens Brigade theater in Los Angeles and a frequent guest on the podcast Comedy Bang Bang, Nwodim is the kind of character-focused comic that the show has lacked in recent years. With Trump dominating the news, SNL has concentrated on bringing in big celebrity guests to play the colorful figures in his universe, such as Ben Stiller as Michael Cohen, Robert De Niro as Robert Mueller, and Bill Hader as Anthony Scaramucci.
As such, the pendulum has swung away from what defined the show during the Barack Obama years, when actors like Hader, Kristen Wiig, Kenan Thompson, and Fred Armisen created long-running characters such as Stefon and Gilly and leaned on bits such as "The Californians" or "What's Up With That?" Back then, the show could be guilty of playing the hits too often. Now SNL doesn't have many such hits to rely on, and sketches featuring Baldwin and other recurring guests are most likely to be prominently featured.
Some of the current ensemble, such as Kate McKinnon, Cecily Strong, and Thompson (the latter has been with SNL for 15 years now), are gifted with characters. But their goofier efforts often get backgrounded. Nwodim, like most new recurring players, will probably need time to find her feet on the show, but on podcasts such as Comedy Bang Bang and Improv4Humans (both of which are entirely improvised) she's shown outstanding range and a real aptitude for broad, silly characters. Her talents could be a boon to SNL, balancing out the barrage of political news that tends to overwhelm the show's first act (and the "Weekend Update" segment).
Aside from Nwodim, SNL's cast for Season 44 will largely stay the same: Beck Bennett, Aidy Bryant, Pete Davidson, Mikey Day, Leslie Jones, Alex Moffat, Melissa Villaseñor, Heidi Gardner, Kyle Mooney, Chris Redd, McKinnon, Strong, and Thompson. Only Luke Null, who debuted as a recurring player last year and struggled to find screen time, is departing, though Thompson may finally hang up his hat at some point if a Lorne Michaels–produced sitcom he's starring in is ordered to series by NBC. The "Weekend Update" hosts Michael Che and Colin Jost, coming off a lackluster performance at the Emmys, will continue as head writers with Kent Sublette.
As for Baldwin, he has at times confessed his exhaustion with playing Trump, calling it "agony." His lack of enthusiasm shows. His performance went from bullish to weary last season, with much of the comedic heavy lifting now handled by the ensemble around him. There emerged a hint of a meta-narrative, as some reporting alleged that the real President Trump was growing angry with the job of being president, but Baldwin does occasionally confess pleasure in his role as a political point scorer. "Agony though it may be, I'd like to hang in there for the impeachment hearings, the resignation speech, the farewell helicopter ride," he tweeted last March. "You know. The Good Stuff. That we've all been waiting for."
It's the kind of acidic sentiment that doesn't shine through often enough in Baldwin's work on SNL, though perhaps the summer break will see him feeling renewed for the new season, which starts on September 29 (hosted by Adam Driver, with the musical guest Kanye West). After a disappointingly bland year, the prospect of the show just running things back is dispiriting. With McKinnon nearing the end of her seven-year contract, SNL should use this season to find new stars and push them in exciting creative directions—resisting the temptation to let Baldwin and his coterie of special guests define the show indefinitely.