Roma Is Netflix's Most Compelling Big-Screen Argument Yet
Alfonso Cuarón's new break-the-mold film could push the streaming company to change its distribution model.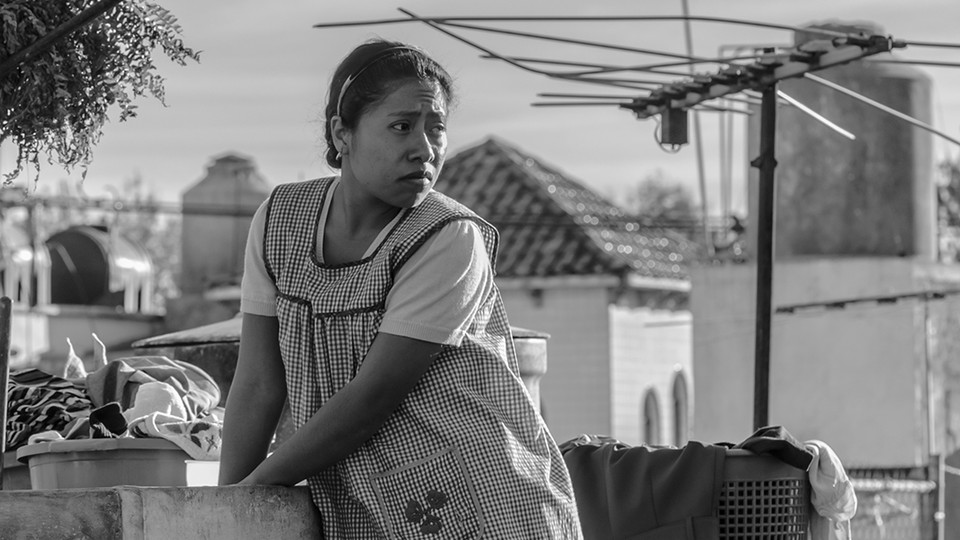 In the middle of Roma, Alfonso Cuarón's intimate and epic account of his childhood in early-1970s Mexico City, the film journeys outside of the capital and visits a local strongman in the countryside who's training a group of young men in martial arts. As Cuarón's camera takes in the stunning vista of dozens of bodies moving in unison, the strongman announces that he will perform his most impressive feat yet: putting on a blindfold, balancing one foot against the other leg, and holding his hands together over his head. It looks so simple that the crowd reacts with confusion, until he bids the men to try the same and they all wobble helplessly, unable to maintain their balance.
It's a trick that's dazzling in its simplicity, and the same goes for Roma, which presents as a quiet drama about an upper-middle-class Mexican family and their domestic employee, Cleo, a nanny and housekeeper played by the debut actress Yalitza Aparicio. While the Mexican student movement roils on in the background, the Gutierrez family goes through its own personal upheavals, as does Cleo, though so much of her life is constricted by her job. And though the story is focused on the family, the scope is as wide as possible, shot in gorgeous black-and-white on 65-millimeter cameras and presented mostly in wide shots, as the world changes drastically around the characters.
The film, which screened at the Toronto International Film Festival this week, is an empathetic character study by Cuarón, suffused with guilt over his family's unacknowledged privilege. It's also a somewhat surprising follow-up, considering that his last movie was 2013's Gravity, an international smash that grossed more than $700 million worldwide and won seven Oscars, including Best Director for Cuarón. That kind of hit can give a director the chance to make the most ambitious kind of project, and in a way he has—just outside of the Hollywood infrastructure, as the film was independently produced by Participant Media. But in April, Netflix announced that it had acquired distribution rights to the film, meaning it could be seen by a wide audience at home rather than in the large-format theaters for which it was made.
Once it was bought by Netflix, Roma was thrown into the center of a battle between Netflix and the Cannes Film Festival: Along with several other Netflix projects, it was withdrawn from the competition over new rules that demand major theatrical releases for any film screening at Cannes. Netflix's entire business model is based around "day and date" access of all its content, meaning that even if a film has a scheduled theatrical release (as many do, to qualify for Oscar contention), it appears on the streaming service the same day. Most theater chains refuse to screen Netflix movies as a result, perceiving the company as an existential threat to their business. (Filmmakers such as Steven Spielberg and Christopher Nolan have criticized the release strategy.) Therefore, the company only shows films on a very limited amount of screens—it has an exclusive deal with the boutique company iPic, which operates 15 locations in the U.S., and otherwise has to rent theaters by paying up front (a process known as "four-walling").
With Roma, the long-running battle between Netflix and Hollywood's old order may finally come to a head. More than any other film distributed by the company, Cuarón's has a real chance at a Best Picture nomination, along with several others (the closest Netflix has come so far to major Oscar glory was with 2017's Mudbound, which got four nominations). Roma has already taken the Golden Lion at this year's Venice Film Festival, the award won by last year's Best Picture Oscar winner, The Shape of Water. But the big prize is always taken by a film that's seen by a wide audience in theaters—even indie winners such as Moonlight were shown on more than 1,000 screens.
According to The Hollywood Reporter, Netflix is considering putting Roma in theaters before it hits the streaming service, and the same might happen with The Ballad of Buster Scruggs (directed by the Coen brothers) and 22 July (directed by Paul Greengrass), two other major films coming out this year. Cuarón and Greengrass are said to be pushing for the change, wanting viewers to have a chance at a genuine theatrical experience. Cuarón is the rare filmmaker with that kind of clout, and if Netflix wants to keep doing business with his brand of A-lister, it'd be wise to indulge him.
Roma is also the kind of experience that will be inexorably blunted on a small screen. Even with the most high-tech setup, no television system can match the intensity of the film's sound, designed for the state-of-the-art Dolby Atmos system, and its superb widescreen shots, which are loaded with the kind of detail that pops best on a giant canvas. Roma's awards chances can only be helped by a fundamental change to the way Netflix releases movies. It could be the start of an actual revolution in Hollywood distribution, rather than just a disruption.