Consider the Hit Man
Mr. Inbetween, a new six-part drama on FX, uses the complex-assassin trope to mine the subject of masculinity.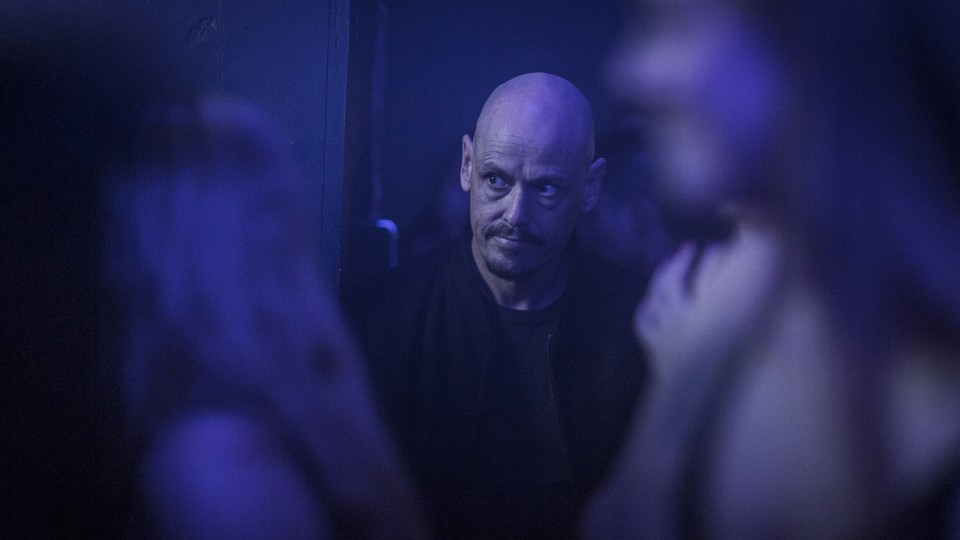 If Bill Hader's recent Emmy-winning turn as the HBO hit man Barry was defined by reluctance, Scott Ryan's Australian assassin, Ray, on the new FX series Mr. Inbetween, is blissfully untroubled by issues of ethical ambiguity. His code is simple. "How many people would you say you've assaulted?" an anger-management counselor asks him in the fourth episode. "Heaps," Ray replies. How does he feel about that? "Fine. They had it coming to them."
Ryan, who created and wrote Mr. Inbetween, plays Ray as a straight shooter, literally and metaphorically. At home, he's a diligent weekend father to his daughter, Brittany (Chika Yasumura), and a no-nonsense but supportive carer for his brother (Nicholas Cassim), who has motor neuron disease. He also has a new relationship with Ally (Brooke Satchwell), a paramedic whom he met while out walking his dog.
At work, Ray's a heavy-for-hire, doing odd jobs that range from debt collection to murder. He's experienced and savvy enough to know that the threat of violence is often more effective as a bargaining chip than violence itself, although he's not hesitant about employing the latter.
Mr. Inbetween—which is based on a 2005 film Ryan wrote and starred in called The Magician—plays out over six half-hour episodes, a relatively tight frame for a series to consider the complex psychological negotiations that allow Ray to be so many things at once. The show is named after the gray area between Ray's roles as a thoughtful and empathetic father and a relentless, frequently terrifying killer. But it doesn't mine that "inbetween" state as much as it could, relying on Ryan's deft performance to do most of the work. Ray has an emotionless, sharklike smile in some scenes that signals imminent danger. In most moments, though, he's nonchalant to the extreme, approaching the tasks of cutting up a corpse and ordering dim sum with the same level of equanimity.
What does become clear through the series is that Mr. Inbetween is a portrait of modern masculinity in all its frailty. The final episode's closing credits play out to the Delltones' "Get a Little Dirt on Your Hands," a song that traces the singer's evolution from a child to a criminal to a convict through the same exhortation to get dirty. In just three verses, the lyrics capture how the messages men are given as children prime them for trouble later in life. It's an apt theme tune for Mr. Inbetween, whose male characters beyond Ray are all varying levels of pathetic. Gary (Justin Rosniak) is a sad sack of a petty thief with a porn addiction who's terrified of his wife. Freddy (Damon Herriman), a crime boss for whom Ray works, seems totally intimidated by his enforcer. Vasilli (Jackson Tozer) is so inept at crime that he forgets to bring his own bag to a robbery.
Next to all these buffoons (and a string of others who crop up in later episodes), Ray becomes more sympathetic simply because he's efficient. He's also appalled by men who take their violent impulses out on women and children, erupting at his court-mandated anger-management classes because he sees himself as superior to the "bunch of wife beaters and child bashers" with whom he's saddled. Ryan's script offers glimpses of how Ray justifies his work to himself: He employs violence in everyday situations to protect his family, but also to impose his code on others. The world is full of terrible people, he reasons, only because those people have been allowed to get away with being terrible for so long without repercussions.
He might be right. If nothing else, it's gratifying to watch Ray mete out justice to street bullies and dimwit thieves and arrogant gangsters. Filmed on what seems like a shoestring budget in an unspecified Australian city (it's directed by Nash Edgerton), Mr. Inbetween lacks a particular plot arc or a central dilemma to sustain its story. What it offers instead is a conundrum, complicated by Ryan's charisma and the woeful state of the men who surround Ray. Is Ray morally irredeemable? Or—given the world he lives in—does his code begin to make a strange kind of sense? Maybe the answer, like Ray, falls somewhere in the middle.