'I'd Do Her': Mike Bloomberg and the Underbelly of #MeToo
Disparaging comments. Demeaning jokes. As the mogul reportedly considers a 2020 presidential run, it remains an open question whether his long-alleged history of undermining women will affect his chances.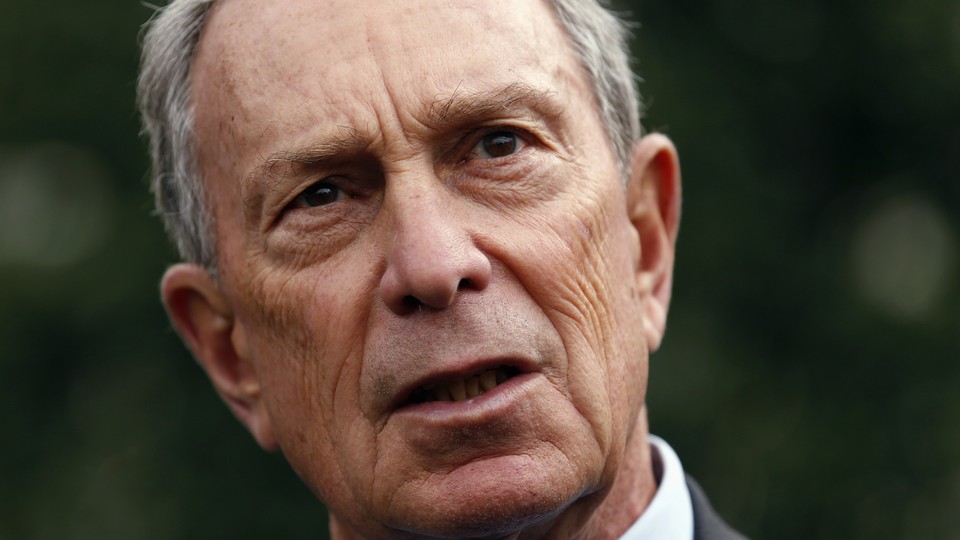 If you find yourself seeking, in these turbulent times, evidence of steadiness among the chaos—proof that even as the seas rise and the winds whip and the world that was gives way to the world that will be, some things will remain the same—here is a fact that seems always to be true: Mike Bloomberg is considering a run for president.
The newest version of the old truth comes from an article published this week in The New York Times: The billionaire former mayor, the paper announces, validating the rumors, is again considering a presidential run—this time, however, as a Democrat. It would not be an easy candidacy. "Mr. Bloomberg," the Times points out, "is plainly an uncomfortable match for a progressive coalition passionately animated by concern for economic inequality and the civil rights of women and minorities." Indeed: In an interview with the paper, Bloomberg defends stop-and-frisk. And, voicing "doubt" about some of the revelations that have been made in the course of #MeToo, Bloomberg mentions as an example Charlie Rose, who had broadcast his show from a space in Bloomberg's corporate offices. He declined to say, specifically, whether he believed the many allegations against Rose. "Let the court system decide," the former mayor said.
What is not fully addressed in the Times article, however—and what is not fully explored in the many similar pieces that consider the current iteration of Mike Bloomberg's presidential ambitions—is a series of stories about him, accumulated over decades, that suggests in the aggregate a distinct pattern when it comes to his treatment of women: reports of disparaging comments made about women's bodies and appearances. Allegations of a deeply sexist work environment at the company that Bloomberg founded and, for many years, ran. Stories that linger like exhaust in the air every time Mike Bloomberg is mentioned as, potentially, the next president of the United States.
This is a time in America of accountabilities that are—this is the most generous way to put it—unevenly distributed. Some people bear the heaviest and cruelest of burdens; others move through the world with easy indemnity. Christine Blasey Ford makes an allegation of sexual violence against the Supreme Court nominee Brett Kavanaugh; she is attacked as a victimizer. The man who last sought the presidency of the United States admitted to—bragged about—his own history of assaulting women; he won the office nonetheless. Exhaust, exhausting: The impunities form their own kind of fog.
The stories about Mike Bloomberg, though—stories, told through lawsuits and journalistic accounts, that involve allegations not of physical abuse but of more insidious manifestations of misogyny—ask broader questions about the ways electoral politics and basic morality will continue to tangle with each other as #MeToo marches onward. Will the stories (many of which Bloomberg has publicly denied as the inventions of money-hungry opportunists) have any bearing on his potential presidential candidacy? Will the Americans (and specifically now, apparently, the Democrats) of the current moment consider allegations involving casual misogyny, on the personal level and at the institutional, to be politically disqualifying? Will they consider those claims, indeed, to be worth discussing at all? Or will they dismiss them as the predicable collateral of the thing Americans are conditioned, still, to value above all: the successful accumulation of power and wealth?
From 1996 to 1997, four women filed sexual-harassment or discrimination suits against Bloomberg the company. One of the suits included the following allegation: When Sekiko Sakai Garrison, a sales representative at the company, told Mike Bloomberg she was pregnant, he replied, "Kill it!" (Bloomberg went on, she alleged, to mutter, "Great, No. 16"—a reference, her complaint said, to the 16 women at the company who were then pregnant.) To these allegations, Garrison added another one: Even prior to her pregnancy, she claimed, Bloomberg had antagonized her by making disparaging comments about her appearance and sexual desirability. "What, is the guy dumb and blind?" he is alleged to have said upon seeing her wearing an engagement ring. "What the hell is he marrying you for?"
Bloomberg denied having made those comments, claiming that he passed a lie-detector test validating the denial but declining to release the results. (He also reportedly left Garrison a voicemail upon hearing that she'd been upset by the comments about her pregnancy: "I didn't say it, but if I said it, I didn't mean it.") What Bloomberg reportedly did concede is that he had said of Garrison and other women, "I'd do her." In making the concession, however, he insisted that he had believed that to "do" someone meant merely "to have a personal relationship" with them.
That suit was settled in 2000; its terms were not disclosed. Other suits made similar claims. In a 1998 filing, Mary Ann Olszewski reported that "male employees from Mr. Bloomberg on down" routinely belittled women at the company—a pattern of harassment, she said, that culminated in her being raped in a Chicago hotel room by a Bloomberg executive who was also her direct superior. The case was dismissed (not, apparently, on its merits, but rather because Olszewski's attorney had missed the deadlines to respond to a motion to end the case). Before it was, though, in a deposition relating to the suit, Bloomberg testified that he wouldn't consider Olszewski's rape allegation to be genuine unless there were "an unimpeachable third-party witness" to corroborate her claims. (Asked by a lawyer how such a person might happen to witness a rape, Bloomberg replied, "There are times when three people are together.")
"Bloomberg's Sexual Blind Spot" is how The Village Voice summed it up in 2001. "Anti-woman obnoxiousness," Cord Jefferson, then at Gawker, called it in 2013. Part of that obnoxiousness involves the many reports related to what Bloomberg once told a reporter: "I like theater, dining, and chasing women." (He elaborated: "Let me put it this way: I am a single, straight billionaire in Manhattan. What do you think? It's a wet dream.") In his 1997 autobiography, Bloomberg by Bloomberg, the mogul bragged about keeping "a girlfriend in every city" during his years working as a Wall Street stock trader in the 1960s and '70s. He is reported to have said, of the computer terminal that made his fortune, "It will do everything, including give you [oral sex]. I guess that puts a lot of you girls out of business."
There's more: Bloomberg reportedly saying to a journalist and the journalist's friend, as he gazed at a woman at a holiday party, "Look at the ass on her." (He denied having made that comment.) Bloomberg, according to a top aide, seeing attractive women and reflexively remarking, "Nice tits." Bloomberg, mocking Christine Quinn, the then-speaker of New York's City Council, for going too long between hair colorings. ("The couple of days a week before I need to get my hair colored," Quinn once said, "he'll say, 'Do you pay a lot to make your hair be two colors? Because now it's three with the gray.'") Bloomberg mocking Quinn again, she said, for failing to wear heels at public events. ("I was at a parade with him once and he said, 'What are those?' and I said, 'They're comfortable,' and he said, 'I never want to hear those words out of your mouth again.'") Bloomberg, quoted by colleagues as saying, "If women wanted to be appreciated for their brains, they'd go to the library instead of to Bloomingdale's." Bloomberg being asked in a deposition, "Have you ever made a comment to the effect that you would like to 'do that piece of meat,' or I'd 'do her in a second'?" Bloomberg replying, "I don't recall ever using the term meat at all."
These reports suggest the extent of the blind spot. They also suggest, however, the expansive underbelly of #MeToo: the easy entitlements by which men come to see women as existing in part for their pleasure. The stories told of Bloomberg paint a picture of self-centric power, of moral tautologies, of limited empathies. (Joyce Purnick, in her 2009 biography, Mike Bloomberg: Money, Power, Politics, describes a man who is "curt, profane, cranky, and willful," and, relatedly, "allergic to introspection.") And, set as they are in the towers of the American corporation, places where power is assumed to justify itself, they suggest precisely the kind of trickle-down inequalities that politicians in particular might be in a position to combat. Sexism, for one, converted into a system: There is so much that is summoned—of hateful history, of the way that the past insinuates itself on the present—when a powerful man sizes up a less powerful woman in his employ and says, "I'd do her."
Earlier this month, another suit involving Mike Bloomberg was (very briefly) in the news. The mogul was reinstated as a defendant in a 2016 civil suit brought against Bloomberg the company by a former employee: She claims that in addition to the hostile work environment and sexual discrimination she experienced at the company, she was raped by a manager at Bloomberg when she was 22. (Lawyers for Bloomberg and the now-terminated manager deny her allegations.) The suit also holds the majority owner of Bloomberg liable for the woman's claims. The judge in the case, who had previously ruled that Mike Bloomberg had no immediate connection to the woman's claims, reconsidered his ruling; the case will move forward with Bloomberg listed as a defendant.
Bloomberg has traditionally dismissed the lawsuits filed against him and his company as publicity stunts and money grabs and, in the fullest sense, nuisances. ("What's happening," he explained of one such case, "is that because I'm so visible, that obviously I'm a target.") To run for office, however, is to make oneself a different kind of target; that is the exchange that is made when a person seeks such direct power over other people's lives. The story published in the Times this week is a trial balloon for a potential presidential candidacy; it is also testing, however, another thing. What are voters willing to tolerate, at this point, in those who propose to lead them? What are they willing to ignore? What has changed since the last time Mike Bloomberg ran for public office? And what—the world being, in the end, full of truths that remain so stubbornly true—hasn't changed at all?