Life and Art Collide in The Deuce
The second season of HBO's drama about the 1970s pornography business is timely in good ways and bad.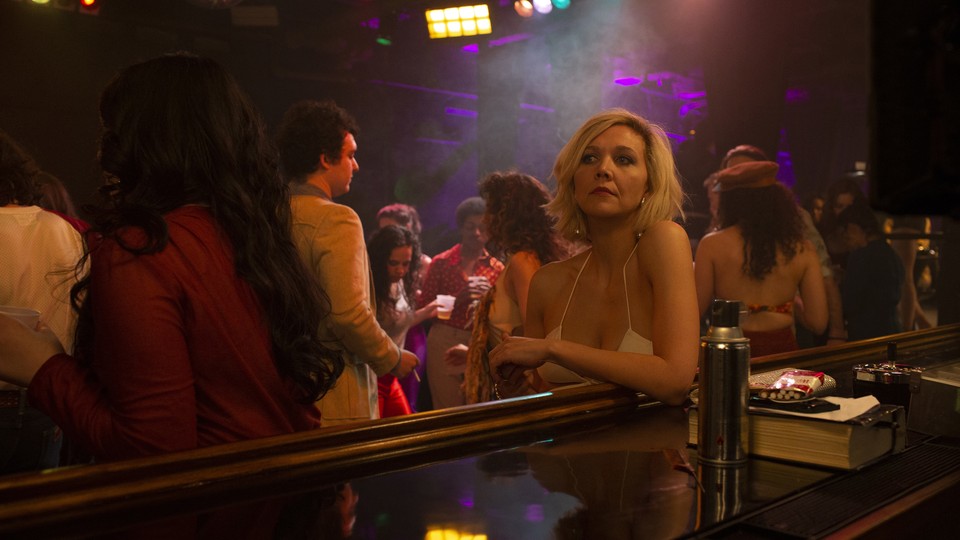 David Simon, at least judging by an interview he and George Pelecanos gave to The Globe and Mail last month, would prefer that viewers of The Deuce interpret the HBO show's second season purely on its own merits. When asked specifically about allegations of misconduct regarding the show's star, James Franco, that emerged in the midst of the #MeToo movement last year, Simon seemed to react angrily. He then explained the efforts he and Pelecanos had taken in terms of looking into those allegations, and why Franco himself hasn't yet addressed them in depth.
"There's probably going to be a point at which [Franco] wants to speak more in detail about that," Simon said. HBO, he explained, thought that for the actor "to do so in advance of [The Deuce] airing would take the emphasis off the content of the series." (Franco was accused by former students of exploitative and unprofessionally sexualized behavior, as well as removing plastic safety guards from female actors while filming oral-sex scenes.)
Here's the snag, though: There's no way to watch The Deuce without thinking about sexual misconduct and the routine abuse and harassment of women in the entertainment industry. It's what the show is about. If the first season, which debuted last year, felt like stage setting for the show's main exploration of the pornography business, the second is immersed in the sex industry. Set five years later, in 1977, it features predatory film producers, casting-couch moments, the ritualized depersonalization and objectification of female bodies, and women becoming increasingly aware that they need to fight back. As for Franco, it's hard to disassociate the actor from the #MeToo movement when a scene in the second episode shows one of his characters blithely encouraging peep-show dancers to allow themselves to be groped for bigger tips.
Maybe this is unfair. But the flip side of The Deuce having such contemporary resonance as a work of art is that it's impossible to decontextualize the series from topical events. What's frustrating, too, is that Franco's characters (the twin brothers Vincent and Frankie Martino) are easily the least compelling part of Season 2, which is oddly structured, patchily written, and—in some moments—incandescent in its portrayal of a sex worker turned porn director (Maggie Gyllenhaal) discovering her artistic power.
Season 1 introduced "The Deuce," the stretch of 42nd Street in Midtown Manhattan that hosted a flourishing sex trade in 1971, when the series began. Gyllenhaal's Candy was a sex worker trying to leave the industry while evading the domineering pimps who worked the area: C. C. (Gary Carr), Larry (Gbenga Akinnagbe), and Rodney (Method Man) among them. Franco's Vincent was a bartender who became instrumental in the establishment of mob-run massage parlors, while Frankie, Vincent's twin brother, was a gratingly cocky ne'er-do-well and a compulsive gambler who seemed to exist only to get Vincent into trouble.
By the end of the first eight episodes, Vincent was well and truly ensnared in the business side of the sex industry, while Candy was making moves into directing porn. Season 2 jumps forward in time five years, but little has changed, including the actors' apparent ages. Candy continues to act and direct porn while dreaming up more ambitious creative projects. C. C. and Larry exploit women on film sets instead of on the street. Frankie is so gallingly immoral and incompetent that it often feels like Simon and Pelecanos are searching for a way to write him off the show via an infuriated mafioso or two.
The first season worked as a comic drama about a specific place and moment whose influence would outlast its heyday. The second, at least from the first four episodes made available for review, is a riveting story about porn's golden age that's padded out with flat writing, loose story ends, and inexplicable subplots. Some of the scenes featuring Candy, the porn director Harvey Wasserman (David Krumholtz), and the actresses Lori (Emily Meade) and Darlene (Dominique Fishback) are incredibly rich; it's then jarring to see the show butt in with detours about Frankie trying to take over a dry-cleaning business, or Paul (Chris Coy) deciding which kind of marble to purchase for his new club. Never has Simon and Pelecanos's commitment to ensemble storytelling felt so frustrating.
The Deuce's clunkier interludes only look more so given that Gyllenhaal is doing career-best work as Candy, in such an extraordinary performance that everyone else pales by comparison. On set, Candy is coming into her power, relishing her authority as a director and tapping into what makes her films work. Porn isn't just about getting off, she tells Harvey. It's "about the hunger and the terror and the risk. We all fucking risk to connect to each other." She has an instinctive psychological grasp of why storytelling matters and an ingenuity when it comes to expressing emotion. But she's also a woman, and that makes her vulnerable. A scene in which Candy realizes exactly how vulnerable, as Gyllenhaal wordlessly projects surprise, pain, thoughtfulness, and acceptance in just a few seconds, is one of the best TV moments of the year.
Candy knows that every consumer of visual storytelling brings his or her own context to what they're seeing, whether it's desire, insecurity, passion, or fear. Simon and Pelecanos know, too, that their audience is watching The Deuce with a contemporary awareness of what Times Square has become, and, more crucially, what pornography has begotten. That's why it's so hard to disconnect the series from the history of its own moment. No art can exist in a vacuum. There's risk involved in trying to connect.