Why the Les Moonves Departure Is Not Enough
The powerful CBS chief is exiting the company after a new round of sexual-misconduct allegations. It's a big deal—but it's not the full deal.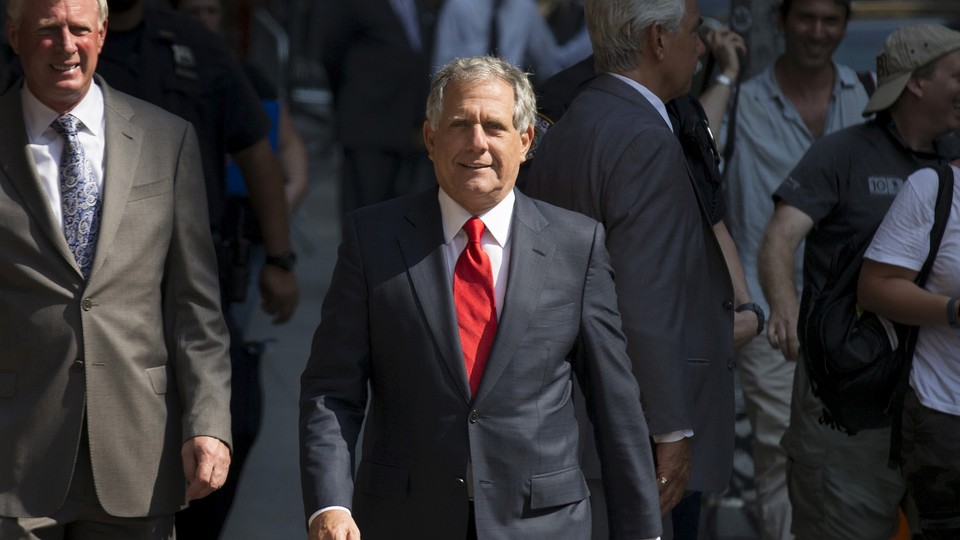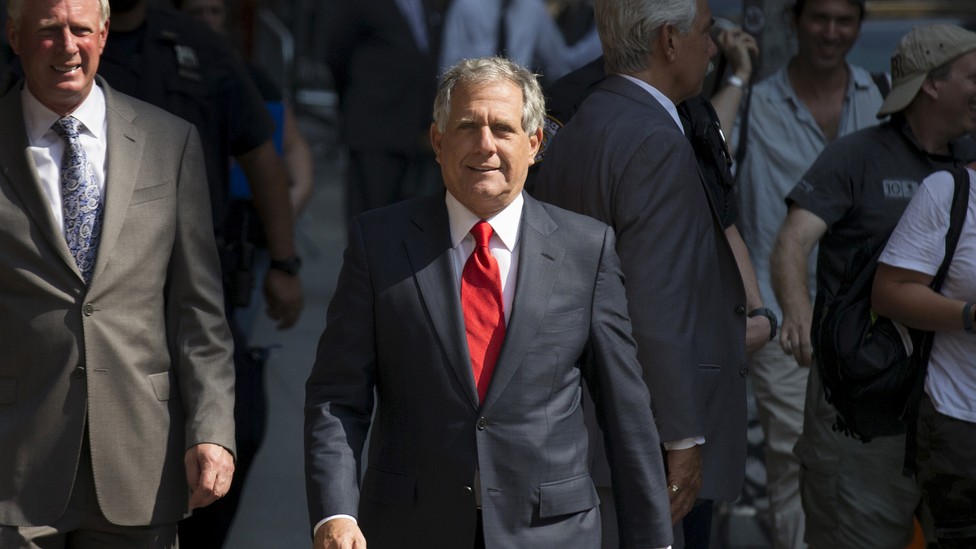 "CBS takes these allegations very seriously. Our Board of Directors is conducting a thorough investigation of these matters, which is ongoing."
That was one of the several statements CBS issued on Sunday, in response to a story published that morning in The New Yorker: Ronan Farrow's follow-up to the report he had published in July, a story detailing allegations from six different women about sexual and professional misconduct on the part of the network's chairman, Les Moonves. Farrow's new report, based largely on events that occurred in the 1980s and '90s, before Moonves joined CBS, contains allegations from six more women, and its stories of abuse are even more extreme than the earlier ones: There are allegations of oral sex both coerced and forced, including one case that resulted in a criminal investigation last year; allegations of forced touching; allegations of physical violence, including one executive who said Moonves, in a fit of rage, threw her against a wall; and allegations of retaliation against several of the women for rejecting his advances.
Moonves, for his part, once again denied the allegations, telling Farrow that "the appalling accusations in this article are untrue," and claiming that he had had consensual relationships with "three of the women." (He "declined to specify," however, Farrow notes, "which three encounters he considered consensual.")
The new accusations brought a new urgency, it seems, to the laconic pace at which CBS had previously been reckoning with the earlier allegations about its chairman. (The initial allegations came as Moonves was engaged in a legal battle with Shari Redstone, the controlling shareholder of CBS, over control of the network; Moonves's departure is one element of a global settlement of that dispute.) On Sunday evening, CBS, which had retained Moonves as its leader as the investigation into his behavior was ongoing, announced that he would be stepping down. The CBS Corporation further shared that "Moonves and CBS will donate $20 million to one or more organizations that support the #MeToo movement and equality for women in the workplace."
Moonves and CBS, you'll notice. Not only because it is the nature of the American corporation to conflate the brand and the people who exist in its orbit, but also because the donation in question, which "will be made immediately," CBS says, if to unspecified recipients, has been "deducted from any severance benefits that may be due Moonves following the Board's ongoing independent investigation led by [the law firms] Covington & Burling and Debevoise & Plimpton." Moonves, CBS also noted in its statement, painstakingly repeating itself, "will not receive any severance benefits at this time (other than certain fully accrued and vested compensation and benefits); any payments to be made in the future will depend upon the results of the independent investigation and subsequent Board evaluation."
The Moonves news, in that sense, is at once historic—"a stunning reversal," The New York Times sums it up, "for an executive who is credited with turning CBS into television's most-watched network"—and, at the same time, no news at all. It is a story whose ending and whose moral arc are both thoroughly unclear and deeply contingent, dependent as they are on an investigation that is still being carried out—under the ultimate auspices of CBS itself. The statement CBS released on Sunday is double-edged. On the one side, there's contrition: the departure of the alleged abuser, the offering of millions to the cause of women's welfare, the additional note that the CBS Corporation will be replacing some of its board members with new participants in a nod toward structural change. On the other side, though, there is, in all this, extremely little evidence of deeper or more meaningful amends making. Moonves might well leave CBS, in the end, with an especially gleaming version of a golden parachute. The culture that appears to have allowed him to operate unimpeded for so long might well remain in place.
Or … not? The final outcome of much of this—the payout Moonves will (or will not) ultimately receive, the work CBS will do (or not do) to ensure that its workplace is safe for all within it—is contingent, it seems, on the findings of CBS's lawyers' investigation. The physics of that are familiar: the delayed reckoning. The kicked can. The lack of moral urgency. Our Board of Directors is conducting a thorough investigation of these matters, which is ongoing. In CBS's statements from July up to now, investigation has carried something of an incantational quality: It summons and attempts to soothe. It suggests an easy promise of (future) accountability. It evokes progress and duty and the scientific method—things explored and celebrated in shows like, say, NCIS, one of the many megahits that Les Moonves brought to CBS and therefore to your grandmother's living room. Have faith, CBS is saying, for there is an investigation afoot.
But procedurals are popular precisely because their format is reassuringly easy: They suggest the kind of two-dimensional problem solving that can exist only on a TV screen. Gibbs figures it out yet again, in that easy hour, because that is his only option. In three dimensions, however, and in the complexities of human interaction, an investigation will be successful only insofar as the people conducting it are committed to its success. And CBS, as it has been writing strongly worded statements promising "thorough investigations" into the Farrow reporting, has already been carrying out one such investigation: this one into the CBS showrunner Brad Kern, who has been accused by seven of his employees of "sexual harassment, discrimination against women—particularly working mothers—and racially charged comments, among other issues." The lawyer conducting that investigation—her services will be paid for by CBS—has been accused by several of the staffers she's interviewed as being biased toward the network's corporate interests. As one CBS writer told the reporter Maureen Ryan, "Everything she says just repeats CBS management's talking points."
The Moonves investigation faces, inevitably, similar conflicts: It is itself, in its own way, vertically integrated. "A number of individuals whom the firms have asked to interview said that they were concerned about the independence of the two firms," Farrow writes, "given the large amount of legal work they do for CBS." A former legal executive for CBS and Viacom put it to him this way: "If you knew how much money these firms were making from the mergers and acquisitions and the business side of CBS, there's no way you'd think they're impartial."
The dynamics here are so familiar as to be dull: Once again, the power concentrates at the top. Once again, the #MeToo allegations are pitted against the (structuralized, calcified, moneymaking) status quo. The departure of Moonves, of course, is a very big deal, symbolically and in starkly practical terms. But it is very much not the full deal. It does not, on its own, address the radiating rot that Farrow has suggested in his reports on CBS: an overall culture of complicity and complacency. And while the $20 million CBS is donating to as yet unnamed causes is of course a massive sum that can be directed to myriad worthy outlets, such easy charity cannot be a full gesture of contrition. Band-Aids will do only so much for cuts that run so deep.
And then there are all the questions that remain, in CBS's scramble to act in response to Farrow's new story. There is, again, the matter of Moonves's final payout from CBS, the question of how gleaming his golden parachute might be. Journalistic reporting prior to CBS's announcement of his departure had suggested that the chairman, with the $180 million his contract had mandated by way of severance, might still receive $100 million despite being fired for cause. How much of that amount, actually—quietly, eventually—will Moonves get? What is the market value of alleged sexual misconduct?
Perhaps the biggest question, though: What will any of this mean for CBS as both a cultural producer and as a workplace? What of, and what for, the people who remain? In the best-case scenario, the investigations currently being conducted—thorough, independent—will explore that; ideally, the lawyers charged with running those investigations are painstakingly reporting from the inside in the same way Farrow reported from the outside. Maybe the whole thing, CBS meets NCIS, will result in meaningful and lasting change, at the network and in the industry it is part of.
Then again: Maybe not. Systemic problems, after all, require systemic solutions. The allegations shared in Farrow's stories have been made not only against one powerful person—a person whose power has been maintained and expanded by the easy inertias of money and industry and corporate celebrity—but also against a culture at large. A culture that reacted to Farrow's initial story with a promise to "investigate," and very little else. A culture that has thus far offered scant evidence of a true, deep reckoning. A culture that will remain, even as Moonves goes. As one of CBS's board members put it in the network's statement on Sunday, addressing Moonves's departure but notably ignoring the reason for it: "We thank Les for his 24 years of service. Among his achievements, he established a strong management team, giving us great confidence as we accelerate our succession plans and provide continuity of leadership."