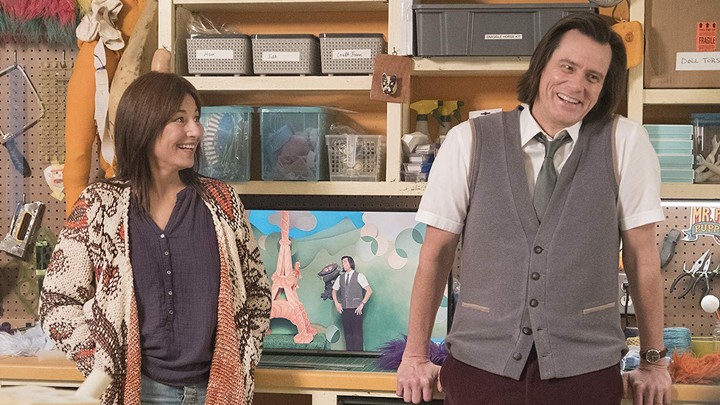 A plot device that is shocking, deeply upsetting, or very dark in some way is not uncommon in the world of premium-cable television, a medium where practically anything goes, any bad word can be uttered, and creativity is supposedly more unfettered. But, of course, just because something is shocking doesn't mean it's interesting. Showtime's new series Kidding is predicated on a notion that its creator, Dave Holstein, clearly regards as quite twisted: What if a Mister Rogers–esque children's entertainer suddenly had to grapple with the darker side of life, and started talking about death and despair on television? Stranger yet—what if he were played by Jim Carrey?
This is a series that underlines its dramatic elements so pugnaciously that moments of levity feel jarringly atonal, even though it's nominally a half-hour comedy (in the same vein as bleakly funny Showtime originals such as The Big C or Nurse Jackie). Kidding has an exceptional ensemble to work with, but drowns it in rote domestic plotting. It's directed by the visual fabulist Michel Gondry, who so brilliantly collaborated with Carrey on Eternal Sunshine of the Spotless Mind, but the color palette he works with here is dispiritingly gray. Worst of all, although Gondry has gotten a fairly interesting, committed performance out of his star, the character Carrey inhabits is an awkward fit for the show's premise.
Carrey plays Jeff Piccirillo, who performs as "Mr. Pickles" on a long-running PBS program called Mr. Pickles' Puppet Time. He's an obvious analogue for Fred Rogers: His show tells moral stories using puppet characters and catchy songs, is filmed at a PBS regional affiliate (Columbus, rather than Pittsburgh), and is the center of a multimillion-dollar branding empire that has earned generations of loyal fans over its 30-year run. Kidding begins with Jeff making an appearance on Conan, and while Conan O'Brien plays himself as grumpily unaware of Mr. Pickles, soon enough the audience is quickly singing along to one of the character's friendly ditties.
The similarities to Mister Rogers are mostly superficial, though. For one, Mr. Pickles' Puppet Time is bizarrely nepotistic: Jeff's executive producer is his father, Seb (Frank Langella), and his chief puppet designer is his sister Deirdre (Catherine Keener). As the show begins, both are concerned for Jeff's well-being following the death of his teenage son Phil (Cole Allen) in a freak car accident and the dissolution of Jeff's marriage to Jill (Judy Greer). Seb and Deirdre have every right to be worried, since Carrey plays Jeff with nervy malevolence, his baleful smile plainly covering for his disintegrating mental state.
The chief problem is that it's very hard to grasp that Jeff was ever, at any point, genial and nonthreatening. Carrey is a major name with a giant cultural imprint, but his image as a comedy star has always had an edgy hint of mania—it's part of what made him so magnetic on-screen. There's no sign of the old Mr. Pickles on Kidding, the one who earned the nation's heart; there's just a weird, obviously haunted man, surrounded by vaguely creepy puppets, singing directly into the camera. That incongruity is ham-fisted, but it's also Kidding's whole dramatic conceit.
As Jeff wrestles with the death of his son, we see the ways the event has wreaked havoc on his life. His other son, Phil's twin brother, Will (Cole Allen again), has become emotionless and distant, doing drugs with his teenage pals. Jill is largely unhelpful and critical, sniping at Jeff any chance she gets—it's a thankless role that Greer (a huge comedy talent) has been asked to play too many times during her career, in blockbusters such as Jurassic World and Ant-Man. Meanwhile, Seb is resistant to Jeff's idea of making a special episode of the show that addresses the loss he's suffered, even though the widespread news of such a tragedy would seemingly necessitate such a thing.
A fundamental story obstacle that Kidding can't get past is the sheer horror and pointlessness of Phil's death. It makes Jill and Seb, who constantly belittle Jeff's bizarre behavior, come off as truly inhumane. The series sees its protagonist wrestling with existential questions about mortality, but the accident that killed his son is too bizarre and contrived to feel worthy of such an exploration. Many viewers will see Jeff's depression as completely normal and sympathetic, but Kidding treats it as something fascinating and unusual.
As the show goes on (four episodes were provided to critics), and Jeff's actions get stranger and stranger, Kidding becomes painfully monotonous. Jeff just seems like someone in need of good therapy—but the series is obsessed with the optics of him holding a puppet or singing a children's song while crying out for help. That dichotomy is a barely compelling-enough starting point for a story, but it's especially flimsy when serving as a show's entire concept.
We want to hear what you think about this article. Submit a letter to the editor or write to letters@theatlantic.com.
David Sims
is a staff writer at
The Atlantic
, where he covers culture.