Fahrenheit 11/9 Is Powerful at Times, Scattered at Others
Michael Moore's new film takes aim at President Trump and establishment Democrats alike, but it only succeeds when the director turns the camera on his hometown.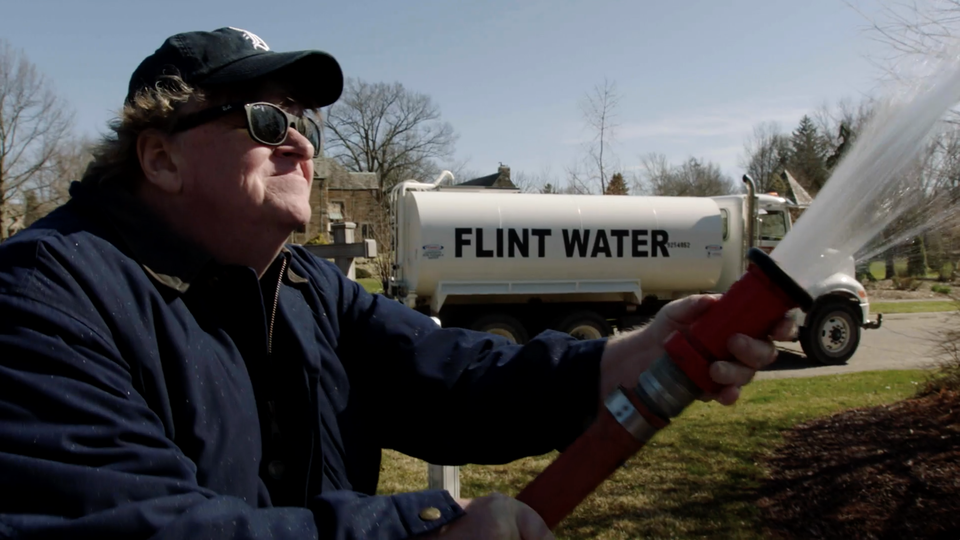 Michael Moore's new film, Fahrenheit 11/9, kicks things off with the kind of montage that should be banned from all documentaries, at least for the next few years: a recap of the 2016 presidential election. It's something that plagues topical works such as Get Me Roger Stone, about Donald Trump's former strategist; the upcoming Steve Bannon–focused film American Dharma; and even the Crooked Media podcast The Wilderness. Every potential viewer or listener can remember the broad strokes of the Trump-Clinton contest, and the surprise of that election night—they don't need a cable-news-clip package to relive it.
As with every other example of this tactic, Fahrenheit 11/9's election flashback is designed as a gut punch for the audience, a concentrated version of the intense stress and mania of TV news, injected right into the eyes. It only exists so that Moore, that rumpled avatar of Bush-era left-wing activism, can ask the big dramatic question—"How the fuck did we get here?"—over footage of Trump's face being projected onto the Empire State Building. But Fahrenheit 11/9 is not a film with a big overarching answer to that question, or some major thesis about where the country might be headed. It's a disjointed, occasionally powerful, often grating grab bag of recent political events, a mess that's forgivable only because it does reflect the messy state of the world.
Moore's relevance as a filmmaker has wobbled wildly over the years; the tendency to insert himself in the middle of every issue that piques his interest only works when said issue is actually personal for him. It's what makes his debut film, Roger & Me, about the closing of several General Motors plants in his hometown of Flint, Michigan, so effective to this day. Flint, a once-booming city blighted by urban decay, corporate greed, and government malfeasance, features in a lot of Moore's films, often tangentially. In Fahrenheit 11/9, it's the centerpiece of Moore's argument that American democracy is accelerating into full apocalypse mode, and its inclusion is what gives the film some heft.
Other recent Moore projects have felt aimless. Capitalism: A Love Story (2009) was a bottled recap of the 2008 financial crisis that felt like a series of talking points; Where to Invade Next (2015) was a truly dreadful travelogue that consisted mostly of Moore feigning shock at being told various facts. His last effort, 2016's Michael Moore in TrumpLand, was a filmed solo performance from Wilmington, Ohio, in which Moore entreated Rust Belt Trump supporters to vote for Hillary Clinton.
Whatever lingering affection viewers had for him then appears to be dwindling now, based on box-office returns. Fahrenheit 11/9 is a despairingly furious work aimed mostly at the Democratic establishment, pronouncing Clinton a mediocre candidate, bemoaning the lessons not learned from Bernie Sanders's insurgent primary campaign, and criticizing Barack Obama for his tendency to compromise as president. Moore's disdain for President Trump is mostly contained to lazy shots about his (undeniably creepy) affection for his daughter Ivanka; he's perhaps assuming that his audience will not need much convincing on Trump's leadership deficiencies.
Fahrenheit 11/9 wanders hither and thither, lurching from the election recap to a postmortem of the Democratic Party. But then he gets to Flint, and digs into the origins of its ongoing water crisis, where state cost-cutting mandates saw the city switch its water supply from a clean source to the contaminated Flint River, tainting it with lead and poisoning thousands of residents, the vast majority of them African American. Calling it a "slow-motion ethnic cleansing," Moore talks to local activists, medical professionals, and politicians (and can't resist some of his trademark on-camera stunts, such as dousing Governor Rick Snyder's house with Flint water).
Moore's rage at the state politicians who precipitated the crisis and were slow to react once it took hold is cathartic, but hardly surprising. More fascinating is Fahrenheit 11/9's recap of President Obama's lackluster response, which included a seemingly staged photo op in which Obama took a tiny sip of Flint water to prove it was safe (Obama claimed the act was unscripted). It's the most clearheaded illustration of Moore's argument that establishment politics has failed the average citizen, which feeds into his understanding of the appeal of a bomb thrower like Trump. Beyond that, the director's aching sympathy for his hometown comes through loud and clear, unlike much of the rest of this film's slapdash material.
The film ends by trying to identify the future of activist politics and the resistance to Trump, drawing inspiration from the West Virginia teachers' strike and the Parkland students' organization of the March for Our Lives. But again, the film just feels like a collection of random footage, some of it mildly connected to Moore, but most of it having nothing to do with the director, who nonetheless lingers on camera throughout.
It's been more than a decade since Moore touched a nerve with viewers with Fahrenheit 9/11, this film's namesake and his biggest box-office success, and that's not likely to change anytime soon. But for at least some of its running time, Fahrenheit 11/9 reminds us what's kept him in the zeitgeist all these years.