Colin Jost and Michael Che's Lackluster Emmys Monologue
The dual hosts of the TV Academy's awards looked less than thrilled to be onstage, and even their Saturday Night Live chemistry was lacking.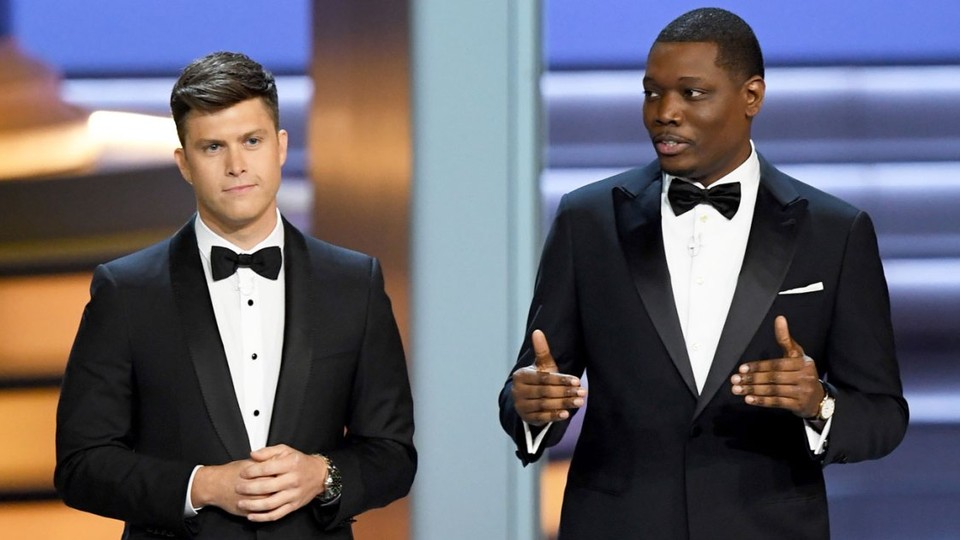 For years, Michael Che and Colin Jost's partnership on Saturday Night Live as the hosts of "Weekend Update" could best be described as competent and familiar. If they have a dynamic, it's that Jost is the smarmy stiff and Che enjoys knocking him down a peg; but aside from that, they're mostly just there to read one-liners, back and forth, with a seasoned air of disinterest. And that's exactly how their Emmys monologue went on Monday night—the only difference was that rather than sitting behind a desk, Jost and Che stood in front of the audience listlessly, holding their hands before them like guilty schoolchildren.
The 70th annual Primetime Emmy Awards began with a procession of people who would probably be more enthusiastic about hosting TV's biggest trophy parade than Jost and Che. There were Kenan Thompson and Kate McKinnon, SNL standouts with ample energy for their opening number that mocked Hollywood's back-patting attitude about "diversity." There were Kristen Bell (The Good Place) and Tituss Burgess (Unbreakable Kimmy Schmidt), each singing their heart out. And then there were Jost and Che, who stood at the center of the stage and told canned laugh lines—that received muted laughs—for a few minutes before mercifully begging off.
As my colleague Sophie Gilbert recently pointed out, this is the perfect time for the Emmys to be political, as the television industry is roiled by revelations of sexual harassment and assault at its highest levels. But ahead of the show, the hosts insisted they were on board just to have fun, to do a less pointed routine, and to celebrate television's exciting moment. But whatever excitement they had talked about summoning beforehand did not appear once they took the stage; the duo had the energy of two students giving a dutiful book report, and even their banter with audience members was nonexistent.
That's perhaps not too surprising, since Jost and Che are comedians who are less enmeshed in the day-to-day business of television. Prior Emmys hosts such as Stephen Colbert, Jimmy Kimmel, Seth Meyers, and Jimmy Fallon host talk shows that require them to meet other actors and creators every night. (Meanwhile, Che and Jost's history of awkward statements had earned them some backlash before they even took the stage.) The hosts' jokes suggested that they barely watched TV. Most of Che's lines focused on how white award winners never thank Jesus, while Jost did do a bunch of topical jokes (after saying he wouldn't), poking fun at Hollywood's fear of Ronan Farrow and how at the first Emmys ceremony in 1949, "gas was 17 cents a gallon, a new home cost $7,000, and we all agreed that Nazis were bad."
The routine was at least short, although Che and Jost's recurring bits throughout the ceremony (including a drawn-out segment where they asked trivia questions of a very confused Fred Armisen and Maya Rudolph) also seemed to go over poorly with the crowd. The energy at the Emmys is always a little more tepid than at the Oscars, but that's partly because of the sheer glut of awards there is to get through; the Emmys opening monologue is just about the only time anyone onstage has more than a minute to talk.
Not long after the show began, Sandra Oh (nominated for Killing Eve) and Andy Samberg presented the Outstanding Directing of a Comedy Series award together. Though perhaps an atypical pairing—one is a comedian and the other is a prestige dramatic actress—their chemistry was instantaneous, and their scripted banter (which involved Oh panicking and ripping the envelope in half) was goofily fun. Add their names to the list of hosts who'd probably do a more invigorated job helming the 71st Emmys in 2019. This year, it's hard not to draw such comparisons whenever anyone comes on stage in high spirits, which is the bare minimum one should be able to expect from a master of ceremonies; unfortunately on Monday, both Jost and Che looked like they'd rather be anywhere else.