The Rising French Star Creating Subversive Synth-Pop
On her new album, Christine and the Queens makes the gender revolution hummable.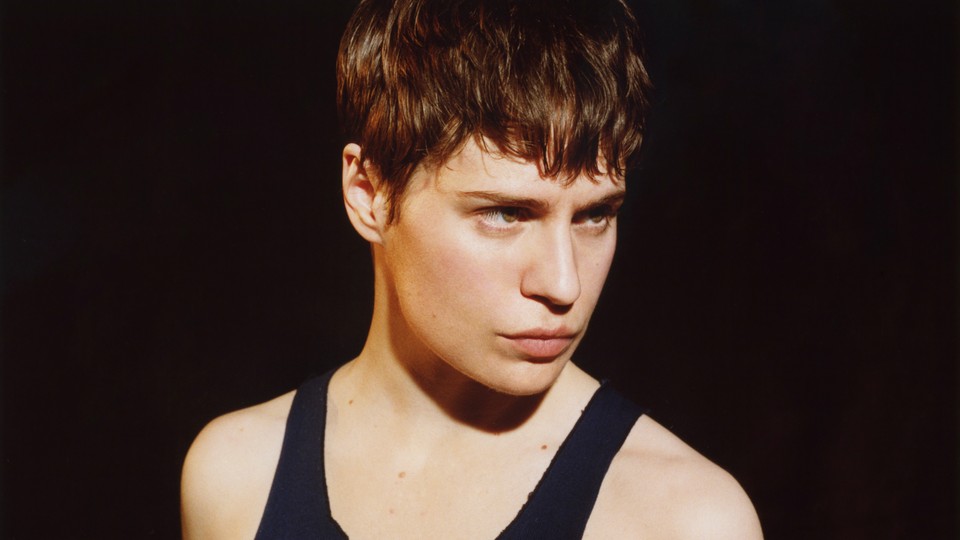 As the number of prominent LGBTQ pop figures multiplies, what might have seemed like an uncontroversial hypothesis has been proven bountifully: There is not one "queer sound," or even one "queer approach." Certain radical dreamers might hope that singers who challenge social norms also challenge aesthetic ones, and you can indeed hear such rebellions in the cacophonous sugar highs of the electronic producer Sophie, the friendly funk admixtures of Janelle Monáe, and the smoldering genre crater that is Frank Ocean. But the march of acceptance also allows for performers with unconventional identities to thrive with conventional sounds, as heard, for example, in the soft exertions of Troye Sivan or the factory-made bounce of Kim Petras.
France's Héloïse Letissier, who records as Christine and the Queens, presents herself as radical: She speaks in interviews not only about deconstructing gender, but also about being a misfit in music. On stage, she sometimes picks up a bouquet and announces that the flowers are Beyoncé and Rihanna while she's just the greenery. "I'm pop music's weird cousin," she said to NPR, explaining the bit. Her band name arose from an affiliation with a troupe of London drag queens, and her new album, Chris, sees her unveiling a brazen butch persona. "I am done with belonging," she sings on the opening song.
Yet Letissier's music, pristinely hummable renderings of familiar synth-pop sounds, belongs just fine. The broad likability of her 2014 debut album earned her best-selling celebrity status in Europe, and she's also been steadily building an audience in the United States. On Chris, the bustling grooves and yelpy choruses recall not only primal touchstones such as Madonna, Depeche Mode, and Janet and Michael Jackson, but also latter-day updaters of those artists: Haim, La Roux, Carly Rae Jepsen. Anyone interested in ever-so-left-of-center pop of recent years should find these songs nestle comfortably in their playlists.
What distinguishes Letissier on a more visceral level than identity or lyrics are her songwriting and performing chops. She crafts melodies of liquid smoothness that seep, almost insidiously, into the listener's memory. She uses her handsome voice in both throaty proclamations and breathy trills, calibrated with a keen sense of contrast: Check out when the chorus of "5 Dollars" manifests in a flock of harmonies fluttering about like birds. She thinks carefully about rhythm, selecting familiar beats—a sassy "Hey Mickey" clap, or a steadying four-on-the-floor pulse—and flavoring them anew with surprisingly placed keyboard jolts and percussive bangs.
Which is not to say Letissier's social mission capitulates to her music. Often, in fact, her sense of aural nostalgia jibes cleverly with a subversive agenda. For "Girlfriend," the R&B musician Dâm-Funk offers vocals akin to a '70s late-night radio DJ and a keytar solo akin to what that DJ might cue up. The luscious cheese makes a backdrop for Letissier to coo, "Don't feel like a girlfriend / But lover / Damn I'd be your lover": It's genderless passion situated amid extremely gendered musical traditions. Another standout, "Feel So Good," uses the stabbing and clipped sounds of new jack swing for a tense, jittery consideration of the limits of revolution: "What if their politics was just an idea of fun?"
Those lyrics may read as heady and academic, and on record they can sometimes sound that way. But Letissier has recorded versions of Chris in both English and French, and the fact that listening to either offers much the same experience speaks to the essence of her project. A song like "What's-her-face" does derive much power from its lyrics, which tell of the disaffection that followed Letissier after childhood bullying. "It's been years since that playground" she sings, but she still remembers her "bubbling face, tangled hair" and how her "name became a slur." But when those statements are rendered in a different tongue, there's still the haunting arrangement of piano, and her desolate, pining vocal lines. Maybe there's something queer—identity-busting and connective—in that Letissier cares so much for language and yet can so deftly transcend it.