The False Binary of the 'Choir Boy' Defense of Brett Kavanaugh
The rhetoric around the Supreme Court nominee pits a "Boy Scout" persona against a "frat guy." But #MeToo has shown the limits of such labels.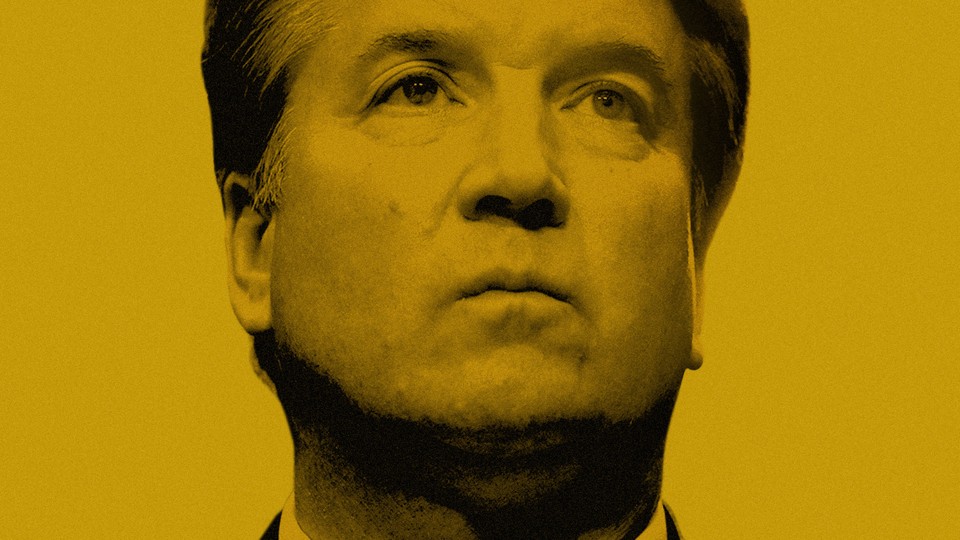 "He's trying to paint himself as some kind of choir boy," Lynne Brookes, a former pharmaceutical executive who attended Yale, told The Washington Post on Tuesday of her onetime classmate Brett Kavanaugh. "You can't lie your way onto the Supreme Court, and with that statement out, he's gone too far."
Senator Dianne Feinstein cited Brookes's quotation at Thursday's hearing about sexual-assault allegations against Kavanaugh, making for yet another use of the term choir boy after the Supreme Court nominee gave a Fox News interview on Monday in which he denied ever blacking out from drinking and mentioned being a virgin in high school and college. "People keep saying that Kavanaugh has lost all credibility by portraying his young self as a 'choir boy', which is true," the New York Times columnist Paul Krugman tweeted. The liberal judicial advocate Nan Aron reflected to Politico that some of the judge's peers "certainly don't remember … Brett Kavanaugh as being a choir boy." In response, National Review's Charles C. W. Cooke has argued that Kavanaugh's supposed "choir boy" image is actually a fabulation by the left: that the nominee himself has not used the term and has, in fact, acknowledged rowdiness in his past.
Whether Kavanaugh was ever a boy in a choir is, well, beside the point. The allegations by Christine Blasey Ford, Deborah Ramirez, and now Julie Swetnick are being publicly litigated, to a significant extent, through archetypes: Does Kavanaugh fit the category of the kind of man who'd do what he's been accused of? Similarly, other specifics of the Kavanaugh saga are being universalized as women keep recognizing their own stories in those of the accusers. Labels like choir boy—and its apparent inverse in this case, frat boy—are thus not simple rhetorical flourishes. They are the lenses through which the court of public opinion is conducting its inquiry.
This has also long been the general shape of #MeToo, the very name of which refers to the idea of multiple people having a story in common. But for Kavanaugh, that dynamic has been compounded by the fact that no realm is riper with shared archetypes than the American high school and college, depicted in pop culture—and experienced by many in real life—as a war zone between tribes: meatheads and dweebs, cheerleaders and burnouts, and so on. In Kavanaugh's confirmation hearings before Ford's allegation was made public, Senator John Kennedy inquired into the nominee's school-age conduct in purely Hollywood terms: "Were you more of a John-Boy Walton type or a Ferris Bueller type?" Kavanaugh did not directly answer.
The choir-boy image stems from Kavanaugh insisting on his virtues while defending himself. "I went to an all-boys Catholic high school, a Jesuit high school where I was focused on academics and athletics, going to church every Sunday at Little Flower, working on my service projects and friendship," he told Fox's Martha MacCallum. In prepared remarks to the Senate Judiciary Committee ahead of his Thursday hearing on the sexual-assault allegations, he says, "I spent most of my time in high school focused on academics, sports, church, and service." Such assertions have been followed, it's worth noting, with admissions that he was "not perfect" and that he drank when he was younger. Why, then, might his "academics, sports, church, and service" be relevant? Because they tap into expectations about the kind of person who does, and who doesn't, sexually assault someone else.
Choir boy evokes youthful innocence, sensitivity, and, above all, piety—the latter of which has been a major part of Kavanaugh's case for himself. In prepared remarks this week, he wrote, "Sexual assault is horrific. It is morally wrong. It is illegal. It is contrary to my religious faith." Other defenses of him draw on his adherence to a greater moral system as well. Kavanaugh is an "altar boy, a scout," said a Florida GOP fund-raiser interviewed on CNN when casting doubt on Ford's allegations. Altar boy and scout are rough synonyms for choir boy in this case, and they both refer to childhood affiliations with civically and spiritually minded institutions.
To see the flip side of such descriptions, look to the headline of a recent Politico piece: "Frat Boy vs. Choir Boy: Dueling Versions of Kavanaugh Raise Credibility Questions." Frat boy is, of course, the Animal House image conjured by the much-publicized yearbook pages that captured Kavanaugh and his friends seeming to joke about female conquest and vomit-stained partying. It is a persona evoked by the nominee's 1982 calendar scribbled up with appointments for "lift" and "BEACH WEEK." When my colleague Caitlin Flanagan writes about feeling as though she recognizes Kavanaugh, she is in part referring to lived, reported, and culturally reflected observations about what boys can get up to in prep schools and frats.
Both choir boy and frat guy, though, point to the high-school-esque terms of the Kavanaugh debate, which extends the reductive logic that says you are your activities. In The Breakfast Club, the popular girl Claire bragged of her club affiliations; when the nerd Brian countered with his, she replied, "Academic clubs aren't the same as other kinds of clubs." But the point of that movie was to, eventually, demonstrate that people are deeper than their stereotypes suggest. #MeToo, it must be said, has helped complicate seemingly simple public personas, as well. Feminist professors and progressive filmmakers can sexually abuse. Civic institutions like the Church, the Boy Scouts, and the fraternity system are all facing reckonings. A choir boy can be a frat boy, and a virgin can be a predator.