Asia Argento's Confusing Call for #MeToo 'Phase Two'
The actress has responded to allegations against her by trying to proclaim a new era of the movement to stop sexual misconduct. But a more productive evolution would decenter celebrities like her.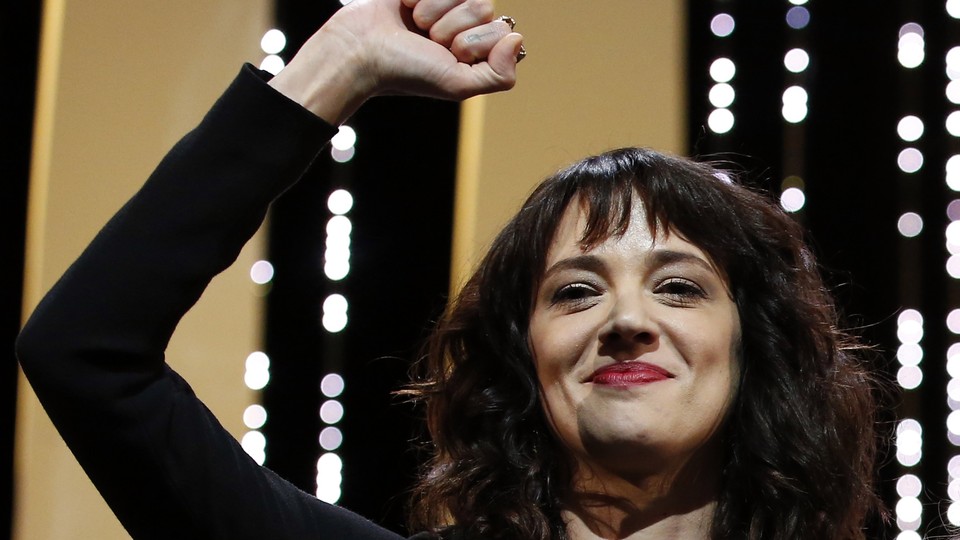 For #MeToo to amount to a social-reform movement that thrives far into the future, it would, perhaps, need to evolve into something new. The revelation of Harvey Weinstein's behavior began a thunk, thunk, thunk of prominent downfalls, but celebrity scandals do not a transformative movement make. If #MeToo were ever to enter a new era of its own—one that moved public focus away from Hollywood and to everyday workplaces, for example—how would the world know? Would there be some revelation that creates a clear dividing line? Some op-ed that cuts through the chatter? A vote?
Or would change come thanks to an actor announcing "Phase Two" of the #MeToo movement as a possible shield when another actor has accused them of statutory rape?
This is the strange question now presented by Asia Argento. One of the first public accusers of Harvey Weinstein, the performer found herself becoming the accused in August when The New York Times reported she'd secretly reached a payoff agreement with the former child actor Jimmy Bennett. He had said that in 2013, when he was 17 and she was 37, she pushed sex on him in a California hotel room. Argento replied to the Times story by publicly denying Bennett's claims, and on Wednesday, her lawyer Mark Jay Heller put out a statement that tries to flip the narrative, accusing Bennett of "sexually attacking" Argento in that hotel room. But it does not only do that.
"ASIA ARGENTO LAUNCHES 'PHASE TWO' OF THE #METOO MOVEMENT," begins Heller's statement. It defines the second phase as one in which "all victims, whether or not they have led a blemish-less life, should have the courage to come forward and not be afraid that the abuse that they are complaining of will be colored by any negative dynamics in their history." Which is to say that someone who has what Heller calls a "gray area" in their past like Argento does—that "gray area" being the question of whether she took advantage of the teen who once played her son in a movie—should still be able to speak out about abuse they've endured. It's sort of a reversal of the Bible's "let the one who has never sinned throw the first stone."
Isn't that redundant, though? All along, #MeToo has insisted that the possible imperfections of an accuser should not keep them silent. When news of Bennett's allegations became public, for example, a lot of folks in the movement responded by pointing out that they didn't invalidate Argento's own tales of having endured abuse. "Many perpetrators of sexual violence are themselves victims of it," my colleague Hannah Giorgis wrote, echoing those responses. "This neither absolves Argento of her alleged crimes nor renders her own story of victimization void."
It's hard to avoid a suspicion of another motive, then, to Argento acting as though she's the first champion of this point of view. The statement offers the supposedly expanded scope of "Phase Two" even to Bennett, who, "interestingly enough," Argento thinks has a right to speak out against her despite his "troubled history." The statement spends an inordinate amount of space describing that history, listing "his stalled acting career," "a lawsuit against his own parents," "a history of drug use," and police investigations of allegations of misconduct with minors. It's unclear whether the public is to disregard such "troubled pasts" in "Phase Two," or whether "Phase Two" just means paying more attention to this particular accuser's troubles.
Heller's statement calls the Argento-Bennett situation a "crazy tangled web of sexual interactions," but there's no disputing a $380,000 deal was made with Bennett in 2017, of which $250,000 has been paid. Argento claims that this agreement was reached because her late partner Anthony Bourdain simply wanted to end Bennett's extortion efforts against Argento, even though she says Bennett was the one who had assaulted her. She now says she will not pay out the rest of the settlement. Bennett's story is that the deal was, as stated in the documents that the Times obtained a copy of, recognition that Argento had behaved inappropriately with him.
What is the wider world supposed to do with these competing stories? Heller's statement excoriates the media for trying situations such as these in the "Court of Public Opinion," which enables "fake news." But it also expresses hope that "in the Court of Public Opinion it will ultimately be determined that Asia never initiated an inappropriate sexual contact with a minor, but rather she was attacked by Bennett and might even be suffering the fallback of a smear campaign by those already accused who may have a vested interest in their accusers being denied credibility."
But Argento is not simply litigating her innocence. She's reasserting her status as a shaper of the #MeToo movement—though in somewhat breathtakingly blinkered fashion. Heller's statement gives her credit for kicking off "phase one" of the movement by accusing Weinstein. But really the term "me too" as used to reckon with sexual misconduct was coined in 2006 by the activist Tarana Burke, one of the many non-celebrities and/or women of color whose stories have been overshadowed by white stars in the past year. Thus the entire post-Weinstein wave has been, if anything, Phase Two. Someone who's been involved as prominently as Argento has been should be sensitive to the implications of her erasing figures like Burke.
Movements aiming to shift both culture and policy often excel when they are broad-based and strive toward a sense of leaderlessness. Black Lives Matter, for example, works as a horizontal coalition (its adherents prefer the term "leaderful" to "leaderless"). When individuals are crowned as pivotal, it can draw needed attention away from others, and it can expose the movement to easier attack. And when mass and multifront change is being asked for, mass and multifront action is required.
Argento's statement about "Phase Two" attempts to stake out her ongoing prominence in the movement. In doing so, it worsens the problem of over-centering celebrities all along. "Watch carefully who are called 'leaders' of the movement," Burke tweeted earlier this year. The activist had been frequently recognized as a "founder" of #MeToo, but felt that the concrete nature of her contributions had been ignored. "It's as if 25+ years of on the ground movement building work is not enough," she wrote. "Or maybe spending most of that time being invested in the lives of Black and brown Girls isn't enough."
Now, in response to the allegations against Argento, Burke has further helped clarify how the movement might evolve. "It will continue to be jarring when we hear the names of some of our faves connected to sexual violence unless we shift from talking about individuals and begin to talk about power," she tweeted. "Sexual violence is about power and privilege."
Shift from talking about individuals: It's a counterintuitive recommendation when #MeToo has been telling women and men that their stories deserve to be heard. Burke is not saying otherwise. But before Weinstein's fall, she and others were laboring for wide social and policy changes so as to help people, unfamous and otherwise, stop abuse. If there really is to be a next phase of #MeToo, perhaps it will resemble a return to that state of affairs. Or rather, it will reveal that such fundamental work has never stopped, even if Argento would appear to want to keep controlling the discussion.