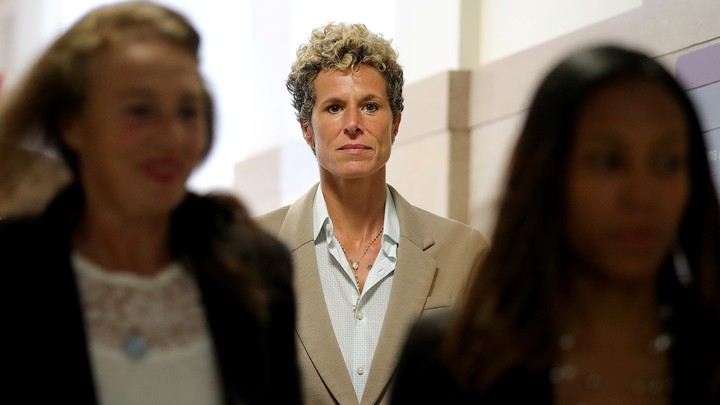 On Monday morning, Bill Cosby, the 81-year-old comedian and former television giant, arrived at a courthouse in Norristown, Pennsylvania, to be sentenced for drugging and sexually assaulting Andrea Constand, a 45-year-old former Temple University employee. At the sentencing, Constand addressed the judge briefly. "Your honor, I have testified. I have given you my victim-impact statement," she said. "The jury heard me. Mr. Cosby heard me. All I am asking for is justice as the court sees fit."
Tuesday afternoon, Judge Steven O'Neill announced that Cosby, who will be classified as a sexually violent predator, would serve three to 10 years in prison for his crime. "Mr. Cosby, this all circles back to you," the judge said. "The day has come. The time has come."
The crime of which Cosby was found guilty in April, following a previous mistrial, was perpetrated in his home near Philadelphia in January 2004. Constand said during her testimony that at the time of the assault, she considered Cosby, then a Temple trustee, to be a professional mentor. His stature within the organization, as well as his well-curated reputation as "America's Dad," enabled a campaign of abuse, she said. Cosby's power and cultural esteem—built of institutional prestige and the quotidian protections of masculinity—far outweighed any suspicion of his misbehavior. "Bill Cosby took my beautiful, healthy young spirit and crushed it," Constand wrote in her victim-impact statement. "He robbed me of my health and vitality, my open nature, and my trust in myself and others."
But Constand's case was never just about herself. In her statement, she also wrote with clarity and conviction about the tremendous responsibility of serving as the only witness in two criminal trials, and about the weight of a single case that became symbolic of a much larger movement. Because the other accusers' accounts of Cosby's abuse fell outside various statutes of limitations, Constand's became the only opportunity—of those from the more than 60 women who have come forward to accuse the comedian—to pursue a criminal case. "She is the linchpin of the case," Lynne M. Abraham, a former Philadelphia district attorney and judge, told The New York Times in May 2017. "The whole case stands or falls on her. She is it."
Constand, then, bore witness not just to her own trauma, but also to dozens of women's deepest pains. Their pain was collective, but Constand's duty was singular:
I have often asked myself why the burden of being the sole witness in two criminal trials had to fall to me. The pressure was enormous. I knew that how my testimony was perceived—that how I was perceived—would have an impact on every member of the jury and on the future mental and emotional well-being of every sexual-assault victim who came before me. But I had to testify. It was the right thing to do, and I wanted to do the right thing, even if it was the most difficult thing I've ever done. When the first trial ended in a mistrial, I didn't hesitate to step up again.
Accounts of Cosby's predatory behavior have loomed for decades. Many of Cosby's accusers have claimed the comedian drugged them before committing assault. One of them, Donna Motsinger, told The New York Times in the same May 2017 story that Constand had "told her she decided to cooperate after watching other women come forward and realizing they were powerless to do anything because the statute of limitations had passed." (Motsinger says that Cosby drugged and assaulted her in 1972.) Constand is the only one of Cosby's accusers to see her claims result in a guilty verdict, but five others provided testimony at the retrial. The model Janice Dickinson, who said Cosby assaulted her in 1982, said Cosby gave her a pill to help with menstrual cramps and then assaulted her while she was incapacitated. "Here was America's Dad on top of me," she told the courtroom. Her phrasing was echoed again and again.
In the months following the original trial in 2017, Constand bore the weight of the broader #MeToo moment's cultural significance on her shoulders, too. Cosby's is the first celebrity sexual-assault trial to take place following the movement's rise. Many considered the trial not just a referendum on Cosby's behavior, but also a signal of broader shifts in the public's indifference toward sexual violence. "I'm stunned," the #MeToo founder Tarana Burke told NBC News following Cosby's April conviction. "I think, like most survivors around the world, I never expected to see anyone with accountability."
But if the Cosby trial had not become, as some have called it, the "first courtroom victory" of the #MeToo movement, would that have meant that Constand failed? The absence of a guilty verdict does not necessarily render an accuser's claims invalid, and a guilty verdict is not the only marker of a case well argued. The criminal-justice system is deeply flawed. Still, in a climate that routinely blames women—even the precious few who have sought and received criminal redress—for their own victimization, it's hard to imagine that Constand, had she not won her case, could have avoided becoming the symbol of some imagined conspiracy to wrongfully slander Cosby. The pressure of speaking—clearly, articulately, neither stoically nor with too much emotion—is painful and overwhelming.
As is, her position as the face of efforts to prosecute Cosby has already left Constand tremendously vulnerable to harassment and worse. "The psychological, emotional, and financial bullying included a slander campaign in the media that left my entire family reeling in shock and disbelief," she wrote in her statement. "Instead of being praised as a straight-shooter, I was called a gold-digger, a con artist, and a pathological liar. My hard-working middle-class parents were accused of trying to get money from a rich and famous man."
These are familiar scripts. Any victim who has weighed the decision to come forward with allegations, especially those that implicate a well-regarded famous man, has had to contend with the reality of retaliation. "I know now that I am one of the lucky ones," Constand wrote. "But still, when the sexual assault happened, I was a young woman brimming with confidence and looking forward to a future bright with possibilities. Now, almost 15 years later, I'm a middle-aged woman who's been stuck in a holding pattern for most of her adult life, unable to heal fully or to move forward."
Even if Cosby does live out the rest of his natural life behind bars, the story still doesn't end here. Constand and the other accusers can now begin to imagine a life that is not overshadowed by their relationship to Cosby. Constand, whose life has been occupied for so long by the burden and blessing of seeking restitution, can finally redirect her energy. "Instead of looking back, I am looking forward to looking forward. I want to get to the place where the person I was meant to be gets a second chance," she wrote. "I know that I still have room to grow."
We want to hear what you think about this article. Submit a letter to the editor or write to letters@theatlantic.com.
Hannah Giorgis
is a staff writer at
The Atlantic
, where she covers culture.