America to Me Tackles Race in New Ways
The 10-part Starz docuseries from Steve James follows students and faculty through an Illinois high school to explore racial inequity from a different angle.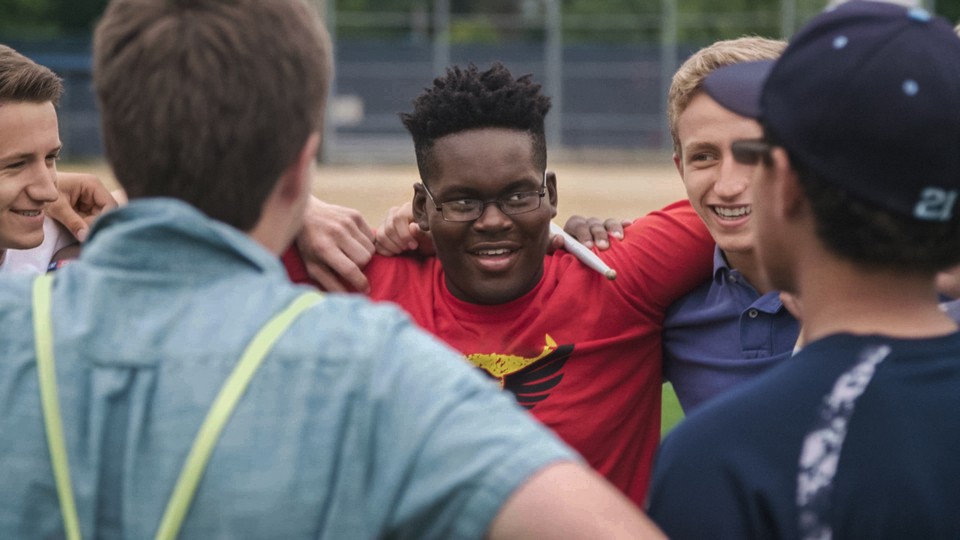 Watching TV these days, it often feels like we're in the middle of a messy moment of self-reflection on the state of the nation. Earlier this summer, Orange Is the New Black's sixth season delved more deeply than it previously had into issues of racial inequity within the justice system, both in prison and in court. The second season of Dear White People did the same thing with a fictional Ivy League university, exploring specifically how the Donald Trump presidency had affected students of color.
On Showtime, Sacha Baron Cohen literally asked the question Who Is America?, using shock humor, model genitalia, and clumsy stereotypes to explore how passively depraved the nation has supposedly become. In its best moments, Who Is America? was genuinely revelatory, but more frequently it felt like juvenile trolling from a self-coronated master of the form, made darker by Cohen's refusal to distinguish between who deserved to be punked and who didn't. The show exposed the country's ugliest qualities rather than illuminating them.
America to Me, which debuted on Starz last week, is a corrective. The 10-part documentary series from Steve James (Hoop Dreams) is profound and thoughtful, taking a detailed look at inequality in America through the lens of a storied high school near Chicago.
The series takes the viewer on an insightful, engaging, and maddening trip back to school, which is enabled by the extraordinary access James and his segment directors were given to classrooms, board meetings, and people's homes. Those three directors are the African American filmmaker Kevin Shaw, the white filmmaker Rebecca Parrish, and the Asian American documentarian Bing Liu, whose 2018 movie about skateboarding, Minding the Gap, is a masterpiece on its own terms.
What makes America to Me so distinctive is that the school it features, Oak Park and River Forest High School, should be a success story. It's in the liberal village of Oak Park, Illinois, where (as James's narration reveals) community leaders in the 1950s and '60s resisted white flight and redlining to keep the area integrated. The white residents who left were mostly older and conservative, James explains, while the white people who moved in were younger and liberal, hopeful that they could play a part in "an American experiment in true diversity."
So if this school—with its diverse student body and 94 percent graduation rate—isn't getting things right, the show seems to ask, which school is?
In the first episode, a school-board meeting reveals that a nine-percentage-point achievement gap between white and black students hasn't budged since 2003, and that the school's administrators seem to lack a sense of urgency when it comes to bridging the divide. Over the past 15 years, the average test scores of white students have continuously improved, while black students' have mostly stayed static.
The social atmosphere at the school is similarly strained. "In this community, when we mention race, all hell breaks loose," the assistant principal, Chala Holland, explains in America's beginning scenes. Oak Park and River Forest held a Black Lives Matter assembly for students that specifically excluded white students, and the scandal ricocheted through the right-wing media. It's an early sign of how disingenuous the debate over race can be, how fraught conversations are before they even begin. "Every activity, every assembly, everything is made for white kids, because this school was made for white kids, because this country was made for white kids," Charles Donalson, a black junior, tells the camera. "They have to realize that some things just have to be ours."
The advantage of James's long-form format in this case is that it allows viewers to really connect with the students, the teachers, and the parents who are featured. The series spends so much time with charming, smart kids that it's hard not to cherish their victories and rage at their battles. Kendale McCoy, an honors-track senior who participates in both the school's wrestling program and its marching band, is one of the most compelling characters. Code-switching effortlessly between the mostly black athletes and the mostly white musicians, Kendale is gregarious and popular, but in spoken-word classes he reveals some of the turmoil he feels inside.
The most crucial thing America to Me depicts is the insufficiency of good intentions when problems are this deeply rooted. When one teacher, Jessica Stovall, tries to form an educator's group to combat inequity in the classroom, she's rebuffed by the school in no uncertain terms. Stovall, who was raised by a white mother and a black father in a small town in Wisconsin, cares deeply about the teenagers she teaches, and cries when she talks about a former student who was killed by gang violence. In her classroom, she makes space to try and explain the difference between equality ("treating everyone the same") and equity ("giving everyone what they need to be successful.") America to Me shows how easy it is for people to convince themselves that they're doing everything they can to combat racial inequality, versus how hard it is to actually do so.
Another striking disparity in the series is how ill-equipped the white students are to think and talk about race at all (in one episode, James explains that this is why almost all of the students he follows are teenagers of color). The filmmakers don't offer many answers and the realities the show probes are painful. But the thoughtfulness and nuance James and his team bring to the subject offer at least a small bit of hope about what a truly honest confrontation with race might spark.