Louis C.K. and the Missed Point of Redemption
With a surprise performance Sunday evening, the comic joins a cadre of men who have begun reentering the public eye after misconduct accusations.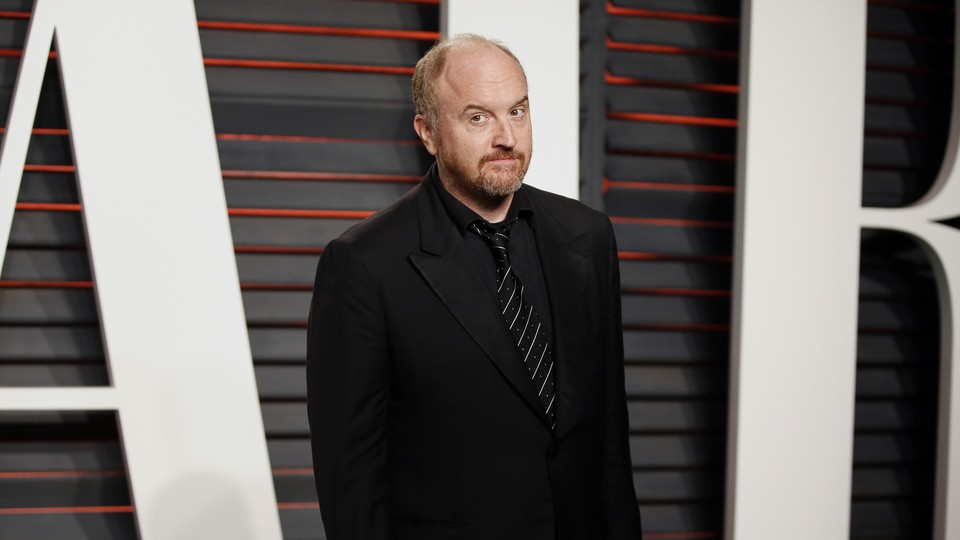 On Sunday night, Louis C.K. performed an unexpected set at the Comedy Cellar, a famed club in New York's Greenwich Village. The appearance was the comedian's first since he admitted last year to sexual misconduct—most notably, exposing himself to (and masturbating in front of) multiple women in the comedy world. "I have spent my long and lucky career talking and saying anything I want," C.K. said in his November 2017 statement. "I will now step back and take a long time to listen."
Less than 10 months later, it seems C.K. has decided he is ready to speak again. According to the New York Times story about his Sunday-evening appearance, the comedian "did a 15-minute set that touched on what [the Comedy Cellar owner Noam] Dworman called 'typical Louis C.K. stuff'—racism, waitresses' tips, parades." He did not, according to the report, address the behavior that prompted his brief disappearance, but "the audience, a sold-out crowd of about 115, greeted him warmly, with an ovation even before he began."
The comedian has also received an encouraging response from some of his male colleagues in the comedy world. After C.K.'s Sunday performance, the comedian Mo Amer, who was on the show's billing, told the Times the surprise was "like a wow moment" for the crowd, then added that C.K.'s material was "like, classic Louis, really really good." Tuesday morning, the comedian Michael Ian Black tweeted his support of C.K. along with a link to the Times story: "Will take heat for this, but people have to be allowed to serve their time and move on with their lives. I don't know if it's been long enough, or his career will recover, or if people will have him back, but I'm happy to see him try."

Dworman echoed the carceral dimension of Black's language when defending his choice to let C.K. perform: "I care about doing the right thing," he told the Times, but added that "there can't be a permanent life sentence on someone who does something wrong."
But Louis C.K. has not, by any measure, "served his time." The comedian was not incarcerated or otherwise institutionalized. To invoke the punitive language of criminal justice is to prioritize C.K.'s career, that precious nonhuman entity, over his victims' healing. It also betrays a fundamental misunderstanding of how the prison system affects the human beings it ensnares. Anyone who has intimate knowledge of incarceration would not equate C.K.'s brief stint away from the glamour of public life to the horrors of solitary confinement or state-enabled sexual violence. (It's also worth noting that the people most likely to serve time, including life sentences, do not belong to the same demographics as C.K., Dworman, or Black.)

Even beyond the realm of criminal adjudication, there's no reason for the public to believe the comedian has spent nine and a half months atoning for his misdeeds. He has not, as far as it is known, taken part in any sort of restorative- or transformative-justice process, a form of victim-centric community accountability that de-emphasizes court involvement. It is impossible to know what C.K. has spent the interceding months pondering while tucked away in his home, but publicly the comedian has done nothing to inspire confidence in his commitment to making amends. He has done little beyond admit to the truth of the accusations against him. C.K. did not even offer a real apology in his initial statement, which instead gestured nebulously at the "hardship" and "hurt" and "anguish" and "pain" that he had wrought. He saved the rhetorical gravity of "regret" for the "negative attention to my manager Dave Becky who only tried to mediate a situation that I caused."
C.K.'s August reemergence springs from the same well of self-aggrandizement as his lackluster November statement. The comedian's comeback may have been a surprise, but several other entertainment-industry heavyweights have been creeping back into the public eye following accusations brought to light by the #MeToo movement. Their periods of rehabilitation, which is largely to say time spent away from the limelight, have been almost comically short. After issuing a tepid response to the January allegations of sexual misconduct, the comedian Aziz Ansari has begun slowly returning to the stand-up circuit. (His new material similarly fails to mention anything about the behavior of which he was accused.) On Monday, Page Six reported that the former NBC Today anchor Matt Lauer had told fans he'd be "back on TV." Lauer was fired from the network in November after vivid allegations of sexual assault and harassment. In April, Page Six reported rumors that the "disgraced CBS anchor Charlie Rose is being slated to star in a show where he'll interview other high-profile men who have also been toppled by #MeToo scandals." Rose, too, was fired from both CBS and PBS at the tail end of November after multiple women accused him of groping and intimidation.
Each of these men appears to have decided that they need not lie low for much longer than the average period of gestation. (For men such as the Spotted Pig restaurateur Ken Friedman, who was accused of sexual harassment by multiple women, the interval was even shorter.) But these men do not appear to have conceived anything of moral consequence in the interim. "The [comeback] stories are, taken together, subtle (you might also say insidious) arguments not merely about who merits forgiveness," my colleague Megan Garber wrote following the rumors of Rose's new show, "but also about who merits empathy in the first place."

Still, empathy is not a finite resource. It is possible to both believe the women who shared allegations of the men's misconduct, and to imagine a world in which those men need not disappear from the public consciousness forever. It is not unimaginable that these men might find a genuine path to reconciliation with the women they are accused of having harmed. Healing is a lofty, but not impossible, goal. Many survivors of sexual violence, and their advocates, have long argued that ending rape culture cannot be done by simply casting aside anyone who commits harm.
But redemption does not come about without an exchange, without effort. What, exactly, have any of these men given up? Does forsaking nine months' worth of public attention—in most cases, only after being forced out of the limelight—amount to a meaningful penance? Questions of "redemption" tend to zero in on the maintenance of powerful men's legacies to the exclusion of their alleged victims' needs. Suggesting that C.K. deserves to perform again without addressing his prior misdeeds—simply because he stepped away from comedy for a handful of months—is a lazy assertion. No one deserves to perform. Fame is not a birthright.

Lauer, C.K., Rose, and Ansari are all still outrageously wealthy. These men could all have retired in November (or January, in Ansari's case) and lived comfortably for the rest of their lives. In the time since their public accusations, which range from verbal harassment to sexual assault, they have continued to collect ongoing returns from previous projects. Their disappearances amount to a time-out, not an excommunication. Many of the women whose lives they have affected do not have the luxury of disappearing from their careers without financial consequence.

More urgently, the question of when to reintegrate these men back into the working environments they reportedly tarnished is one that extends well beyond how audiences react to their personas. The people around them, who want simply to do their jobs in peace, deserve to be protected. To allow Louis C.K. into a comedy space again without any assurance of the work he's done to address—and change—his behavior is to court danger. That's both a workplace-safety concern—for female comedians, and the primarily female staff who tend to work service jobs within comedy spaces—and a public-safety one. It doesn't matter how many people laugh if some of C.K.'s audience is unsafe.

Any meaningful push for redemption would begin with an emphasis on restitution. Addressing the gravity of misconduct is an ongoing process, not a cursory to-do list item. What if, instead of dropping into a club to test out new material, C.K. channeled his efforts—and outsized influence—into bolstering the careers of women in comedy from behind the scenes? (Two of the women whom C.K. admitted to harassing reportedly scrubbed their social accounts after receiving threats following their allegations; it will be hard to assess the extent to which this has affected their careers.) It may not be possible for any of the women hurt by his actions to return to life as it was, but that does not preclude attempts to account for wrongdoing.
Until then, and perhaps even after, genuine redemption is impossible—and breezing past that difficult work accomplishes little beyond PR. There's nothing funny about that.