What Seven Dave Grohls Have to Say
The Foo Fighters frontman positions himself as the inspirer of a new generation of rockers by playing all the instruments on his new project "Play."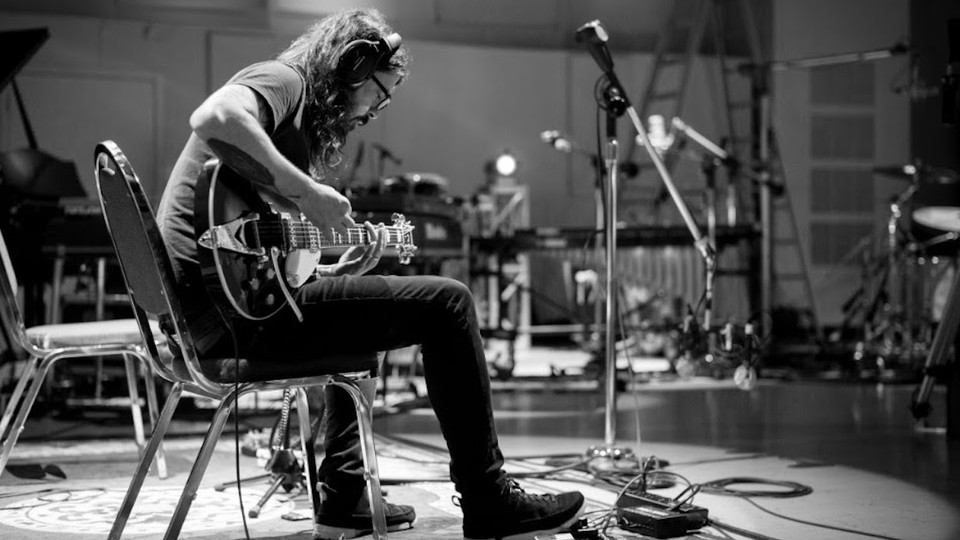 Dave Grohl walks into the studio. Dave Grohl walks in behind him. Then another Dave Grohl, and another. Seven dudes of identical stringy hair and varying tees: This is the committee to evangelize rock and roll, or so goes one implication of Dave Grohl's mildly baffling new project "Play."
Snark will inevitably greet the black-and-white mini-documentary that shows the lead Foo Fighter playing all the instruments of a 23-minute composition. Some might wonder if the rock world doesn't already conceive of itself as a room of cloned Grohls, or if it's healthy to duplicate someone who's already made a career of duplicating his icons. Some might ask if he's experienced so much bandmate drama over the course of three decades that he's sworn off collaboration entirely. Some—not me!—might make rude cracks about someone playing with himself, or about how Multiplicity flopped the first time.
But this being a Dave Grohl project, it imagines a world without cynicism, and, in fact, a world where the greatest virtue is exuberance. Since emerging from Nirvana with the Foo Fighters in 1994, Grohl has worked to be not only America's last consensus rock star, but also a keeper of the cause that is "rock and roll." The HBO series Sonic Highways had him touring landmarks of American music, and at the 2012 Grammys, he touched off controversy for appearing to dis artists who relied on a "computer" rather than the "human element," seemingly implying that electronica or rap are lesser forms. But his message is, in fairness, not quite about genre. It's about the passion of creation for its own sake, rather than for some trend's, or even, sometimes, for a listener's.
"Play" presumes to pass that passion to a new generation. It begins with voiceover about the rewarding challenge of learning to play an instrument, and then segues into interviews with young, diverse students of music. They talk about the lack of support for music education in their schools, and about all the great things—focus, commitment, fun—that guitar or piano or drums offer them. At the bottom of the "Play" interactive website, there are links to music-education organizations across the country. A press release mentions "upcoming auctions" to benefit such causes.
What, exactly, connects that public-service display with the seven-Grohls stunt? It's that Grohl is so inspiring. His struggles as an arena-touring rock star are, we're told, basically the same as a newbie's. When Grohl screws up a riff, he goes back to the start of the song he's been playing, just like these kids have to do. He's still learning things about instruments he's played for decades, and there are still instruments that he has yet to really broach. He sweats at his rig and occasionally throws his sticks in frustration, he suggests, not on the way to any external validation, but for his own fulfillment. "At the end of the day, just like any kid, the reward is just to play," he says.
It's hard to argue with that sentiment. But it's also hard to avoid the sense that the altruistic component of "Play" is a justification for an indulgence that's a bit oversold. Didn't Sir Paul play all the instruments on McCartney? Didn't Grohl himself do so on the Foo Fighters' debut? For "Play" Grohl did insist on doing each instrument's part in one unedited take—impressive—but the real novelty factor here is technological: You can go on the website and isolate footage of the keyboard, or bass, and so on, and you can follow along with the corresponding sheet music. Of course, you'd have to already be a huge fan of Grohl's to actually do so. Or perhaps you'd have to be doing a homework assignment from music camp.
The track itself is woolier than most Foo Fighters songs by dint of being a 23-minute instrumental, but like most Foo Fighters songs, it makes a sturdy if antiseptic tribute to its influences. At points, it heaves like Led Zeppelin, or thrashes like Metallica, or pitter patters like Radiohead. You might have an okay time doing dishes to it, or you might indeed be inspired to your own feat of creativity by Grohl's effort. But either way, the point is that he made this thing because he wanted to—and, as Grohl keeps reminding the public, it is only through the desire of musicians that the art form will thrive.