The Pursuit of Blondness
Modern hair-coloring technology has allowed people to dye their hair virtually any shade. So why is one hue in particular so popular?
Turn on the TV or scroll through Instagram, and it's not difficult to find a sea of blond politicians, news commentators, celebrities, and social-media influencers. Beyoncé, Ariana Grande, Kim Kardashian, and Justin Bieber have all, at some point, traded their dark locks for golden hues. Hillary Clinton, the first woman to get a presidential nomination from a major political party, colored her hair blond. And in the administration of Donald Trump alone, there's the president himself, Ivanka Trump, Kellyanne Conway, Kirstjen Nielsen, Betsy DeVos, and Linda McMahon—even Hope Hicks highlighted her brunette hair when she served as communications director.
Why, exactly, is blond hair so popular in America? The poet Claudia Rankine, the author of Citizen: An American Lyric (2014), and the photographer and filmmaker John Lucas were first inspired to explore the prevalence of blond hair—dyed-blond hair, in particular—in the months leading up to the 2016 presidential election. A black professor had asked Rankine, who teaches poetry at Yale, what she should say to her black students who were bleaching their hair. But Rankine wasn't quite sure how to answer at first.
"The minute I started looking, it was interesting to see how much blondness there was," Rankine tells me, pointing to Clinton and Trump as examples. "It seemed that everyone from Asian men to white women were dyeing their hair." Armed with an iPhone and a voice recorder, Rankine and Lucas spent two years photographing and interviewing around 100 people with dyed-blond hair wherever they were—London and New York, the Republican National Convention and Afropunk, restaurants and museums.
The resulting photographs and interviews were curated for Stamped, a new exhibit at Pioneer Works, in Brooklyn, that is part of a series of events exploring whiteness led by the Racial Imaginary Institute. (Funded in part by the stipend Rankine received from her MacArthur Fellowship, the institute collaborates with artists, galleries, and organizations to host exhibits, lectures, and other conversations focused on race.)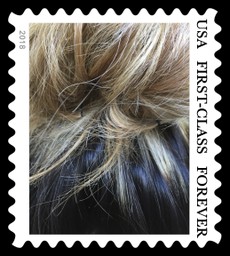 Though the artists didn't ask subjects to identify their race or ethnicity, Stamped features interviews with people from an array of backgrounds. Along with audio from on-the-ground conversations and ingredient lists for blond hair dye marking the gallery's windows, the exhibit displays photographs, some shrunken to fit onto real postage stamps.These images offer close-ups of bleached-blond hair, often sharply contrasting with the wearer's darker roots growing through.
But naturally fair hair is uncommon: An estimated 2 percent of the world's population—and 5 percent of white Americans—is actually towheaded. Blond hair is the result of a genetic mutation typically associated with northern Europeans, but it has also been seen in a small percentage of Aboriginal Australians, northern Africans, and Asians.
Still, people across continents have been coloring their hair for centuries with products like lemon juice, hydrogen peroxide, and henna. The Golden Age actress Jean Harlow, the original "platinum blond" starlet of the '30s, went so far as to use bleach, peroxide, ammonia, and Lux soap flakes to achieve her shade. And by 1956, when Clairol released its first at-home hair-coloring kit that could "lighten, tint, condition, and shampoo hair in one step," blond hair became accessible to the American masses.
There are a multitude of reasons why someone might choose blond. For subjects featured in Stamped, it was a way to cover gray hair, to look younger, to be treated better, to look better, or to look more like themselves:
"It got to the point where dyeing my hair matched my personality more."

"I like myself better when it's this color."

"My beautician told me I should try it. She was like, 'It's good for your skin tone.'"

"I wanted to do something dramatic."
But, for the most part, interviewees didn't mention the connection between whiteness and blondness until Rankine prompted them. "I think part of our orientation as Americans has been to substitute the word white with people," Rankine says. "Consequently, when they think of blondness, they're thinking of the hair color of 'people,' people who are valued. But they don't understand that that value attaches to whiteness."
Blondness, then, exists as a complicated form of self-expression. It can signal youth, beauty, privilege, and conformity. But it can also represent rebellion, independence, and the demand to be looked at and respected. It's a choice that's both distinctly personal and deeply intertwined with what society has taught people to value. Rankine and Lucas have a term for that: complicit freedom.
"Even though you choose it freely, it still lines up … with what is valued by whiteness," Rankine says. "So you end up being bound up in, if you're not a white person, bound up in your own oppression, whether or not you think you have the freedom to own it." But with the popularity of dyed-blond hair among nonwhite people, the peroxide plunge has perhaps evolved in a way where it isn't necessarily a rejection of race: "It's a kind of swagger of ownership that doesn't really point to trying to pass into anything, but rather to own something that cannot be owned," Rankine says.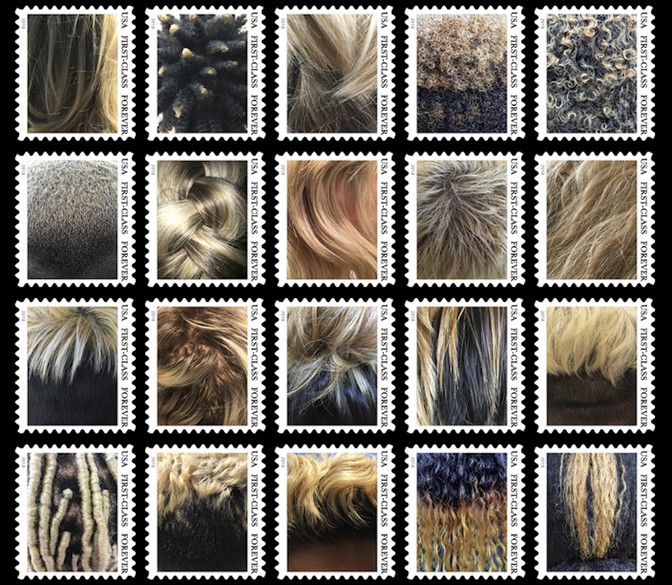 "I think in the beginning it probably was used as [a form of assimilation]. Blond is one step closer to being accepted," one man tells Rankine in the exhibit's interviews. "Now I feel like people [of color] have kind of taken that out of the equation and now are just doing it because they want to." Or, for the actress Greta Lee, who was interviewed by Andrea Cheng for a New York Times piece about Asian American women bleaching their hair, going blond is a simple declaration: "Here I am. Pay attention to me. See me."
Rankine and Lucas say they used stamps in their exhibit to represent how blondness is a form of currency, a means by which to reach a new destination—of acceptance, of recognition, of value, of one's sense of self. "You put the stamp on something that you want to send somewhere, right? You want it to arrive at a different place. So, metaphorically, the blondness might be functioning like stamps, that one puts on the blondness to arrive somewhere," Rankine says. "The question is, where are you sending yourself? Where do you think you will arrive?" After all, Lucas notes, "an envelope without a stamp isn't going anywhere."
Rankine and Lucas's exhibit doesn't explicitly discourage people from going blond or encourage those who have to go back to their roots ("People can do what they want and they should do what they want," Rankine insists). Stamped does, however, ask viewers to question why blond hair has become so ubiquitous, so coveted, and what that might mean in light of broader, ongoing conversations about race, belonging, and privilege. As Rankine explains, "When you say to me, 'When I dyed my hair blond, people treated me better, people were nicer to me, I felt like I was seen for the first time,' what are [you] really saying in a society that values whiteness beyond everything else?"