The Oscars' Terrible Idea
Adding a "popular film" category and cutting technical awards to squeeze the ceremony into a three-hour time slot will only dilute the Academy's brand.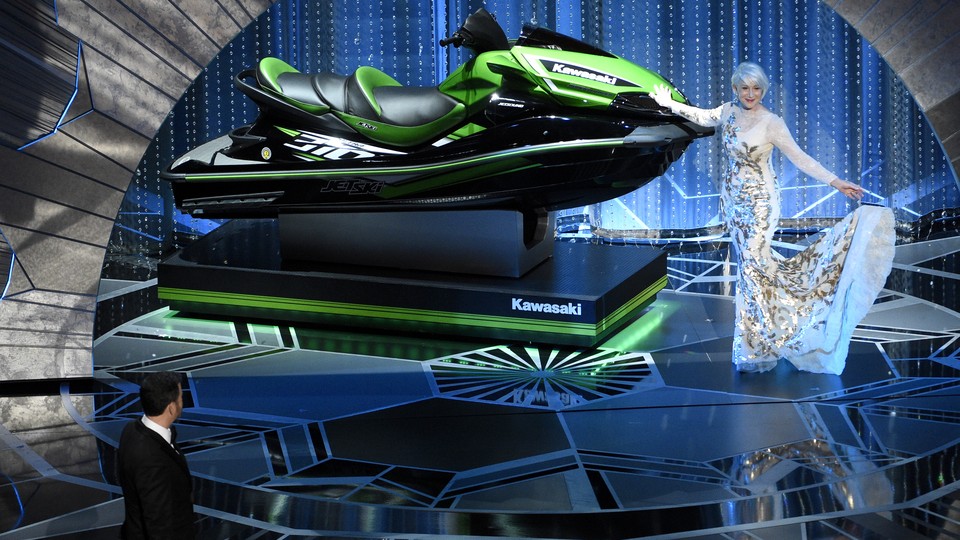 In March, some 26.5 million people tuned in to watch the 2018 Academy Awards—a record low for a ceremony that's been losing viewers lately. In 2017, nearly 33 million people watched the Oscars, again down from 34.4 million the year before. There's another popular, once-a-year TV event that's recently seen a decline in ratings: the Super Bowl. Downward ratings trends are clear across the board for broadcast television, simply because broadcast television is a dying medium; more viewers, especially young viewers, are watching programs like the Oscars and the Super Bowl online.
But according to ABC, the network that broadcasts the Oscars, the problem isn't simply that the media landscape is evolving; it's that the ceremony isn't exactly three hours long. And that the most popular movies don't usually win trophies. And that people don't care about the speeches given by the best costume designer or sound editor of the year.
At least, that's the impression given by the vaguely defined "changes" announced Tuesday by the Academy of Motion Picture Arts and Sciences, or AMPAS, after a vote of its Board of Governors. "We have heard from many of you about improvements needed to keep the Oscars and our Academy relevant in a changing world," AMPAS President John Bailey and AMPAS CEO Dawn Hudson said in a statement.
The Oscars' 91st edition, set to air on February 24, 2019, will run a strict three hours (last year's ran almost four), confining some of the less glitzy categories to commercial breaks (those winners' speeches will supposedly be broadcast in montage form at some point). Along with the traditional Best Picture category, there will be a new award for "outstanding achievement in popular film," the parameters of which are completely undefined. Later on Tuesday, Variety broke the news that Disney-ABC had pressured AMPAS to revamp the ceremony, alarmed by nose-diving numbers.
ABC is a broadcast network, and it has to deal with all the particular issues broadcast networks face around declining ratings. The Oscars is a very powerful brand with fewer of those concerns, but its also locked into a 12-year agreement with ABC that took effect in 2016, which gives the network some leverage to request changes. Even so, no amount of lobbying from ABC can justify such a shortsighted decision—one that could have real and disastrous effects on the prestige of what remains the biggest awards show in the entertainment industry.
Squeezing the show into three hours seems like an inefficient, and almost arbitrary, move. Why not instead start things a little earlier, like the Super Bowl does with its 6:30 p.m. ET kickoff, so that people aren't turning their TVs off at midnight? Or, failing that, if time is such a pressing issue, why not cut down on the absurd number of montages and salutes to cinema that clog up every ceremony? Either way, taking the spotlight away from the behind-the-scenes talent who make up much of AMPAS' voting body, and who put so much effort into making movies, is an insulting concept. The magic of the Oscars can often hinge on the delight when a director of a short film, or a production designer, or a cinematographer gets to celebrate their win on such a massive stage for a couple of minutes.
Still, the more troubling change is the "Outstanding Popular Film" idea, though the details of how such a category will work (or who will vote on it) remain mysterious. The Oscars has several categories for achievement in filmmaking that exist outside of Best Picture—Best Foreign Language Film, Best Animated Feature Film, Best Documentary Feature. But those exist to bring attention to formats and filmmakers who are often overlooked, whose work is harder to see, and for whom an Oscar trophy can be an immeasurable boost. Outstanding Popular Film would serve to pat Oscar voters on the back for acknowledging one of Hollywood's biggest moneymakers.
It's an idea that could also end up shunting genuinely impressive works of art into a category defined primarily by commercialism. Movies on the Outstanding Popular Film slate would still be allowed to contend for the main prize. But Academy voters could easily decide that recognition in the former category is recognition enough, pushing crossover hits further down their Best Picture ballot and denying them the prestige they deserve. (Already, nominees for separate categories like Best Animated Feature Film and Best Foreign Language Film are eligible for Best Picture consideration but rarely make it to the top field.)
Last year, two Best Picture nominees—Christopher Nolan's war epic Dunkirk and Jordan Peele's horror film Get Out—grossed more than $100 million at the U.S. box office, exactly the kind of financial yardstick one might use to measure "popularity." Their Best Picture nominations were highly deserved and, in the case of Get Out, especially exciting, since that movie's genre often goes unrecognized at awards shows. Dunkirk and Get Out would have been obvious candidates for Outstanding Popular Film and as a result could have lost out on a Best Picture nod—in effect being punished for their financial success.
This year, Marvel's Black Panther (which has become only the third film in history to gross $700 million domestically) seemed like it had a real chance of becoming the first superhero movie to get a Best Picture nomination. Disney was gearing up for a serious campaign; now, that may well fall by the wayside, with an Outstanding Popular Film achievement waiting as a sort of consolation prize. The only upside to this new category seems to be that ABC gets a few minutes of footage that it can package better to advertisers.
The pomp and circumstance of the Oscars is easy to mock, and the months-long obsession Hollywood has with a single awards show is sometimes worthy of derision. But the Academy Awards is also the main driver of studio funding to films that exist outside of the blockbuster realm, and can give a serious financial bump to movies that otherwise might not get their chance in the spotlight. The idea that traditional Oscar winners aren't "popular" is belied by box-office figures; the numbers might fluctuate from year to year, but such is the nature of presenting art in a commercial space. These rule changes are the latest disheartening sign that Hollywood may be growing less interested in protecting the "art" side of things.