The Innocents Is the Most Netflixy Drama Yet
The new eight-part supernatural series about teenagers on the run feels like a weaker mishmash of other streaming hits.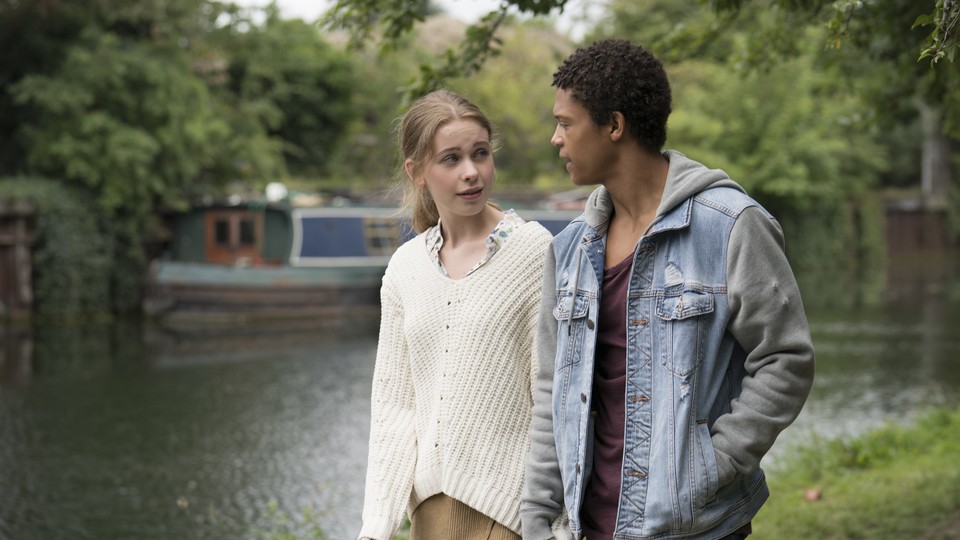 If The Innocents isn't the most Netflixy dramatic series ever made, it's at least a contender. It's the kind of show where every element feels directly lifted from another Netflix hit and mashed up into a slightly awkward creation. There's the doomed but touchingly pure teenage romance (13 Reasons Why). The young couple running away together with minimal planning and for reasons that are lightly sketched at best (The End of the F***ing World). The misfit with strange gifts being pursued by a doctor with vague intentions (The OA). And the fact that about two hours of actual plot is stretched out into a much puffier whole, and that the action rolls at such a gradual pace that even the actors seem to have visibly aged by the series finale (add your own example—there are plenty to choose from).
It doesn't really help that the premise of the show only becomes totally clear in Episode 5, more than midway through the eight-episode season. The early episodes are rooted around June (the newcomer Sorcha Groundsell) and Harry (Percelle Ascott), two teenagers living in a rural community in the north of England. June chafes at the restrictions imposed by her controlling stepfather, John (Sam Hazeldine); Harry is emotionally exhausted by caring for his father (Philip Wright), who appears to have dementia.
Harry and June write each other sweet but nonspecific love letters that they hide in an atlas at school, in which they opine about soon being free to forge their own identities. "I'll never tell you who to be," Harry tells June. Later, he reminds her, "We both ran away to stop being trapped. To be who we wanted to be." Then again in the same episode: "We can start again like we promised each other. Now we can be whoever we wanna be."
But who is that, exactly? It's a question complicated by the show's twist, unveiled at the end of the first episode, when June has a seizure and morphs into the form of an adult man after he grips her wrist. Whomever she might have wanted to be, it's likely not Steinar (Jóhannes Haukur Jóhannesson), a burly Norwegian who most resembles a ginger Hagrid, and who was trying to kidnap June to transport her somewhere far away. To say June's unexpected change destabilizes the relationship is an understatement. Now, she and Harry have to flee their parents and Nordic kidnappers while trying to find out more about what causes June to transform into the shape of other people.
Teenage dramas have long used supernatural themes as metaphors to explore the real issues young adults deal with, most notably Buffy the Vampire Slayer and the Twilight series. In The Innocents, the show's creators, Hania Elkington and Simon Duric, seem compelled by questions of identity, and how appearance leads to people being perceived a certain way in the world. But the show doesn't fully explore these themes, focusing wholly on plot and neglecting to flesh out its characters. How did June and Harry fall in love? What do they like about each other? How do they experience situations differently as a white girl and a biracial boy? How do June's experiences shift when she changes shape? There are so many cultural threads to unravel with shape-shifting as a premise, but none are picked up.
The other half of The Innocents is set on an isolated Norwegian island, where a charismatic doctor (Guy Pearce) has founded an institute to investigate women who can shape-shift just like June. There's a strange, pseudo-sexual dynamic at work between the doctor and his patients that's engaging, but it feels for the most part like it belongs in a different show. There are also myriad unanswered questions that more attention to character would help with. (Why does Pearce's Dr. Halvorson have a Norwegian name if he barely speaks Norwegian?) The handful of flashbacks that exist serve only to advance the story, not to deepen what viewers know about who these characters are.
The series is loaded with strong performers, and Groundsell and Ascott are plausibly charming and naive as the innocents of the show's title, constantly being threatened with corruption by menacing drug dealers and opportunistic predators while they're on the run. Pearce is pleasingly enigmatic as Halvorson. Playing Kam, a girl whom June and Harry encounter on their travels, The Missing's Abigail Hardingham is riveting in her supporting role, offering some sense of the trauma and angst that come with feeling imprisoned by your own body.
By the end of the eighth episode, it becomes clear that the series is positioning its characters for a second season. It's less clear whether viewers will demand one. Last week, Rolling Stone's Alan Sepinwall interviewed Netflix's vice president of original programming, Cindy Holland, about the problem of Netflix-show structure in an illuminating conversation about the future of streaming television. The primary reason so many streaming dramas sag in the middle, Sepinwall argues, is that creators have shifted away from having to craft distinctive individual episodes, and have defined their streaming shows instead as eight or 10-hour movies to be binged. The Innocents is palpable proof of how widespread this approach has become, but also how hard it is to actually pull off.