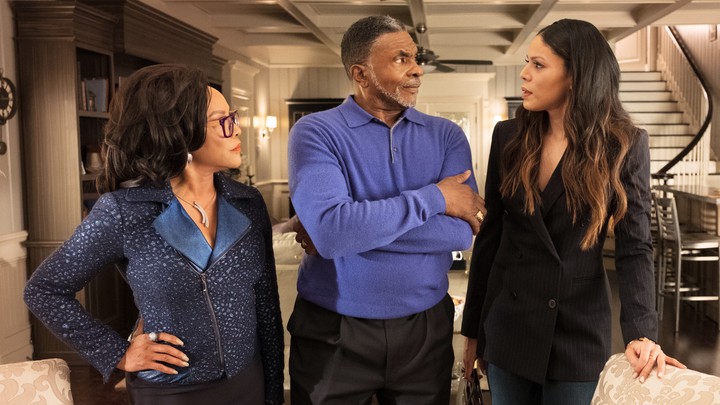 In one of the early moments of Greenleaf's Season 3 premiere, Bishop James Greenleaf (Keith David) rejects repeated advances from the rich, mysterious new congregant Rochelle Cross (LeToya Luckett). "I'm still married," the bishop tells her as she caresses his cross pendant.
When Cross protests—"She threw you out!"—the bishop offers a weightier explanation for his refusal to fall into bed with her: "I'm married to God's vision of the man I'm meant to be."

Greenleaf's characters stray often from the straight and narrow. The OWN drama follows the bishop and the rest of the often dysfunctional Greenleaf family as they lead Calvary Fellowship World Ministries, a mega-church in Memphis, while attempting to navigate the secrets in their own home. Executive-produced by Oprah Winfrey, the network's co-owner, and created by Craig Wright, Greenleaf tackles hypocrisy both spiritual and secular. Its characters, even the holiest among them, sin spectacularly. The show is deft in its treatment of their transgressions; the Greenleafs do not escape judgment, whether divine or earthly.
Wrongdoing, in other words, never goes unaddressed for long on Greenleaf—even when its characters imagine themselves occupying the moral high ground. The show mines the gap between their public personas and personal improprieties, revealing secrets and lies that challenge the sanctity of structures its characters hold dear.

In doing so, Greenleaf exhumes its titular family's ghosts. The two-part third-season premiere, which aired Tuesday and Wednesday nights, finds the Greenleafs reeling from a number of previously disclosed bombshells. One of these revelations threatens the Greenleafs'—and Calvary's—very foundation: In the Season 2 finale, the bishop's wife and Calvary's first lady, Mae Greenleaf (Lynn Whitfield), had confronted her sister, Mavis McCready (Winfrey), about the affair she'd had with the bishop. Believing that it'd been a one-time involvement, Mae was shocked when Mavis revealed that the affair had extended long beyond what the bishop told his wife.
Greenleaf's third season appears poised to follow the family as Mae and James come to terms with life in the wake of these excavated indiscretions. They agree to present a united front when the church's livelihood is threatened, but Mae is disinclined to maintain their charade. When James tells their children about Mae's own affair with a family friend, the first lady is horrified that he's shared her darkest secret. What follows is a sharp, insightful exploration of what betrayals various kinds of unions can withstand. Greenleaf is at its best when it interrogates the ways that flawed human beings create—and attempt to maintain—structures with a divine purpose. When the bishop and first lady fail one another, they also sow discord within the whole Greenleaf clan—and the church. Sin may be a matter for God to adjudicate, but other people still exact their own judgments.
Greenleaf is not timely so much as it is trenchant. The show addressed a number of now-inescapable social issues long before doing so became something of a small-scale trend. The pilot, which aired in June 2016, established Greenleaf as a show that would grapple actively with the residual effects of abuses of power. The show's protagonist, the Greenleafs' daughter and former Calvary pastor Gigi (Merle Dandridge), only returned to her hometown after a 20-year absence to mourn the death of her sister. Faith Greenleaf, whose suicide both brought the family together and exposed its deepest rifts, had confided in Gigi years earlier that their uncle, Robert "Mac" McCready (Gregory Alan Williams), abused her. Gigi decides to stay in Memphis following Faith's memorial largely to pursue some sort of justice for her late sister.

For much of the first season, Mac avoids punishment for his serial assault of Faith—and other girls in the area—through a series of victim-intimidation tactics, abuses of his municipal connections, and the family trust he takes for granted. He does not abandon his predatory behavior; he just takes greater pains to conceal it. The show doesn't shy away from condemning Mac—or from implicating the people who helped enable his actions. Gigi, the show's moral center, does not wait for God to judge Mac; she seeks out his other victims to build a case against him. Late in the second season, Gigi and Mac have an altercation that ultimately ends in his death. It's a difficult but almost inevitable-seeming moment, one that resonates because of the pain it causes Gigi, not in spite of it.
Greenleaf doesn't necessarily endorse vigilante justice, but it does establish the stakes of predation as life or death. The show's attention to the ripple effects of sexual abuse added a desperately needed gravity to an entertainment climate that, even now, post-#MeToo, all too often trots out plotlines about rape just to explain why certain female characters are hardened. Greenleaf may be a show about the church, but its lessons range far beyond the spiritual. It is not an exercise in theological conjecture. When the bishop or Gigi takes the pulpit, their sermons address the tangible concerns in their family, the church, and the country. They are rousing and vibrant, their words melodic and rich. Greenleaf is meticulously relevant without being overly didactic; it is, after all, a show that revolves around the ungodly shenanigans of a saintly family. That's lesson enough.
The show forms just one pillar of the core programming at OWN, which saw its slate revitalized after an initial struggle. Along with Queen Sugar, the success of Greenleaf helped anchor the network. "They became not just the standout shows on the network but two of the best dramas on TV—offering nuanced and knotty sketches of black Southern life," Wired's Jason Parham wrote of the shows in a June feature about OWN. "Both are among the top five original scripted series on ad-supported cable for women 25-54."

If the Season 3 premieres are any indication, Greenleaf is well-poised to maintain its reign. That the leaders of the titular family are being forced to confront their trespasses against one another is narratively promising. The show takes the responsibility of its anchor family seriously: In exposing the family's failures to uphold the doctrine it touts, Greenleaf makes the case for both the complexity of all human beings and the need for community-specific structures of accountability. By zeroing in on the Greenleafs' personal and collective offenses, the show offers glimpses at both small-scale redemption and punitive measures.

Now, against the picturesque backdrop of Memphis, the Greenleaf family must decide what is worth sacrificing to maintain some semblance of the life they've enjoyed. Most importantly, the show's women must ask themselves what they are willing to ignore to achieve—or perform—familial harmony. Luckily, Greenleaf is not a show that leaves sin shrouded for long. That's never been God's vision.
We want to hear what you think about this article. Submit a letter to the editor or write to letters@theatlantic.com.
Hannah Giorgis
is a staff writer at
The Atlantic
, where she covers culture.