The Complicated Female Genius of Lauryn Hill
Twenty years after the release of The Miseducation of Lauryn Hill, the artist has been granted something rarely afforded to women: the space to make mistakes—and still be considered great.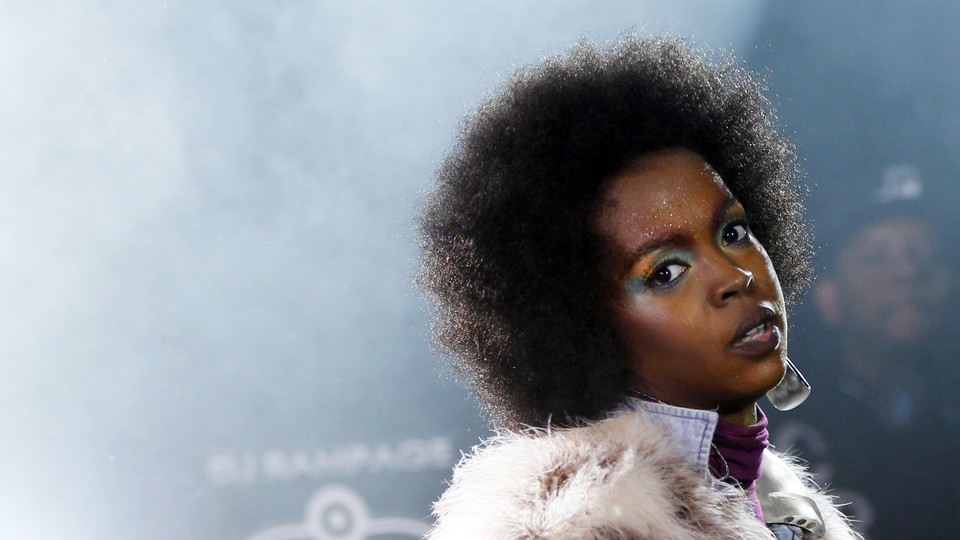 Lauryn Hill defines herself. Twenty years ago, the one-time lead of the Fugees stepped out from the shadow of her male bandmates to release a solo debut. In the time since its August 1998 release,
The Miseducation of Lauryn Hill
, her sole full-length album, has become the stuff of lore. It's inspired
records
,
documentaries
, and
books
. The woman at its core remains at once celebrated and vilified, both an enigmatic siren and a fickle virtuoso.
Hill is an unlikely heroine. The New Jersey–born singer and rapper first attracted notice with her performance in the 1993 sequel of Whoopi Goldberg's rapturous
Sister Act
. The original film followed the life of Deloris Van Cartier (Goldberg), a former lounge singer who turns to life in a convent for blasphemous reasons. In an effort to keep the rambunctious woman occupied, her fellow nuns assign Van Cartier to lead
the convent's choir, which she proceeds to turn into a musical sensation. In the phenomenally named sequel,
Sister Act 2: Back in the Habit
, Hill plays a preternaturally talented high-school student. Though she also had writing credits on one of the film's raps ("
Who Got the Flo
"), it's her rendition of a beloved gospel track that has resonated even 25 years later. Along with her co-star Tanya Blount, Hill reinvigorated the record.
Though the film was fictional, Sister Act 2 provides a convenient lens through which to view the rest of Hill's career: She has struggled, often in public, with gendered expectations of piety and innocence. As the only female member of the unexpectedly successful rap group the Fugees, Hill faced constant scrutiny about her romantic life. In later years, her decision to pull away from the rigors of fame to focus on raising her six children prompted some to question her commitment to music.

Over the course of the two decades that have passed since the release of Miseducation, Hill has been placed on impossible pedestals and knocked off them. She has stunned audiences with both stellar lyricism and chronic lateness. She has forced longtime fans to wonder if she loves them back; she has earned skepticism from newer listeners. But through it all, Miseducation has been an anchor. It is not an overstatement to call its release one of the most influential events in hip-hop history; Miseducation broke the mold.

Still, with her erratic behavior and committed fanbase, Hill finds herself in a strange position. She is perhaps the only female artist whose accomplishments—in this case, the creation of Miseducation—have granted her access to a title most often assigned to men: genius. If Lauryn Hill is a genius, she is one who has inherited a world that does not tend to address the shortcomings of women as artistic idiosyncrasies. Kanye West, for all his MAGA-fied tomfoolery, still firmly occupies the nearly untouchable stratum of male genius. No matter how dangerous West's flights of fancy, fans still defend him on the basis of his purportedly rare talent.
For a range of female artists, talent and artistic production have not inoculated them against skepticism about their contributions to the culture writ large if and when they cease to perform obedience. The impolite female artist is a diva; the misbehaving male artist is a given. Hill, however, remains largely celebrated—even as fans and critics alike whisper about the less savory elements of her career trajectory. In the grand scheme of artists' transgressions, Hill's disappearance and her chronic tardiness are far less harmful than the kinds of serious misdeeds of which many male artists stand accused. Her shortcomings are largely failures of productivity, not character. As such, they are easier to forgive—but that courtesy hasn't been extended to all female artists whose relationship to their work is fraught. In this, Hill is an anomaly.
Miseducation itself spoke to Hill's knowledge that the playing field for female artists is riddled with land mines their male counterparts do not have to fear. One of the album's most praised tracks, "To Zion," is at once somber and celebratory. Hill, who had left the Fugees partly due to her breakup with the frontman, Wyclef Jean, later entered a relationship with Rohan Marley (the son of Bob Marley). When she became pregnant with his child, detractors from a host of backgrounds suggested it would be the end of Hill's career. "To Zion," a dedication to Hill's unborn child, finds her directly addressing the negative reactions:
Woe this crazy circumstance
I knew his life deserved a chance
But everybody told me to be smart
'Look at your career,' they said
'Lauryn, baby, use your head.'
But instead I chose to use my heart
In her new book, She Begat This: 20 Years of The Miseducation of Lauryn Hill, the scholar and hip-hop feminist Joan Morgan interviewed Hill's then-manager, Jayson Jackson, who recounted his experience of hearing Hill sing part of "To Zion" for him over the phone while she was still touring with the Fugees. "I was like, 'Oh my god! Leave the group. Bail. You need to be making great music,'" Jackson said.

But Morgan also lays out the difficulty Hill experienced when she played "To Zion"—with its deeply personal lyrics and slowed-down acoustics—for music executives:
Hill took "To Zion" and a few other songs from the album-to-be to a meeting with Columbia's brass. Tommy Mottola, then-head of Sony Music and Entertainment, pronounced it dead on arrival. Mottola was anxious to replicate the Fugees' success and thought this new mélange of soul, reggae, and relatively little hip-hop from one of rap's best emcees was too much of a departure from a proven formula. "They weren't feeling it at all," says Jackson. "Basically, they wanted a Fugees record without the guys."
It is perhaps unsurprising that Mottola's reaction "crushed" Hill, but Miseducation would go on to disprove his fears both commercially and artistically. Hill's genius came not from her proximity to her Fugees bandmates, Wyclef Jean and Pras Michél, but from within. Her singular voice enlivened the Fugees, but it also established Hill as a formidable presence on her own. Hill was beautiful and brilliant. She radiated charm and talent. If she could produce a record that traced subjects ranging from life in New Jersey to her beef with Wyclef to the power of her pregnancy, what couldn't Hill do?

It is rare that female artists are met with that question—that fans and critics alike are so convinced of a woman's talent and drive that they imagine, and thus create, a world of possibility for the star to inhabit. So often, women in music (and countless other fields) are viewed as one-dimensional, bogged down by a singular gimmick. Hill complicated the binary. After Miseducation, Hill could've gone on to do anything. That she instead chose to disappear only heightened her allure.
Hill's status as a bona fide genius is taken for granted by hip-hop fans, but it has not gone unquestioned. Certainly, accusations that Hill has mistreated her backing band merit attention. Keeping concertgoers waiting for several hours does not beget trust from fans. To point out that the term genius is applied unevenly along gendered lines is not to justify inexcusable behavior from the people whom we designate as such. The label itself should not protect artists—or anyone—from facing accountability for their misdeeds.

But Hill, for all her inconsistencies, still makes both longtime fans and new listeners—those who may have stumbled upon her via a Drake or Cardi B sample—wonder what we are missing out on. If she gave the world Miseducation 20 years ago, what has Hill been keeping from listeners in the time since? Hill's legacy lives in the gap between what she has given and what she has kept hidden away. The mystery is itself a kind of genius, but Hill has always defied simple categorization. We're still learning who she is.