In Sharp Objects, Love Is Poison
The finale to the HBO series revealed its villains, and how corrupted they'd become.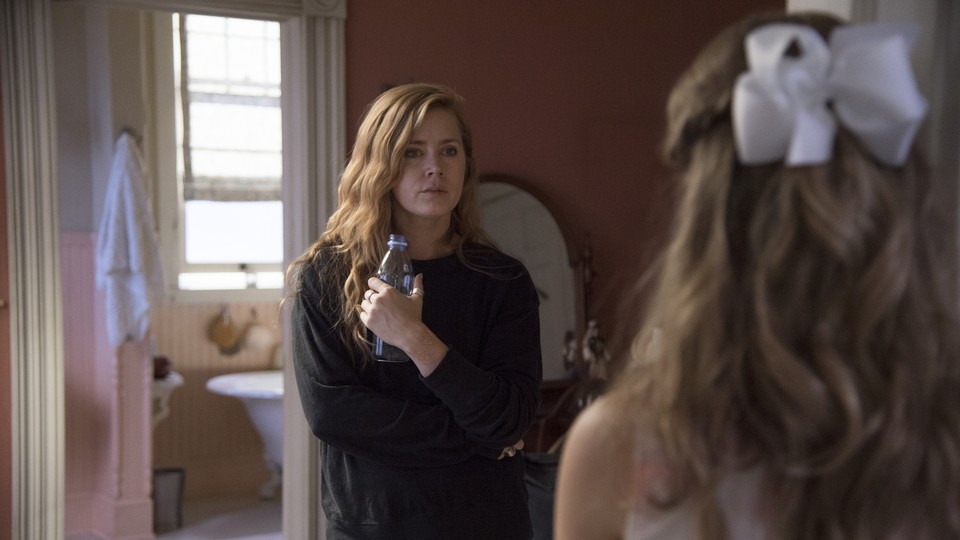 This article contains spoilers through all eight episodes of Sharp Objects.
Men, Camille (Amy Adams) concluded in her summation of the Wind Gap murders, get to be warrior poets. Women are resigned to asserting themselves in other ways. Adora (Patricia Clarkson), Camille wrote, embodied a specifically female kind of rage: one of "overcare. Killing with kindness." Mistreated by her own mother and fawned over by the town of Wind Gap, Adora ossified into the most socially acceptable and protected kind of monster. She was pretty, petite, delicate. She barely raised her voice above a whisper. She was so gentle, so undemonstrative in her machinations that hardly anyone noticed she was slowly killing her daughters with rat poison.
Of course, she never did explain the teeth. Adora, strangling girls to death? Adora, physically yanking molars from the mouths of teenage corpses? Camille couldn't quite make it fit. But she put aside what Sharp Objects had been detailing for eight episodes—Amma's (Eliza Scanlen) tyranny, her wild oscillations between light and dark, her insatiable yen to be the center of everyone's attention. By devoting herself to Amma and offering her sister her own kind of care, Camille was able to finally forgive herself for failing to save Marian (Lulu Wilson). By embracing the role of nurturer, Camille missed what was right in front of her, indirectly bringing about the death of yet another girl.
The 2006 novel Sharp Objects, Gillian Flynn's debut, ends slightly differently. After realizing that her sister is a murderer, Camille has a breakdown that ends in her being embraced by her editor and his wife. Camille is devastated, but not alone. The TV adaptation, whose finale aired on HBO Sunday night, denied audiences even that token amount of comfort. As Camille finally faced incontrovertible proof of her sister's guilt—in the form of a dollhouse floor crafted from the teeth of the dead girls—the series came to an end (with the exception of two chilling post-credits scenes that gave flashes of Amma's crimes). The conclusion was ambiguous. Will Camille sacrifice the semblance of stability she'd found and turn Amma in? Will she immerse herself in denial, like Alan (Henry Czerny)? Or will she sink deeper and deeper into the role of caretaker, like Adora, and damn herself in the process?
One of the things that's made Sharp Objects so enthralling over the past eight weeks is its subtext. As Kathryn VanArendonk has noted at Vulture, words are hidden in plain sight in each episode: carved into tree trunks, concealed in existing text, and—most specifically—written on Camille's skin in the form of scars. They're an ongoing reminder that Camille's present reality is heavily colored by her past trauma. But they also seem to exist to inform viewers of how insufficient words can be. The word cherry, as a simple noun, can't convey all the poisonous envy Adora barbs it with when she aims it at Camille. "That's beautiful copy," Camille's editor, Frank Curry (Miguel Sandoval), tells her after she files her long, personal account of the Wind Gap killings. Her story might be poetic, but it's fundamentally wrong.
Words can also be outright duplicitous. It isn't coincidental that Adora and Amma's names are both derived from words meaning "love," even though, as characters, they embody the opposite—not an outpouring of love but an unquenchable need to absorb and consume it. The paradox of Sharp Objects is that for years, Camille has protected herself by shutting herself off from love, using her scars as armor and her emotional numbness as self-protection. In the book, she's finally redeemed by the sincere love and kindness of Curry and his wife. In the show, we're left to wonder whether she wasn't safer in her previous state of emotional isolation, given the sheer toxicity of the family she came from.
Subtext aside, the finale distilled everything that Sharp Objects excelled at during its run. Jean-Marc Vallée's direction and Yves Bélanger's cinematography created a potent, sticky, oppressive sense of horror as Adora cheerfully and methodically set about murdering her daughter in the Crellin ancestral mansion. According to Bélanger, the show only used natural and handheld light to illuminate scenes, adding to the cloying hyper-reality of Camille's surroundings. Marti Noxon's script conveyed the menace of Adora's actions by making her words as familiar and as superficially comforting as possible. "Open darlin'," Adora whispered, leaning in to Camille, proffering her medicine. "Say 'ah.' You are such a good girl."
Playing Adora, Clarkson offered one of the most indelible distortions of the Southern belle archetype since Blanche DuBois. Her performance perfectly balanced excess and restraint, delivering Adora's loaded remarks often in whispers. The hushed volume in some scenes seemed deliberate, forcing viewers to focus entirely on Adora, which in turn conveyed how she exercised her power. But she was also a monster in the Gothic mold, leaching her venom into every scene. The finale's slow-drip climax was thrillingly suspenseful, as a weakened Camille tried first to save her sister and then herself from Adora's Munchausen's-induced mania.
With Camille, Adams took a character who could easily have been a stereotype and made her deeply sympathetic, even in her most self-sabotaging moments. Camille wore her trauma and pain literally on her skin, and Adams imbued her posture and presence with that sense of vulnerability, as if the character was aware that the world would only wound her. But she also had a strange kind of power. In removing herself emotionally from Wind Gap and its myths, Camille was able to see it clearly, even through her own distorted perspective.
The only thing she missed was Amma. Scanlen, a 19-year-old Australian and relative newcomer, was so scarily depraved as Amma that it almost seemed too obvious that she was the murderer. The way Scanlen played Amma's manipulative tendencies, her swings between sweetness and savagery, made it clear that Amma was the most terrifying sociopath of all—the one who knows exactly what people want from her. (Amma was both empowered and corrupted by the most female desire of all—the need to please.) Sharp Objects has studded itself with Easter eggs throughout its run, mostly in the form of hidden words and images. But the two post-credits scenes of Amma, victoriously brutalizing her victims and then turning silently toward the woods, captured the extremes of her personality.
If it hadn't been for those two scenes, Sharp Objects's ending might have felt almost comical. There was Amma's plea to a horrified Camille, "Don't tell Mama," then a swift cut to Led Zeppelin's "In the Evening." If Led Zeppelin is the perfect band to score to the show, "In the Evening" is its most Camille-appropriate song, a declaration of suspicion about the damage love can cause punctuated with outbursts expressing a craving for it anyway. In the finale, it's after Robert Plant sings, "Oh, I need your love," that the music stops, and the camera cuts to pink-nailed fingers desperately gripping a wire fence. It's a dark affirmation of what Sharp Objects has preached all along: Nothing is more potent and more potentially damaging than twisted love.