Remembering the Incomparable Aretha Franklin
The legendary soul singer, who died at 76, leaves behind the definitive testament to the capabilities of the human voice.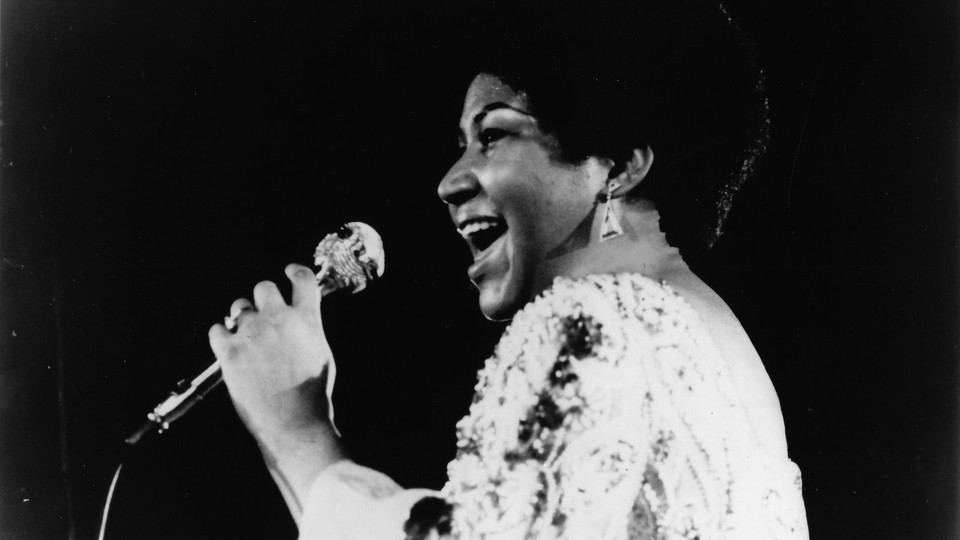 A song gets changed by who sings it both because of how they sing and who they are. As Aretha Franklin proved again and again, in that transformation lies an art form as important as any. The legendary singer, who died Thursday at 76, leaves behind the definitive testament to the capabilities of the human voice: its wide-ranging potential as sound, of course, but also as communication, as identity, and as a connector to that which underlies identity and gets called soul.
The story of "Respect," her most world-shaking statement, is one of authorship through vocals. Initially it was Otis Redding's track, a twitchy-fast plea by a man who wants respect—which is likely to say, among other things, sex—when he comes home each night. Atlantic Records' Jerry Wexler brought the song to Franklin, a gospel singer who by age 24 had seen halting success crossing over to pop. In the process of rearranging the song, Franklin and her sisters reshaped the chorus with elements that now feel inevitable: the spelling out of the title, the call-and-response cadence, the sock it to me, sock it to me. But it was Franklin herself—her commanding shout and everything it implied—that alchemized a man's airing of marital grievance into a weapon for women and people of color seeking rights and, with them, yes, respect.
What a thing for a breakout single to do: anchor not only a career, but multiple social movements. Yet the career, in Franklin's case, couldn't ever be eclipsed. Until last year, she was the woman with the most ever songs placed in the Billboard Hot 100, and to browse her hits—"Chain of Fools," "(You Make Me Feel Like) A Natural Woman," "Think," and on, spanning decades—is to be jolted by just how ubiquitous they remain. Some of those songs she wrote herself, and many she made her own through performance. Her accolades included 18 Grammys, her status as the first woman inducted into the Rock and Roll Hall of Fame, and the designation of her voice as a "natural resource" by the state of Michigan. She held, too, the title "Queen of Soul," which was reflected in her regal approach: gowns of grand sweep, updos like crowns, a way of regarding an audience as if people didn't need convincing of her primacy but rather reassurance of it.
If she was a head of state, though, she picked her ceremonial duties with great intention. Her father, the Reverend C. L. Franklin, organized against racism with Martin Luther King Jr., who presented Aretha with an award from the Southern Christian Leadership Conference only months before she would sing at his funeral. She went on to perform for three sitting presidents, all Democrats, and the latest of them, Barack Obama, welled up as she shed her overcoat and belted at the Kennedy Center in 2015. "Nobody embodies more fully the connection between the African-American spiritual, the blues, R. & B., rock and roll—the way that hardship and sorrow were transformed into something full of beauty and vitality and hope," Obama wrote afterward to The New Yorker's David Remnick.
The hardships Obama refers to weren't insubstantial. Shortly after Franklin was born, in Memphis, her preacher father and musician mother split, and her mother died before Franklin's tenth birthday. At age 12, Franklin gave birth to the first of her four children. She was on the road as a performer throughout her teenage years. In 1979, her father was shot by burglars, putting him into a five-year coma that ended in his death. Her death arrives eight years after a health crisis that forced her to cancel tour dates—but that was followed by a final, celebrated run of concerts, album releases, and one gig with the pope.
Maybe it was her knowledge of struggle that enabled her to take an already momentous song like The Band's "The Weight" and turn up its intensity, or to step up at the Grammys and nail Puccini, or to inflate the personal-liberation narrative of "Think" into a generational anthem. But on some level, what made her special was, simply, her voice itself and how she chose to use it. The divide between soul and pop is too often spoken of in terms of real and fake, profound and disposable, but Franklin bridged the gap. She knew that the pleasure of a fleeting melody could speak to—and join—the eternal, as long as you sang it that way.