Randy Moss and Terrell Owens Reach the Hall of Fame
The wide receivers, known as much for their off-the-field antics as their game-day accomplishments, challenged the NFL's domineering mores.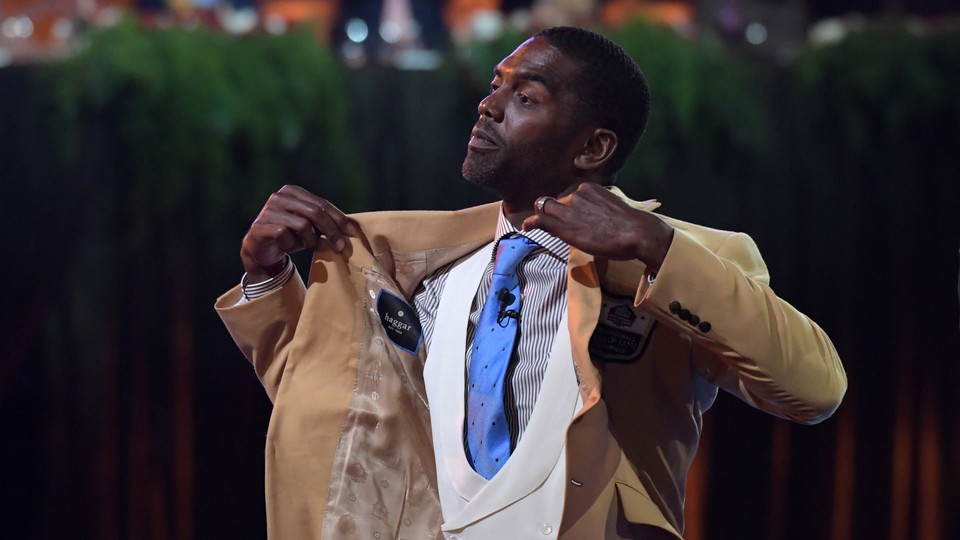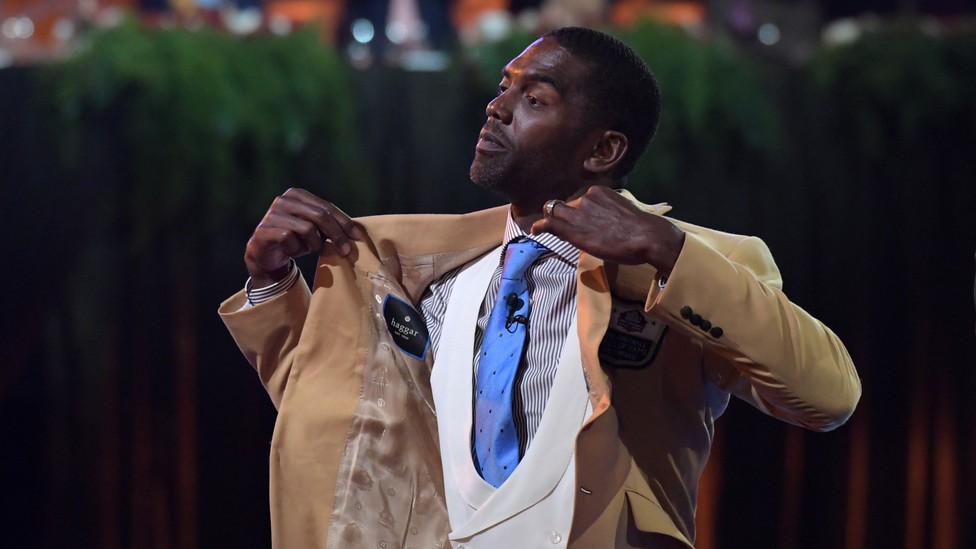 This weekend in Canton, Ohio, Terrell Owens and Randy Moss will be inducted into the Pro Football Hall of Fame (the former in absentia, as he's opted to hold a separate ceremony at his alma mater). The two wide receivers make for a fitting pair; they rank second and fourth, respectively, in all-time receiving yardage and third and second in receiving touchdowns. Through the late 1990s and 2000s, wearing a catalog of different uniforms (most notably San Francisco, Philadelphia, and Dallas for Owens, and Minnesota, Oakland, and New England for Moss), they put an uncommon degree of fear in opposing defenses. They were the sport's premier game-breakers, capable of scoring from anywhere at any moment.
It is more than just the statistical similarities that makes their entering the hall in tandem feel appropriate. Moss and Owens embodied, during their playing days, the very notion of the "diva wide receiver," now an essential part of NFL lore. They carried teams and quit on them. The mainstream sports press branded them troublemakers, athletes no parent would want their children to emulate. But as their admittance into football immortality coincides with an era of skepticism over the league's uprightness—how it controls, damages, and silences its players—it is possible to see their careers in a different light. For all their foibles, and in an admittedly different political climate, Owens and Moss wrested what control they could, insisting on themselves as more than instruments of a coach's game plan or an owner's profit.
On the field, Owens was a physical conundrum: too quick to be that strong, too strong to be that quick. While many top-tier receivers stayed near the sidelines, Owens happily worked over the middle, where his routes brought him into close proximity with linebackers and safeties eager to ring his bell. His highlight reel now offers a reminder of the even more intense dangers players used to face, before rule changes brought an end to sanctioned head-hunting, but it also showcases displays of outrageous nerve. Owens would dart off the line in a slant route, catch a pass, and in one motion bust through the arms of the waiting tackler. He could hold on to a game-winning touchdown even as a safety brought a shoulder into his chinstrap.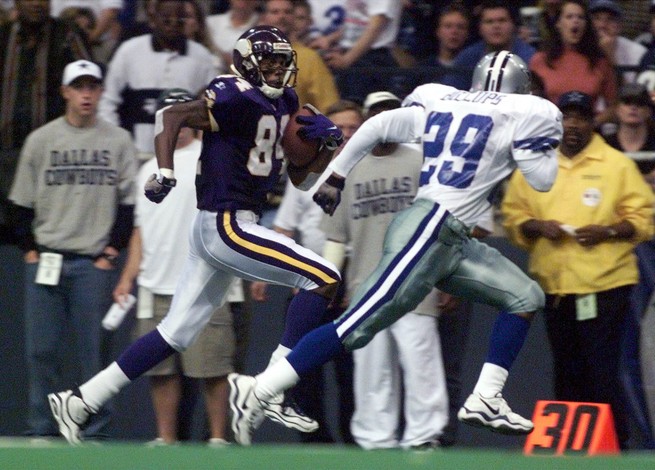 Moss, on the other hand, simplified the sport: He sprinted past or leaped over whoever matched up with him. "Throw it up above his head!" he once shouted at the quarterback Randall Cunningham in his West Virginia twang. "They can't jump with me, golly!" During a fantastic rookie season with Minnesota, he amassed more than 1,300 yards and a league-leading 17 touchdowns for the 15–1 Vikings, the gulf between his abilities and those of his defenders sometimes laughable. He'd unthread an entire secondary with a crossing pattern or wiggle his hips and turn a five-yard route into a 50-plus yard touchdown.
Each player's talent came with baggage. Over the course of his time with the Vikings, Moss was fined for squirting an official with his water bottle, arrested for bumping a traffic-control agent with his car, and reprimanded for faux-mooning the Green Bay crowd during a playoff game. Owens's knack for showmanship, which involved dancing with a cheerleader's pom-poms after one score and pulling a Sharpie from his sock to autograph the football following another, irritated opponents and opposing fans alike. During his 49ers days, he celebrated a touchdown in Dallas by planting the ball on the Cowboys' midfield star, provoking the defensive back George Teague to deliver a blindside hit. The announcer offered a verdict that surely had much of the T.O.-hating nation nodding along: "I don't blame Teague for doing that."
For all the controversies and detours built into the two careers—Moss's trouble with the law in high school and college, Owens's hydrocodone overdose in 2006—it was the players' tendency toward insubordination that seemed to most rankle the NFL establishment. "I play when I want to play," Moss infamously said as the Vikings suffered through a losing season in 2001. He was accused of loafing through routes or entire games, and charges of inadequate effort preceded his exit from Minnesota in 2005 and lingered throughout two losing seasons in Oakland, the least productive stretch of his prime. Owens, meanwhile, made a habit of feuding with his quarterbacks. In San Francisco, he called for Jeff Garcia to be replaced by the backup Tim Rattay under center, and in 2005, the Philadelphia Eagles suspended Owens after he, among other things, said that "we'd probably be in a better situation" with Brett Favre instead of Donovan McNabb.
The media hammered the star wideouts throughout their careers; "Way Too Much Trouble" and "Bad Moon Rising" were not especially overblown headlines, in the era's context. But as public perception has started to turn on the NFL—fans now tune in on Sundays knowing all about the tenuousness of contracts and the hypocritical calls for player loyalty, and viewers and the press alike often side with players in disputes with their team—some of what was called petulance now looks fairly radical, regardless of its intent at the time. In a sport that has always demanded line-toeing, Moss and Owens were unafraid to speak up when it benefited them, to act in unpopular self-interest.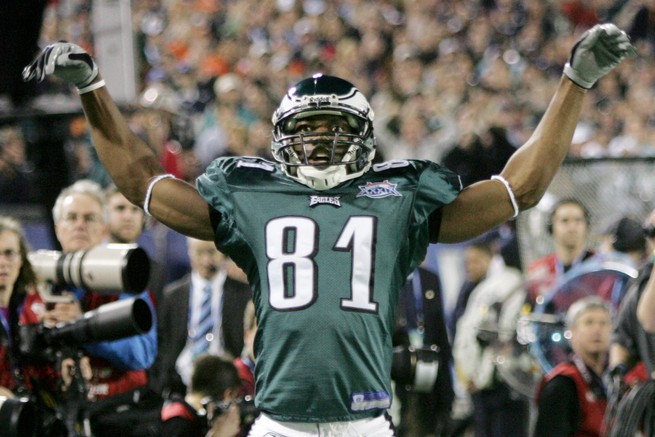 In good situations, they played incredibly; in bad ones, they found or created a way out. After a mix-up in the paperwork that would have made Owens a free agent allowed the 49ers to trade him to the Baltimore Ravens in 2004, Owens demanded to be sent to his preferred destination of Philadelphia, involving the players' union; the teams eventually complied. Moss's fraught but well-compensated seasons with the Raiders freed him to restructure his contract to move to the football paradise of New England. "I've made a lot of money and I still have money in the bank," he said at the time. "So by me coming to an organization such as the New England Patriots, why would money be a factor?"
Their brightest moments dispelled the old notion that on-field excellence is reserved for prototypical team players. Owens played in Super Bowl 39 for the Eagles seven weeks after breaking his leg, putting up nine catches for 122 yards in defeat; ESPN's John Clayton wrote that it "might have been the most courageous performance in Super Bowl history." Moss, during his first year in New England, set an NFL single-season record with 23 receiving touchdowns, earning rare plaudits from the famously praise-averse coach Bill Belichick, who said, "He works hard. He is a smart player and competes." Far from signaling his career's downslope, Moss's lethargy in Oakland suddenly seemed strategic. For two years, he had cashed paychecks without risking the damage to his body that full-effort football entails—reserving his hustle, perhaps, for a situation that deserved it.
The players' post-career paths have gone in different directions. Moss makes for an odd sight at ESPN's Sunday NFL Countdown desk, this former target of heated opinion now tasked with dispensing it. Owens is exploring signing with a Canadian Football League team and still hopes to make an NFL comeback, eight years after playing his last snap. Moss teared up when he learned of his Hall of Fame acceptance; Owens' absence is payback against a voting committee that, in his view, unfairly fixated on "character issues" when deciding whether to induct him.
This weekend will be marked by attempts to balance the productivity of the star receivers with the circus-like atmosphere that often followed them outside the lines. But the induction will also unfold against the now-familiar backdrop of active NFL players flexing their leverage in different ways: holding out for fairer contracts, speaking up about the state of the game, asserting their individual right to protest. Though Owens and Moss were much more inclined to talk about themselves than about social justice, this broader cultural shift can be seen as part of their legacies. They showed the NFL that a uniform is not a bind of absolute fealty, that players could look out for their own interests, and that excellence and outspokenness are not antithetical.