Ordeal by Innocence Is the Darkest Agatha Christie Drama Yet
The Amazon three-parter is a star-studded but ponderous tale about toxic family dysfunction.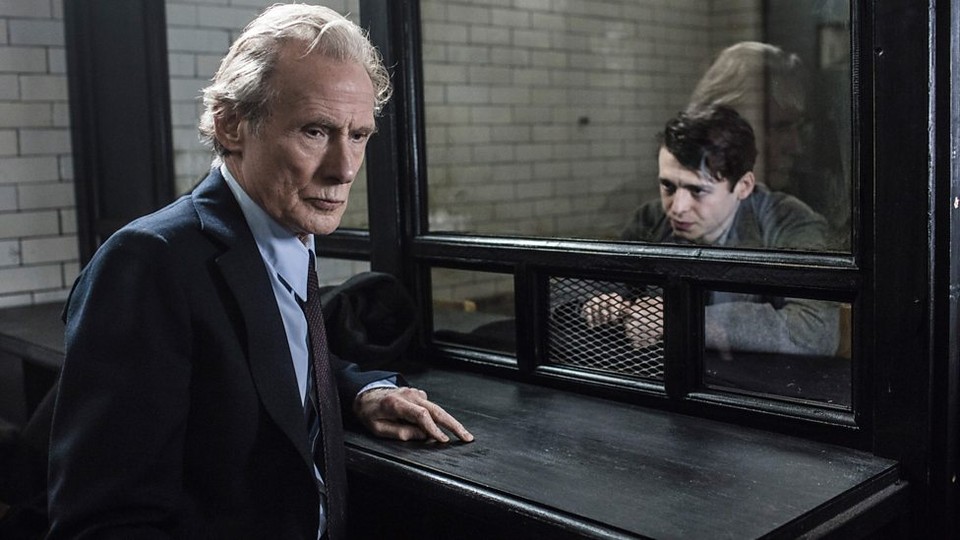 If your response to the season finale of HBO's Succession was longing for more time spent with a toxic and damaged family whose members all seem to be trying to shank each other, good news: Amazon's Ordeal by Innocence is here. The three-part BBC adaptation of the 1958 Agatha Christie novel is replete with stars, including Bill Nighy, Alice Eve, Matthew Goode, and Anna Chancellor. But it's also curiously dark, stuffed with repetitive flashbacks, moody imagery, and nasty people committing acts of emotional torture. The surprise at the end isn't that one of them is a murderer—it's that the rest of them aren't.
Succession balances its unrelenting awfulness with bleak comedy. Ordeal by Innocence, which was adapted by Sarah Phelps and directed by Sandra Goldbacher, relies on sumptuous, color-saturated visuals, using the palatial country-manor setting to frame striking shots of vivid green forests and mustard-yellow 1950s dining rooms. It's lovely but overstylized, amping up the arthouse melodrama to the point where the plot often feels like an afterthought.
In a subversion of Christie's typical structure, the story begins not with a mystery, but with a conviction. Rachel Argyll (Chancellor), the wealthy mother of five adopted children, is found bludgeoned to death in her bedroom. One of her sons, Jack (Anthony Boyle), is accused of her murder and arrested. Eighteen months later, Jack has died in prison, and Rachel's husband, Leo (Nighy), is marrying his former secretary (Eve). The four remaining Argyll children are processing their feelings about their various losses, and about their grasping and highly strung stepmother-to-be, when a stranger shows up at the house insisting that Jack was innocent, with an alibi to prove it.
Ordeal by Innocence has its own compelling backstory as a production. The miniseries was originally scheduled to be broadcast at the end of 2017, but after its original cast member Ed Westwick was accused of sexual assault that year, the producers decided to reshoot certain scenes with the actor Christian Cooke replacing Westwick as Mickey, one of the Argyll children. (Westwick, for the record, still maintains his innocence.) The final result is seamless. But it's also noteworthy that the drama—planned out long before the #MeToo and Time's Up movements emerged last year—contains more palpable references to the mistreatment of women than the novel does. Phelps took substantial liberties in adapting the plot, which riled many viewers when the series debuted in the United Kingdom. But her choices make Ordeal by Innocence more resonant than it might have been without them.
That's not to say it's totally coherent. Each of the Argyll children seems impossibly damaged in his or her own way, rescued from the orphanage only to be emotionally neglected by Chancellor's Rachel. Mary (Eleanor Tomlinson) has married Philip (Goode), an emotionally abusive veteran who became addicted to morphine and alcohol after a car crash left him paralyzed. Mickey (Cooke) is prone to self-harm. Christina (Crystal Clarke) is the most grounded, but endures racist abuse every time she goes to the local village. Hester (Sweetbitter's Ella Purnell) is the sweet-natured baby of the family, but is eventually shown to have more reason to resent her mother than anyone.
Ordeal by Innocence relies on heavy-handed flashbacks, ushered in by a literal clock moving backward and fat drops of blood disappearing from fabric. It's all very Gothic, and Goode in particular seems to relish the opportunity to ham it up, playing the drama's most vicious and sadistic character. As Leo, Nighy is subdued, reining in his customary charisma to fit the series's bleak tone. Morven Christie plays Kirsten, the requisite housekeeper, who seems unfairly burdened with the upkeep of the entire family and an estate roughly the size of Delaware. (This includes a bunker in the basement, which Rachel had installed amid the ongoing threat of nuclear war.)
Rachel ends up being the most fascinating character of all, and the most elusive. Why is she so withholding? What is her marriage like? Where do her manifold anxieties spring from? She's present only in fragments of flashbacks, delivering withering denouncements of her children that seem cartoonishly villainesque. Again, the point is that every member of the house had reason to want her dead. The downside for viewers is that it wouldn't be catastrophic if the rest of them joined her. There's no good guy to root for, no manicured Belgian mustache imposing a tidy moral framework on proceedings. It's all "so deliciously squalid," as Goode's Philip puts it. But with three hour-long episodes to fill rather than a 90-minute TV movie, it's also rather prolonged. Not quite the ordeal of the title, but not the enthralling mystery you might be wanting, either.