Operation Finale Grapples With the Banality of Evil
Chris Weitz's new film stars Oscar Isaac as one of the agents who captured the Nazi war criminal Adolf Eichmann (played by Ben Kingsley) and transported him to stand trial in Israel.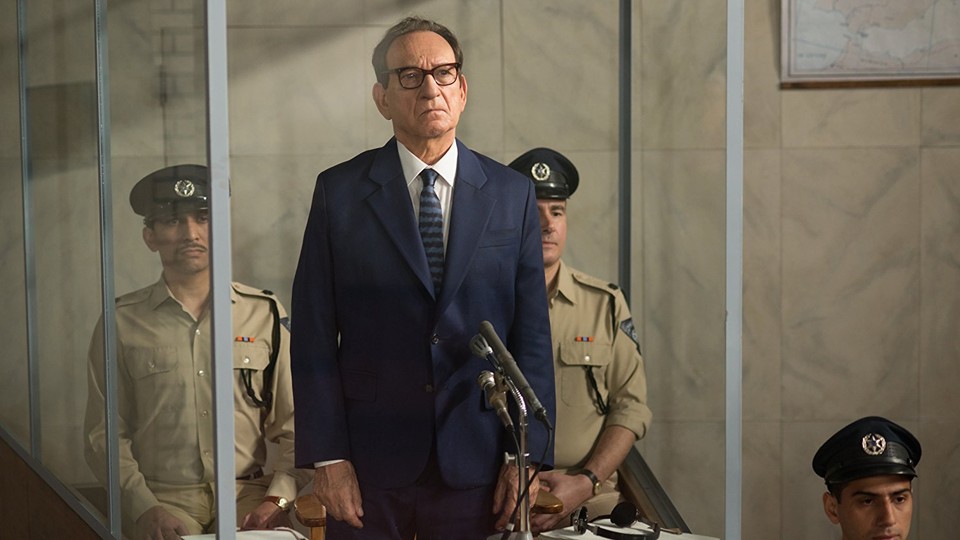 The story of Adolf Eichmann's capture by Mossad agents in 1960 is not an inherently dramatic one. Eichmann, an architect of the Holocaust and one of the highest-ranking members of the Nazi regime to survive World War II, lived in Argentina for many years in secret. His apprehension led to a widely viewed trial in Israel, which gave many of the victims of his crimes the chance to testify to their experiences. But Operation Finale, Chris Weitz's new film dramatizing the extraction of Eichmann, is largely unconcerned with those legal proceedings. It's focused primarily on the agents who seized him in Buenos Aires and who then had to sit with him for days on end, sequestered in a safe house, as they waited to arrange a plane ride home.
Simply put, Operation Finale is about staring evil in the face—and then dealing with the horrific realization that such evil often goes hand in hand with something much more mundane: humanity. Eichmann's trial was covered by the philosopher and political theorist Hannah Arendt, who coined the term banality of evil to describe the defendant's outlook on life in Nazi Germany (Eichmann did not deny the Holocaust, and claimed he was just following the orders of his leaders). Weitz's film never explicitly echoes Arendt's phrase, but the movie's portrait of Eichmann, played with undeniable charm by Ben Kingsley, is suffused with it.
To the Mossad and Shin Bet agents tasked with finding Eichmann, he was totemic, a stand-in for all the atrocities their friends and families had suffered before and during the war. In one of Operation Finale's first scenes, the agents gather at a bar in Jerusalem before embarking on their mission, and one of them begins listing the people he lost, demanding others do the same. Before things get too morbid, Peter Malkin (Oscar Isaac) shuts the conversation down, knowing that they can't view the impending assignment as an act of pure vengeance.
To the still-fledgling state of Israel, Eichmann is a far more valuable prize if he can be put on trial. As Prime Minister David Ben-Gurion (Simon Russell Beale) tells the agents in one of the film's best scenes, "If you succeed, for the first time in our history we will judge our executioner, and we will warn off any who wish to follow his example." So Operation Finale becomes not about derring-do, or about the moral toll of assassination (as was the case for Steven Spielberg's Munich, another movie about a secret Mossad mission). Kidnapping Eichmann boiled down to grabbing him outside of a bus stop and dragging him to a nearby car. The film comes to life right after, as the waiting game begins.
As a director, Weitz has worked in many genres, including teen sex comedy (American Pie, which he co-directed with his brother Paul), fantasy epic (The Golden Compass), and social drama (A Better Life). Operation Finale has the air of something more obviously personal. Weitz's father, who fled Germany in 1938, served in the Office of Strategic Services during and after the war, and was part of both Operation Valkyrie and the liberation of Dachau. Weitz's mother, the actress Susan Kohner, starred in Douglas Sirk's 1959 Imitation of Life, in which she played Sarah Jane, a black woman who passes as white.
Early on in the film, Weitz includes footage from Imitation of Life's most wrenching scene, in which Sarah Jane's boyfriend discovers the truth about her and attacks her. In Operation Finale, that movie is playing in a theater in Buenos Aires, where Sylvia Hermann (Haley Lu Richardson) first meets Klaus Eichmann (Joe Alwyn), a handsome, Teutonic boy who she begins to romance. Quickly, she realizes who Klaus's father is and reports him to Mossad. But Klaus has no idea that Sylvia is a Jew, and even takes her to a secret Nazi meeting; eventually, as he realizes the truth, Weitz echoes a famous shot in Imitation of Life, with Sylvia reflected in a mirror as her boyfriend finally grasps the truth of her identity.
It's these personal moments that sing the most in Operation Finale, which is constantly grappling with the difference between symbolism and reality. Once captured, the elder Eichmann repeats over and over again that he was powerless to disobey Hitler; still, Weitz doesn't let the audience forget that the Nazi leader, and his son, are motivated by pure hatred. Eichmann tries to win his captors' sympathy by presenting himself as a doddering, friendly person, but the film illustrates how his actions turned him into an emblem of the gravest sort of inhumanity.
As the movie progresses, Malkin has to spend day after day locked in a room with Eichmann, who is by and large polite to him; the prisoner tells jokes and recalls childhood stories, even as Weitz cuts to flashbacks of Eichmann presiding over a Nazi massacre. A bond of sorts develops between the two, and the film often takes on a strangely jokey tone, one that Weitz at times struggles to balance with the larger gravity of the situation. Still, Kingsley is a strong enough actor to make Eichmann both seductively pleasant and frightening; though he's far too old (at 74) to play a man who died in his 50s, Kingsley carries it off on presence alone.
If anything, Operation Finale trips up on its story's simplicity (the agents really didn't do much except wait in a house). The movie could have pared down every detail and just focused on Eichmann's conversations with Malkin, since that's where all of the rich drama lies. As a more complete retelling of a particular moment of history, though, the film is a diverting watch, anchored with enough of Weitz's intriguing personal touches to keep it from feeling like a glorified History Channel special.