Nia Wilson and the Formula for Covering Black Death
The racial elements and gruesome details surrounding the teen's killing have pushed the story into the public sphere. But only some black victims are afforded this kind of attention.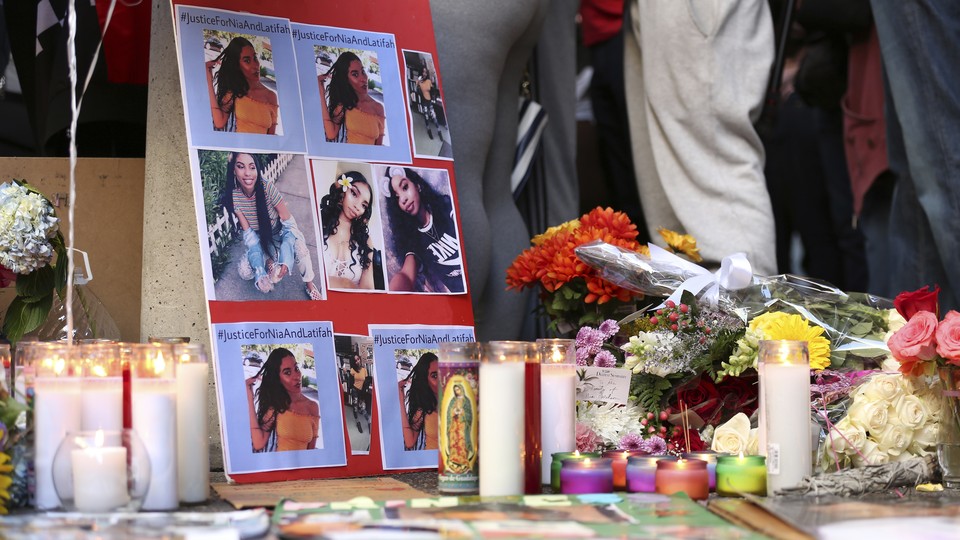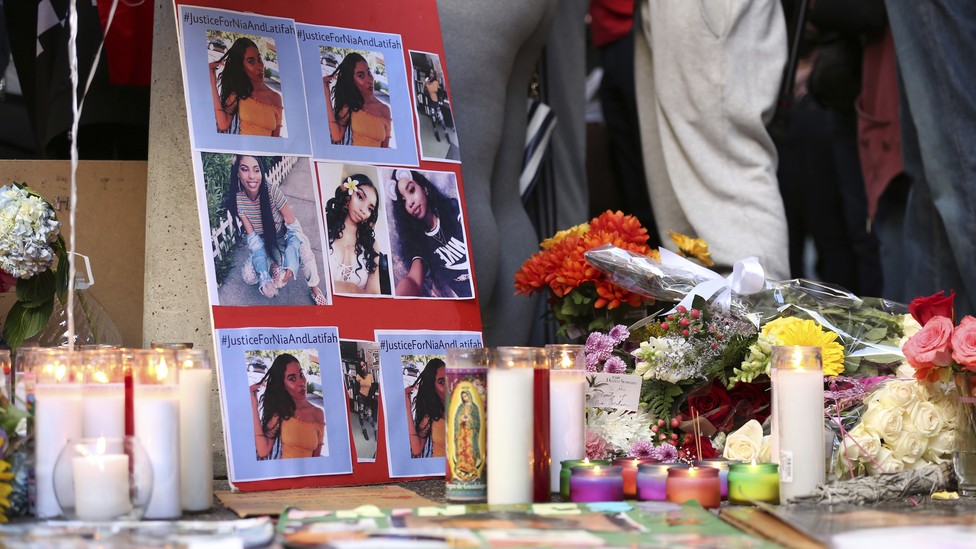 In a family video taken on Sunday, July 22, Nia Wilson is captured angling her phone and attempting to catch her best side. She's donning pigtails and a floral top complemented by meticulously applied pink eyeshadow with hints of glitter. Wilson greets off-camera friends and family with hugs and smiles; a bright blue pool serves as her backdrop. She'd spend that afternoon at a pool-party cookout celebrating the life of her aunt, who had been diagnosed with Stage 4 cancer. Before she was anything to the public, Nia Wilson was a loving sister, daughter, and artist who'd recently graduated from high school and had big dreams for the next chapter in her life.
But news of Wilson's brutal stabbing death at Oakland's MacArthur BART station later that night catapulted the 18-year-old into the public sphere, garnering widespread media attention almost immediately. By Monday morning, BART police confirmed there was an investigation into her killing, and they promised to release surveillance footage of the suspect over the course of several hours. Later that afternoon, the 27-year-old John Lee Cowell, a white man, was identified in a press conference as a suspect in what BART Police Chief Carlos Rojas called "one of the most vicious attacks" he's seen in his almost 30 years of service. Then, an emotional video of Ansar Mohammed, Wilson's father, pleading for justice shortly after learning of his daughter's death began to make the rounds on Twitter. By Monday evening, a vigil for Wilson had transformed into a full-on protest.
Meanwhile, the familiar cycle of questionable and insensitive coverage from the media had begun, reenergizing the long-standing debate about how poorly black victims of violence are portrayed by news outlets. The local station KTVU faced criticism after airing a photo of Wilson holding a cellphone case shaped like a gun. Of the network's choice to use the picture, the Oakland rapper Mistah F.A.B. said, "Putting that young sister up there with what is to be misinterpreted as a pistol and a gun … automatically flips the narrative. We're dealing with a victim here. We're not dealing with a suspect." A headline by the San Francisco Chronicle read, "BART Killing: Divergent Paths Met Tragically on Oakland Platform," conveying more tortured romance novel than vicious murder. And video footage of Cowell being taken into custody did nothing to quell rumblings about the racial dynamics surrounding the incident, with many juxtaposing his calm, uneventful apprehension against those of black suspects, specifically that of Oscar Grant, whose 2009 arrest led to his killing by a BART police officer.
Not two weeks after her passing, Nia Wilson's name is more recognized than ever before. The story of her death has morphed into an allegory for the ways in which black people in America experience violence, sparking discussions about excessive use of force by police, media bias, America's history of racialized terror, white privilege, and black pain. When black folks, women especially, are killed in tragic ways, their families and communities rely on these discussions, critiques, and public pleas for them to be recognized, because the alternative is to risk not being seen at all. The protests and calls for justice and public compassion stemming from Wilson's killing are more than just fodder for political discourse—they are perhaps the only way to ensure that Wilson and the violence perpetrated against her is cemented in the public memory.
Take the case of the 17-year-old Jordan Davis, who was murdered in 2012 by a white man outside of a Florida gas station for playing his music too loudly. The teen's grieving mother, Lucy McBath, had to spring into activism (and, later, politics) and work tirelessly to ensure that her son was considered by the public: to prove that her child was not, in any way, responsible for his own murder. This burden of proof is such that people like Davis and Wilson ultimately ascend to some level of martyrdom because they can act as a tool to teach Americans about a challenging social issue.
And then there are those whose deaths result in obscurity. In June in Meridian, Mississippi,* the fatal shooting of Diamond Stephens, a black transgender woman, barely registered as a blip on the radar. And the July 16 killing of the 10-year-old Makiyah Wilson in Washington, D.C., has garnered a fraction of the attention typically given to young white victims. "Stories about female victims are significantly more likely to report victims' race as white than as black or Hispanic," even though white women are the least likely demographic to experience violent crime, according to a 2010 study of television news coverage.
Nia Wilson's death did not occur in a vacuum. That she was a black woman, that the attacker was a man, and that the act occurred in the public sphere are all evidence of the common nature of her killing. In fact, the Centers for Disease Control and Prevention finds that black women experience the highest rates of death by homicide when compared to other women. Yet when black women and children like Stephens and Makiyah Wilson die, it is rare that they receive public sympathy or attention. They are not afforded the same dignity, precisely because their stories have not been deemed profound or useful to the American consciousness.

That society designates worthiness to only a handful of black deaths is as untenable as it is unfair. Regardless of what social movement is fueled by them or what lesson is learned from them, the killings of black people are tragic simply because they happened.
---
* This article originally misstated that Diamond Stephens was killed in Detroit on July 24. We regret the error.