Madonna's Tone-Deaf Tribute to Aretha Franklin
At the MTV VMAs, the big memorial for the Queen of Soul came in the form of lengthy self-mythologizing by the Queen of Pop.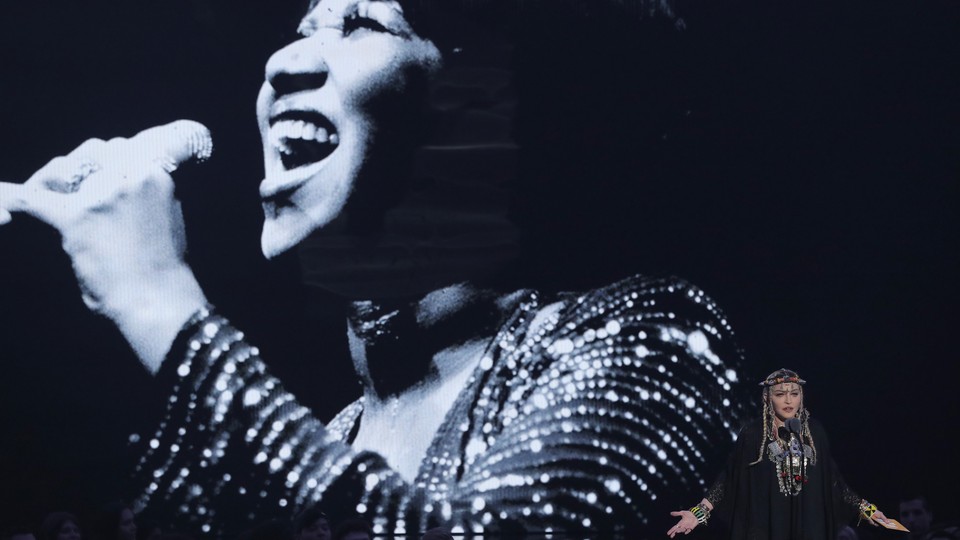 "Some skinny-ass white girl is going to come up here and belt out a song by one of the greatest soul singers that ever lived?"
This is what some talent scouts thought when a pre-fame Madonna, Louise Ciccone, asked to sing Aretha Franklin's "(You Make Me Feel Like) A Natural Woman" at an audition. Or at least this is what Madonna assumes they were thinking. In a speech allegedly paying tribute to the Queen of Soul at Monday night's MTV Video Music Awards, Madonna delivered the "skinny-ass white girl" line with a smirk, rendering it a double entendre that also referenced what the VMAs audience was thinking in that moment. Madonna didn't end up singing any Franklin on MTV, but she did something else that was strange and unadvisable.
As the first major music awards show since Franklin's death, the VMAs were inevitably going to have a memorial segment. But this being the VMAs, the likelihood of getting it wrong, whatever that might mean, ran high. Typically (and especially this year, a dreary one), the show is a venal and deeply fake affair—which is to say, it's thought of as exactly in opposition to the things for which Franklin stood. Typically, too, the VMAs chase controversy, a tendency in which Madonna has often assisted—and that doesn't really inspire confidence about tasteful treatment of the dead. So when hints emerged during the show that Franklin's moment would indeed be handled by the trollish Queen of Pop, expressions of dread washed across social media.
Because it would have been a scandal if Madonna sang. And it sounded like Madonna herself knew that. In the speech she gave instead, she foregrounded the late '70s and early '80s period when her desire to be an entertainer ran up against obstacles such as the fact that she didn't have the octave range that other singers had. Today, the notion that she's a limited vocalist is one of the great clichés surrounding Madonna's career, and she hasn't shied away from it. "I know I'm not the best singer and I know I'm not the best dancer, but I'm not interested in that," she once said. "I'm interested in pushing people's buttons, in being provocative and in being political."
Franklin, by contrast, did pride herself on being the best singer. Of the relatively few controversies she kicked up over the course of her life, many came from her defending her title as Queen of Soul on the merits of her vocal ability. And, of course, she was more than just a singer: She was an all-around cultural, political, and religious leader of lasting and deep influence. Paying adequate tribute to her is going to be difficult for anyone, and it's certainly conceivable that the Queen of Pop—someone without Franklin's singing power but with plenty of ingenuity and significance—might have some role to play in the mourning. But as the first big televised memorial? After Madonna famously and clumsily took a crack at honoring Prince, another vocally distinctive black icon? Just … Couldn't we find someone else?
Probably. But the truth is that an event like the VMAs is one ruled by expediencies. Perhaps the producers looked down the list of people they'd already booked, remembered that Madonna's the Queen of Pop, and figured they could ask her to do something on behalf of the Queen of Soul. And if she wasn't going to sing, what could she do? Speak.
Her speech could have been fine, or even excellent. But instead the "tribute" mythologized Madonna way more than it did Franklin. The story she told centered around her own audition, decades ago, to sing backup for the French artist Patrick Hernandez. At the time, Madonna was living in Detroit—the city Franklin loved most—where she was poor, scared, and repeatedly mistaken for a prostitute, she said. She met up with the talent scouts, but hadn't prepared a song to sing, and in a panic chose a personal favorite, Franklin's "(You Make Me Feel Like) A Natural Woman." Weeks later, the scouts called her and told her she wasn't right for their gig, but that they had another one for her. That call led to a few months in Paris working with the producer Giorgio Moroder, after which she came back because she "wanted to write [her] own songs and be a musician, not a puppet."
The point of the anecdote was that Madonna loved Franklin's songs and drew upon them in a time of need. The take-home message: "None of this would've happened, could've happened without our lady of soul. She led me to where I am today and I know she influenced so many people in this house tonight, in this room tonight, and I want to thank you Aretha for empowering all of us, R.E.S.P.E.C.T. Long live the queen!" As bottom lines go, it's a heartfelt and true one—but it had been preceded by a lengthy and overly detailed story about a weird time when Madonna was trying and failing to become famous.
The internet has not been kind to the speech, and the levels of subtext here are being untangled like the distracting and innumerable baubles Madonna wore around her neck during the tribute. Should this VMAs moment be filed in Madonna's record of hijacking important moments from black icons? Did booking her mean the VMAs were dissing the other living singers, many of color, who more profoundly draw from Franklin's influence? Was this all Madonna's payback for having her 60th birthday overshadowed by Franklin's death? (And what exactly was around her neck anyway?)
The most jarring aspect was that the Franklin speech served as a mere prelude to the night's supposed main event, Madonna announcing the Artist of the Year. The prize went to the singer Camila Cabello, who hit the ground, bowing at Madonna's feet and telling her what an icon she was to her. Franklin's face had loomed above the stage moments before, but her memory already seemed far away. Cabello held up her statue and paid the final respects of the evening: "I dedicate this to Madonna!"