Madeline's Madeline Is a Bold, Jittery Film About the Creative Process
Josephine Decker's new experimental work is centered on an exceptional performance from the total unknown Helena Howard.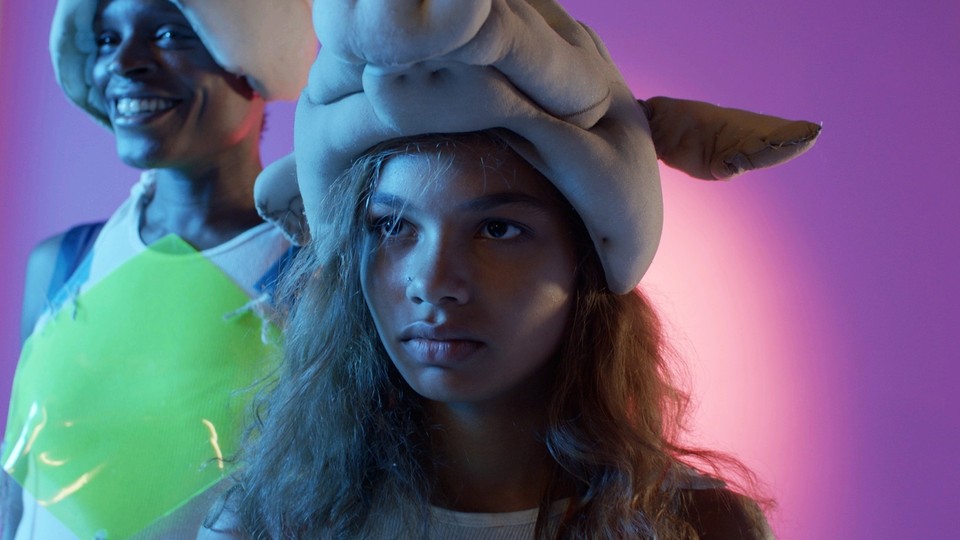 The act of creating something can be empowering, vampiric, exhilarating, and exhausting—sometimes all at once. It's also a difficult process to dramatize without feeling tedious or precious, which is in part what makes Josephine Decker's new film, Madeline's Madeline, so impressive. A tense, loopy look at acting and writing, the movie is at times deliberately off-putting. But it's anchored by a star-making turn from Helena Howard, who plays the fascinating, inscrutable figure at the story's center.
Decker, who co-wrote and directed, has roots in performance art and experimental filmmaking. Her first two fiction features, Butter on the Latch and Thou Wast Mild and Lovely, were interesting but alienating thrillers that put the viewer into the heads of their frightening protagonists, with the effect of a claustrophobic spin cycle. Madeline's Madeline begins similarly, with someone leaning into the camera and telling it, "What you are experiencing is just a metaphor … You are not the cat, you are inside the cat." This is followed by a few minutes of Madeline (Howard) pretending to be a cat while her mother, Regina (Miranda July), coos and pets her. Some viewers may tap out at that statement alone, but stick with Madeline's Madeline and things do eventually come into focus.
That's less true for the gorgeous, dreamlike cinematography from Ashley Connor, whose camera drifts around scenes with abandon, shooting its characters (particularly Madeline) with hazy insouciance. Madeline, a high-school student who has enrolled in an intense acting course, is the new favorite of her teacher, Evangeline (Molly Parker). Like many a teenager, Madeline is hard to figure out, so Connor fixates on specific parts of her (her eyes, her mouth), crashing and zooming around the girl without ever really getting the full picture.
Madeline is great at committing; ask her to play a cat, and she'll be a cat, rolling around and meowing. She's entranced by Evangeline, who is poised, confident, and constantly creatively inspired, unlike Madeline's much more anxious mother. Regina always harps on Madeline's tendency to spiral into depressive behavior, and seems unable to handle the idea that her daughter is becoming a sexual being. Evangeline soon taps her student to be the star of a play she's writing: a theatrical piece about mothers and daughters that's inspired by a dream Madeline had, in which she hits her mother with an iron.
Needless to say, this leads Evangeline, Madeline, and Regina into some creatively tricky territory, and Decker slowly shifts the film into a quasi-psychological thriller. At times, it seems like Evangeline is playing with a power she doesn't fully understand, unearthing some very complicated feelings in Madeline about her childhood and transmuting them into drama. At other times, it's clear that Madeline is the true talent in the room. She takes her fearlessness, and her willingness to emote, and unleashes it onstage to a point where Evangeline has no real control over her. Theirs is a constantly shifting battle of wills.
Decker is careful to make each character both sympathetic and flawed, while capturing the thrills and mortifying spills of the writing and acting process. The racial dynamics between Madeline (who is black) and Evangeline (who is white) do not go ignored, either. The film resolutely demonstrates the ways that performers of color can be too easily turned into mascots or symbols of something beyond themselves, often without their consent, but Decker's oblique approach to storytelling keeps her message from coming off as patronizing.
Evangeline and Madeline's collaboration builds to an unnerving conclusion where the boundary between fiction and reality starts to dissolve, and Madeline more directly challenges both her mother and her mentor. It's a brain-rattling experience that provides potent closure. Though Madeline's Madeline is made with the kind of loose energy that animates so many experimental films, it has a genuine emotional pulse running through its center, powered by Howard's exceptional work in her debut performance. Madeline's Madeline will jar some viewers and invigorate others, but that polarizing quality is part of its messy charms.