The Middling, Melancholy Charm of Like Father
Netflix's new feature comedy starring Kristen Bell and Kelsey Grammer is unremarkable in every way except one: It's barely funny.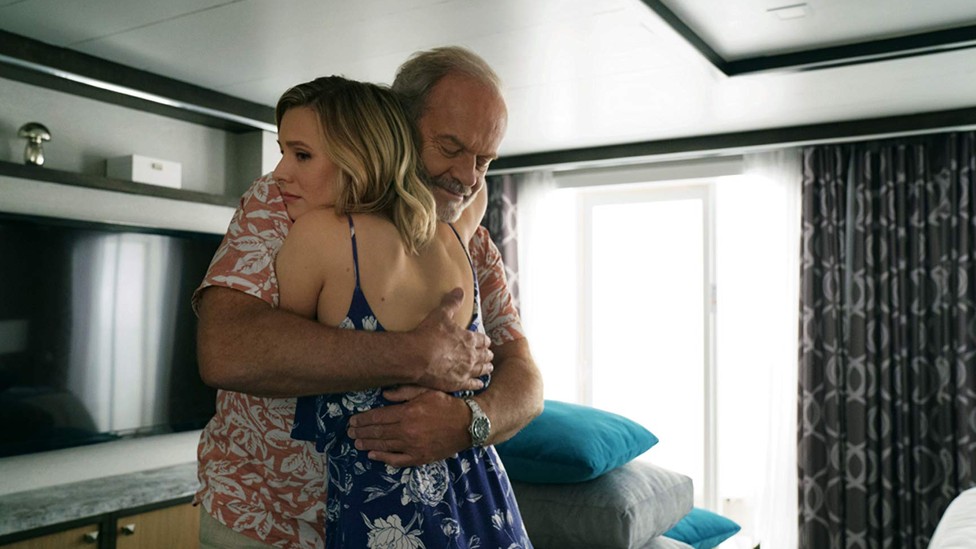 It feels strange to define Like Father as a comedy, since there's only really one joke in the film, and that's a winking allusion to Seth Rogen stoner movies. All the other structural elements of the genre are present: a madcap premise involving two people who get drunk and accidentally wake up on a cruise, a wedding flameout, an extravagant set piece involving karaoke, sequins, and Styx. But Like Father is steeped in a kind of melancholy that it can't shake. Not even the reassuring presence of Kelsey Grammer, tanned to a rich mahogany and baring teeth as white and even as piano keys, can cheer the movie up.
Like Father, written and directed by Lauren Miller Rogen (For a Good Time, Call … ), arrived on Netflix on Friday, in the wake of the unexpectedly viral rom-com hit Set It Up. Unlike that film it boasts bona fide stars, including Kristen Bell as a workaholic New York account executive and Grammer as her father. In Like Father's opening scenes, Rachel (Bell) is due to get married, but her addiction to her job (she's so attached to her cellphone that she stashes it in her bouquet) spurs her fiancé to call the whole thing off. Harry (Grammer), Rachel's long-estranged dad, shows up unexpectedly, sweeping a numb Rachel out for consolatory Manhattans. Inevitably, they wake up crushingly hungover on Rachel's honeymoon cruise.
If Harry weren't Rachel's father, this would all be a predictably zany meet-cute, wherein an odd couple accidentally gets trashed and winds up stuck with each other for a specified period of time. The awkwardly sexual subtext of their shenanigans hangs around the first half of the movie, as the pair are repeatedly congratulated on their happiness by fellow honeymooners and forced to keep sharing their one-bedroom suite. More awkward, though, is the fact that they don't know each other at all. While Harry makes overtures toward getting acquainted with his daughter, a truculent Rachel only cares about cellphone service and getting back to work as soon as possible.
Hence the sadness that pervades proceedings, the cloud that covers Rachel throughout her impossibly idyllic Royal Caribbean surroundings. Rachel is attached to her phone, but not because she's scrolling through Instagram, or wasting time on Twitter. She's simply obsessed with her job—a fact that the movie continually asserts is responsible for all her unhappiness. Bell, one of the most charming actresses currently working, struggles to find depth in Rachel beyond her perma-mope. Again, if this were a standard comedy, having Rachel be a cliché of an overachiever might work, especially if her dad were the kind of genial, Uncle Buck–esque washout who could bring her back to Earth. But the point of the film is that Rachel and Harry are two sides of the same coin, both having sacrificed relationships for career success. At first, Harry says, he thought it was great how much his daughter reminded him of himself. "But now," he adds, "I think she's kind of a jerk."
On the cruise, the pair are surrounded by sidekicks who feel uncomfortably trope-ish: a gay couple intent on healing the breach between father and daughter, a black couple from Wichita, an older couple celebrating their anniversary. Seth Rogen, Miller Rogen's real-life husband, plays a divorcé from Edmonton who's mostly around to show the icy depths of Rachel's cold heart. More thrilling is the ship itself, portrayed so generously and in such lavish detail that you might question whether this is all just an extended marketing scheme to make cruises cool again. Harry learns to surf; Rachel eats boysenberry pancakes at the extravagant breakfast buffet. The pair drinks cocktails made by a robot bartender, they play mini-golf, they go zip-lining, they participate in something called a Gigantic Game Show. Amid all this organized fun, Like Father asks, how could they not have an epiphany about the nature of work-life balance? How indeed.
Miller Rogen's direction is assured but adds to the tonal confusion—she seems to employ a handheld camera in some emotional scenes that makes the movie feel more like an indie sleeper hit than the raucous, cathartic comedy you might expect. It's Grammer, oddly, who seems most at ease. Despite his Jimmy Buffett tan and twinkling blue eyes, he brings real pathos to Harry's late-career crisis, and is subtle in the role without feeling muted. (He also shines in the film's great triumph: a karaoke scene that takes advantage of Grammer's estimable musical-theater chops.)
He also has great chemistry with Bell, and the scenes where the two get to connect make for the movie's most delightful moments. Clearly, given its algorithmic knowledge, Netflix knows things we don't, including how many people are willing to sit through curiously sullen light entertainment for the promise of a heartfelt payoff. It doesn't quite explain why a film so willing to check all the comedy-cliché boxes would commit to humor least of all, particularly given how well standard fare can do. But it does hint at more movies like this one down the line, with or without robot bartenders.